Amazon Echo products already heavily reduced
All Alexa and Echo bargains at a glance
For those who do not want to lose any time hunting for bargains, we have summarized our recommendations here in a brief overview.
Amazon Echo 4 – all-rounder with integrated ZigBee Smart Home control center
Playing music, ordering food, managing appointments, making calls or answering knowledge questions: all no problem for the Amazon Echo 4. Thanks to the integrated ZigBee hub, this Echo speaker can even control many smart home devices directly without the otherwise required control center from their respective manufacturer.
We think: Amazon Echo 4 is a good model for everyone who wants to retrofit their home cheaply and easily into a smart home.
Amazon Echo (4th Gen.) | anthracite

-30%
All Alexa functions, high sound quality and integrated ZigBee hub
Amazon Echo Dot 4 – affordable, space-saving solution for beginners
The compact Echo Dot 4 is available with or without an integrated time, temperature and volume display. However, both model variants have the same basic functions that characterize all Echo devices and can, for example, also stream podcasts, tell jokes or answer crazy questions.
Doing it with Echo Dot 4 means technology fans can't go wrong and save a lot of money at the same time.
Amazon Echo Dot (4th Gen) | anthracite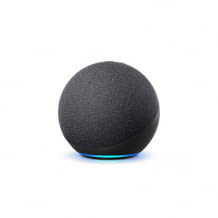 -58%
Amazon's sustainably produced Echo Dot with 42 millimeter speakers and 3.5 mm stereo audio output
Echo Show – Smart Alexa for all entertainment fans
For anyone who wants more than just talking to Alexa or listening to music, an Echo Show display is the right choice. In addition to illustrated recipes and puzzles, it can also be used to stream Netflix series, for example, or to display your own photos similar to a digital picture frame.
How big the display of the individual models is can be read from their name, which in this case does not refer to the device generation. For example, the largest variant, the Echo Show 10, has a 10-inch screen. The Echo Show 8 and Echo Show 5 versions are also available from Amazon – both are currently on offer:
The new Echo Show 5 (2nd gen.)
Alexa display with 2 MP camera for video calls, also suitable for streaming Prime Video and Netflix
The new Echo Show 8 (2nd gen.)
HD Smart Display with Alexa and 13 MP camera that automatically follows users during video calls
Echo Flex – Mini Alexa speaker with bargain hunters
The Echo Flex is not only the smallest Echo speaker from Amazon, it is also the only one that can be plugged directly into a socket, similar to a night light for children, to save space. If required, it can also be combined with a smart clock, a night light or a motion detector.
We recommend everyone who wants to use the full Alexa functionality at a low price. Music fans should keep in mind, however, that the sound quality of the mini device does not come close to that of the larger Echo variants.
Amazon Echo Auto – Use Alexa on the go and save money
Once you get used to Amazon's always helpful assistant, you won't want to go without her when you're out and about. With Echo Auto, the online giant is therefore offering a gadget to retrofit older vehicles with Alexa.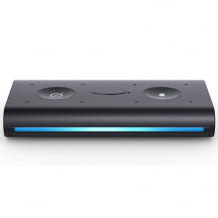 -42%
Alexa for the car. Echo Auto connects to the Alexa app on the mobile phone and plays audio on the car speakers.