Apple's double meter: Nanotexture on the new iMac is significantly cheaper than on the Pro Display XDR
A few hours ago, Apple surprised the world with the introduction of a relatively significantly upgraded 27 "iMac, which, in addition to new processors and graphics cards, also saw the possibility of applying a nanotexture to the display glass. So this is the same option that Apple offers with its Pro XDR display, which was introduced to the world last year alongside the Mac Pro. In both cases, of course, this is an additional improvement, and the amount of this surcharge is just the most interesting – for both machines are quite different.
Photo gallery
nanotexture 1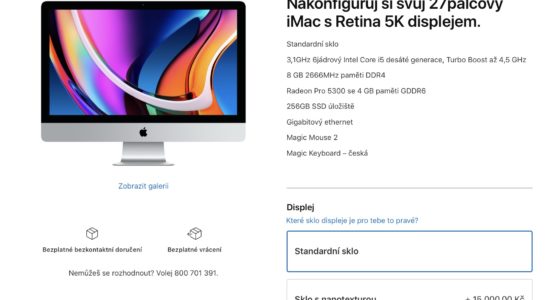 nanotexture 2
Enter the gallery
The configurator on Apple's Online Store speaks for itself. For the nanotextured glass on the 27 "iMac, you will pay CZK 15,000 extra compared to standard glass. If you then reach for the same glass finish on the Pro Display XDR, you will have to withdraw CZK 25,000 from your account. The truth is that the display has a diagonal of 32 ", but the size difference of 5" certainly does not make a price difference of 10,000 crowns. It could theoretically be considered that this is a slightly different adjustment, but even that does not seem so likely. The nanotexture labels on the iMac and Pro Display XDR are exactly the same on Apple's website. What the price difference for nanotextures does is thus, in a way, a mystery, which, however, could be related to the strength of the domestic currency, which we wrote about in this article. Apple itself could provide us with some explanation in the coming days, as you can find the price difference not only on the domestic Online Store, but also on foreign ones – for example, in the USA, the price difference is as much as $ 500.