Communication networks: What data they collect, why and which one is the most secure
The world of communication networks is constantly growing. The time when we relied only on SMS and e-mail is long gone, even though it is not an ancient history. We currently have dozens of networks where we can call, write, send photos and share documents with others. The rights of providers to store this data of ours, to have access to some of our information and to sell it to third parties go hand in hand with them. What are they, why do they do it and is there a network that respects your privacy?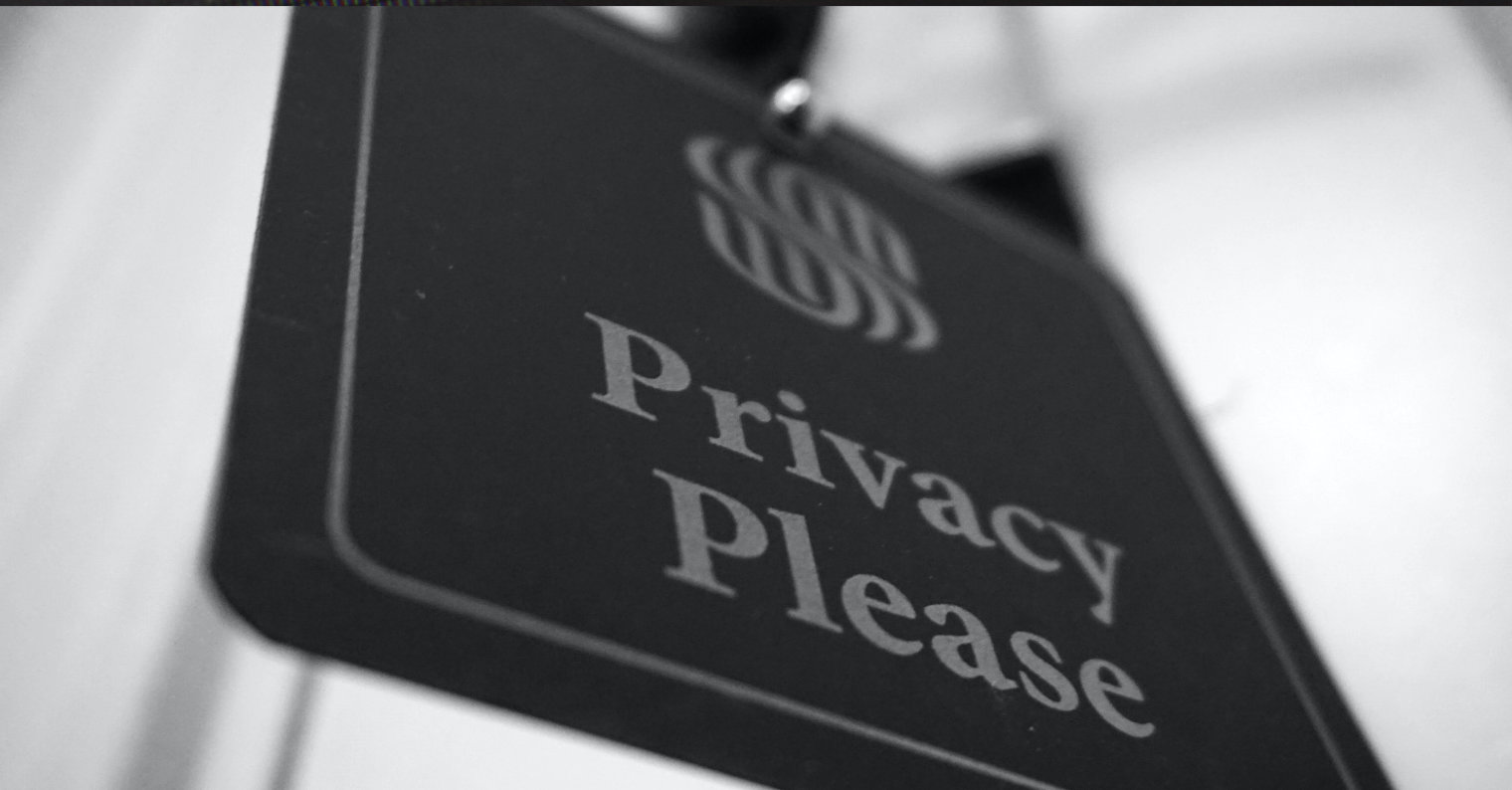 Source: Unsplash
For example, did you know that mobile operators are required by law to store SMS and call information? This information is called "data retention" and is specifically about the contacts and location of the device over time. The content of calls and messages is not archived, this is only possible with the consent of the court in connection with criminal investigations. The information collected by the operators is to be used for the possible needs of the Police of the Czech Republic, the Security Information Service, Military Intelligence and even for the Czech National Bank. All these authorities and institutions may request this information from the operator on the basis of a court order.
It is also worth mentioning the TelcoStore service used by banks. The reason is to find out your solvency. Based on data from a smartphone, the bank will find out where you are buying, what you are buying, if you pay on time. This information is then used to decide the bank to provide you with a loan or credit. It is beneficial, for example, for young people who do not yet have a stable employment contract, regular income or financial history.
What information does your founders store in the most used communication networks in the Czech Republic?
We selected the seven most used communication networks in the Czech Republic and examined how they handle data and information.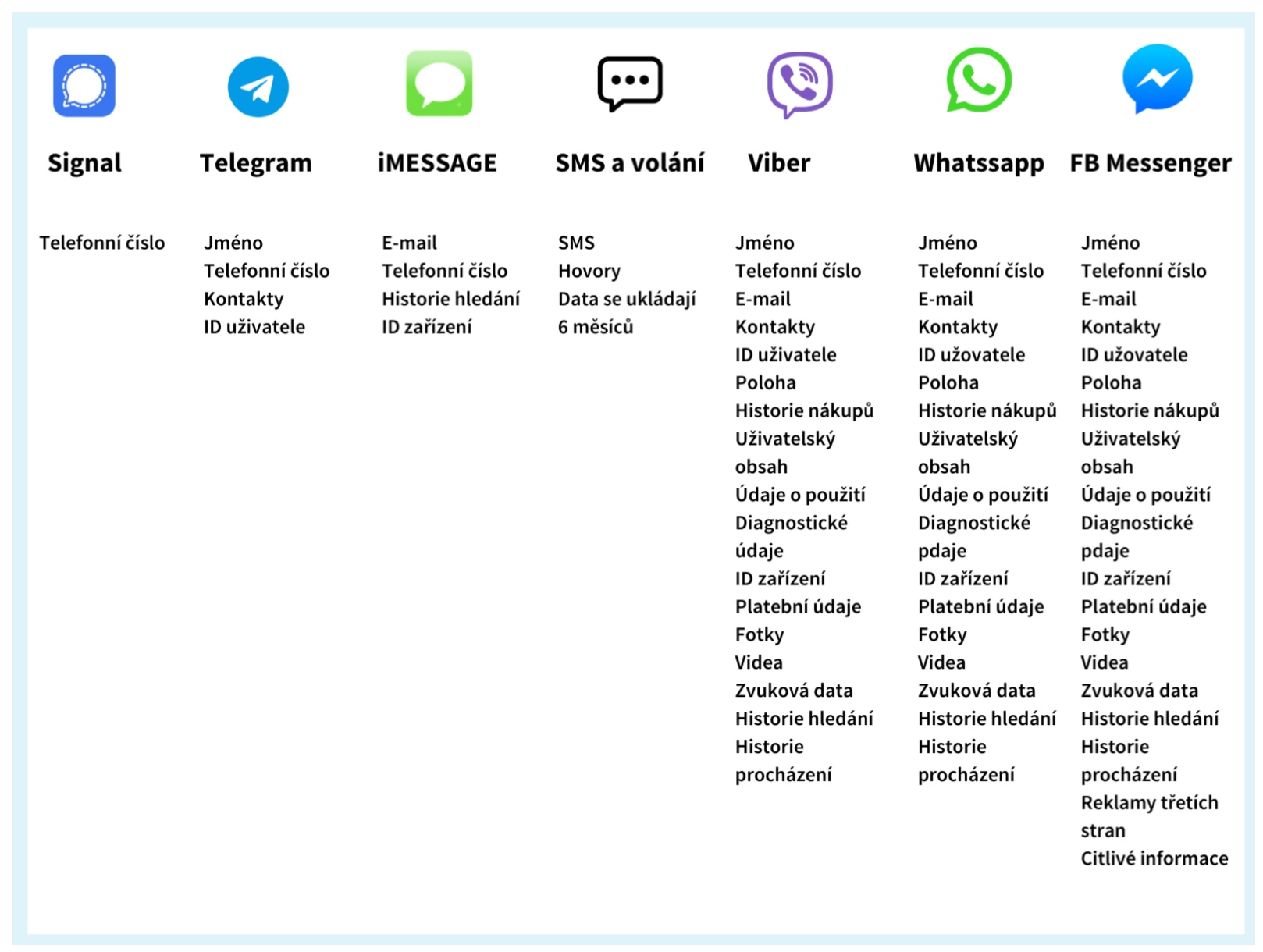 Source: iLoveServis
As the table clearly shows, Viber, WhatsApp and Facebook Messenger are gathering a lot about us. For someone so much that they put their hands away from these nets. There was an enormous outflow of clients, for example, from WhatsApp after Facebook bought it and adjusted the terms of personal data protection.
Why do communication and social networks crave our data? The answer is very simple. Earnings. The more they know about us, the better they set up the user environment to offer us the products and services we buy. They sell the information to third parties, who build tailor-made ads on it. And Facebook will pay for the ability to build such personalized advertising. Facebook is even able to analyze the connection between all its networks to each other, so it will make a mosaic of activities on Facebook, Messenger, Instagram and WhatsApp.
How do data collection spells look like in practice?
Let's say a friend sends you a message on WhatsApp to the new headphones they want to buy. In just a few hours, the same headphones will be offered to you in advertising blocks on Facebook. In practice, this means that Facebook read a message with a link to headphones, passing this information on to a third party, such as an e-shop with music electronics, which took the opportunity to offer you the same and similar headphones with a VIP discount of 15%. We talk about shopping. But what about links with controversial content? In this way, your children can get into groups with conspiracy theories or a tendency to extremism. This is where the defense that Facebook comes up with is created – control prevents the creation and activity of illegal groups.
Recommendations from iLoveServis
If you want to communicate with the world without fear of data sharing and be as anonymous as possible, Signal is a clear choice. He only knows the phone number without any connection to his identity. It does not collect any data or files, the communication is encrypted and the content is not subject to any control. The second suitable option is the Telegram network.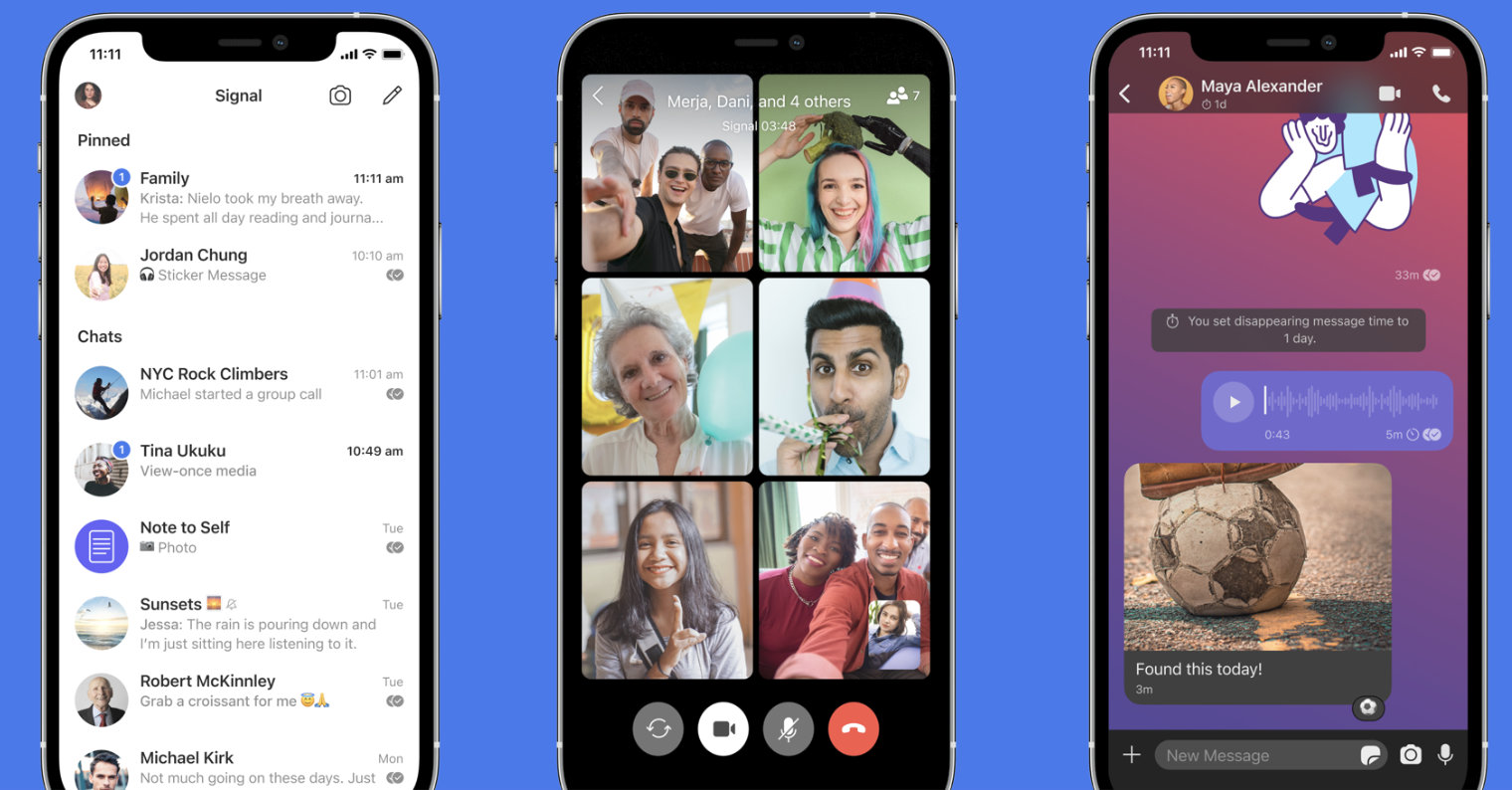 Source: App Store
How do Signal and Telegram make money?
Signal was founded by a security analyst with the pseudonym Moxie Marlinspike. Until 2018, it was a network only for a very narrow circle of users. But that year, WhatsApp co-founder Brian Acton founded a foundation that began funding Fundal. He decided to do so after Facebook bought WhatsApp and changed the terms of use, which brought with it greater data sharing in order to improve the shopping environment. Signal now has the status of a non-profit organization, which clearly shows its position on extracting data from its users.
Russian billionaire Pavel Durov is behind the Telegram network. This platform collects only basic data. However, it does not offer final message encryption. Funding is provided by a monetization strategy (for example, by purchasing emoticons and stickers in communication), subsidies from the Mubadala and Abu Dhabi Catalyst Partners funds, and bonds.
So which communication network to connect to?
With this article, we do not want to force anyone to change the use of social networks. We just want to uncover the machinery behind these platforms and inspire us to think about how to behave on such networks. What effect this can have on your decision-making or the activity of your loved ones. This question is important given the children who are big fans of TikToku and YouTube.
If you start talking to the founders of social and communication networks, none of them had a vision of extracting data from users and building a marketing monster at the beginning of the project. Everyone had a vision of a pleasant environment that connects people across time and space.
You might be interested in
New WhatsApp terms: Since when do they apply, do you have to agree to them and what do they mean to you?

Other articles
Jiří Filip 15. 5. 2021 0
In the end, we all have what these platforms look like in the finals. We don't have to click on ads and recommended subscriptions. We don't have to label and like in bulk. We don't have to open networks a hundred times a day. We can clearly show that social networks are fun for us. Not a necessity we can't ignore or even live without.
Risks of Signal and Telegram applications
However, the fact that applications such as Signal and Telegram are considered the safest does not mean that they do not involve any risks. It is their emphasis on privacy that can even be a problem. Therefore, various conspiracy groups, extremists, or you may come across illegal content and groups communicating about illegal activities may gather on the networks. In this regard, this is a significant problem that can endanger smaller children in particular.