IKEA ÅSKVÄDER socket: prices, offers and review
Our rating on the IKEA ÅSKVÄDER socket system
With its modularly pluggable ÅSKVÄDER products, IKEA aims to give the user maximum flexibility when networking classic household appliances. Once put together, the ÅSKVÄDER individual parts can be remotely controlled together using an app or voice command. However, the system's switch can only turn the flow of electricity on or off. This means that connected devices such as lamps or radiant heaters can only be activated or deactivated. A mode for dimming or for access to device-specific features, e.g. B. the choice of drinks at the coffee machine, one looks in vain here.
In our experience, however, it is often not necessary to lay extra extension cables for smart retrofitting, since a normal WLAN socket is usually sufficient for networking.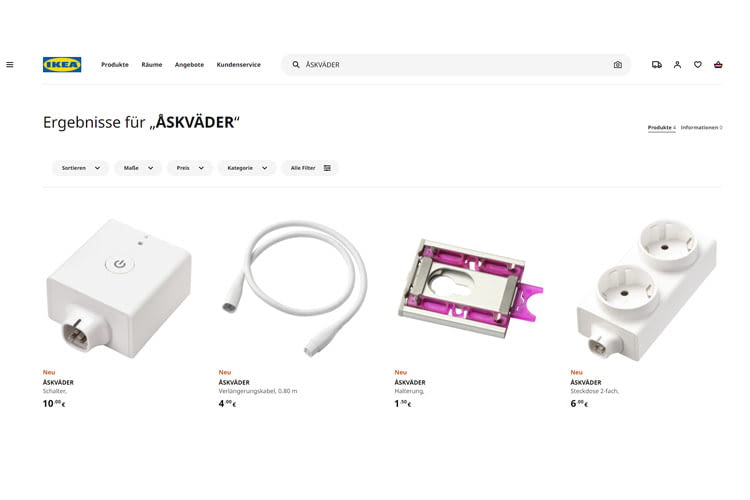 Here you can see the new ÅSKVÄDER products
(Screenshot: German IKEA homepage)
This is how the modular IKEA ÅSKVÄDER building block principle works
In addition to a switch and a socket, the IKEA ÅSKVÄDER series also includes an extension cable and a wall bracket. The individual parts can be combined in any way by plugging them into one another. So z. For example, the ÅSKVÄDER single socket can quickly be turned into a multiple socket with three ports, as the first test videos on the network show. According to IKEA, a total of up to ten single or five x double sockets can be used together.
What is compatible with IKEA ÅSKVÄDER? What accessories are there?
Since the IKEA ÅSKVÄDER elements were developed to match the IKEA Home Smart System (formerly: TRÅDFRI), they can be controlled with the IKEA Home Smart App (Android | iOS). With it and the IKEA gateway as the control center of the system, networking with common language assistants such as Alexa, Google Assistant and Siri (via HomeKit) or with the smart IKEA lamps and light strips is possible. Alternatively, it can also be operated using the IKEA dimmer.
From the outside, the smart ÅSKVÄDER sockets look similar to conventional products
(IKEA)
ÅSKVÄDER sockets – price and availability
According to customer reports, individual elements of the ÅSKVÄDER series have already appeared in stationary IKEA stores, but are not yet widely available (status: 12/2021).
You can already discover the new ÅSKVÄDER products on the German IKEA homepage and even order them online. There the ÅSKVÄDER counter costs z. B. 10 euros, the ÅSKVÄDER 2-way socket 6 euros, a 0.8 meter long ÅSKVÄDER extension cable 4 euros and an ÅSKVÄDER wall bracket 1.50 euros. (As of: 12/2021)
Have you already had any tests or customer ratings for IKEA ÅSKVÄDER?
Since all components have only recently been available for order in Germany, we have unfortunately not yet received any tests or reviews from German users. However, if you have a command of the Swedish language, you will already find some experience reports on this system z. B. on YouTube. (As of: 12/2021)
TP-Link and brennenstuhl are good alternatives to ÅSKVÄDER
The ÅSKVÄDER costs seem very cheap at first glance, but depending on the combination, they can quickly add up to 20 euros or more.
If you only want to retrofit one device, you should, therefore, z. B. well advised with the TP-Link Kasa 105 WLAN socket. It can also be voice-controlled with Alexa and Google Assistant and can withstand a maximum load of up to 16 amps (3,680 watts). A hub or gateway does not have to be purchased separately.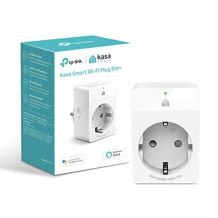 -11%
Powerful radio-controlled socket for retrofitting classic devices with Alexa, Google and app control
For use in protected outdoor areas, z. B. the Brennenstuhl Connect WLAN socket WA 3000, whose maximum load is 13 amps (3,000 watts). Here, too, no additional gateway is required for control.
Brennenstuhl Connect WA3000 XS02

-33%
High-quality outdoor WiFi socket with a German app. Compatible with Google Assistant or Alexa.
Technical data and product characteristics of IKEA ÅSKVÄDER
The following summary contains all the important information about the individual IKEA ÅSKVÄDER devices
ÅSKVÄDER switch
Size: Length: 6.7 cm, width: 5.3 cm, height: 3.1 cm Area of ​​use: Indoor Voltage: 230 V / 16A Maximum load: 3,680 W Material: Polycarbonate Item number: 504.638.80ÅSKVÄDER switch IKEA product page
ÅSKVÄDER socket (2-way)
ÅSKVÄDER extension cable
ÅSKVÄDER bracket