JBL Flip 6 Bluetooth speaker under review
Conclusion on the JBL Flip 6 Bluetooth speaker
When it comes to Bluetooth speakers, music lovers cannot ignore the JBL brand. With JBL Flip 6, the popular JBL Flip 5 is getting a successor. The predecessor could already convince us in the long-term test. In terms of sound, the sound company promises some improvements in the JBL Flip 6. Those still have to prove themselves in tests. However, since we know the sound of Flip 5, users can certainly look forward to a strong sound.
Overall, we recommend JBL Flip 6 to buy, even if those interested have to wait until November 2021 for delivery (as of 09/2021). However, we rate the weakness that the battery life is 12 hours and thus remains identical to the values ​​of the JBL Flip 5.
Advantages of the JBL Flip 6 Bluetooth speaker
Disadvantages of the JBL Flip 6 Bluetooth speaker
compact360 degree sound available in many colors water and dust proof despite its small size a separate tweeter no improvements in battery life compared to its predecessor expensive
JBL Flip 6 bluetooth speaker in check – design and equipment
Visually, JBL has stayed true to the Flip 6 and the Bluetooth speaker retains the can shape. Therefore, the sound is still broadcast in 360 degrees and the speaker can be used horizontally and vertically. However, there have been changes in the positioning of the logo compared to its predecessor. The JBL letters are now larger and more eye-catching than on JBL Flip 5, where the logo is set in a small red square. In this way, the sound forge has standardized the look of its JBL loudspeakers, as the logo has been positioned more prominently on all new generations.
How strong the built-in battery is in the JBL Flip 6 was not yet revealed in the announcement. The battery life is estimated at up to 12 hours. We rate this as a weak point because it is not an improvement on the predecessor. At this point we would have liked more power. However, you should have enough energy for a long day at the lake or a hike with friends. Two passive radiators, a woofer and a separate tweeter make up the impressive sound equipment of JBL Flip 6. The separate tweeter is a special feature, as it is rarely used in speakers of this size. In our opinion, this is a big plus point for JBL Flip 6.
JBL Flip 6 – special features and functions of the Bluetooth speaker
The compact Bluetooth speaker cuts a fine figure both indoors and outdoors. It fits easily in the backpack and provides a flexible, powerful sound. The greatest specialty is the separate tweeter, which, in cooperation with the woofer and two passive radiators, delivers a round sound. In the long-term test, we were even impressed by the predecessor JBL Flip 5, which did not yet have a separate tweeter. The improvement in the sound equipment has to be confirmed in practice, however, as the JBL Flip 6 will only be available in November (status: 09/2021). In theory, however, the technical data read promisingly, so that we classify Flip 6 as a worthy successor to JBL Flip 5.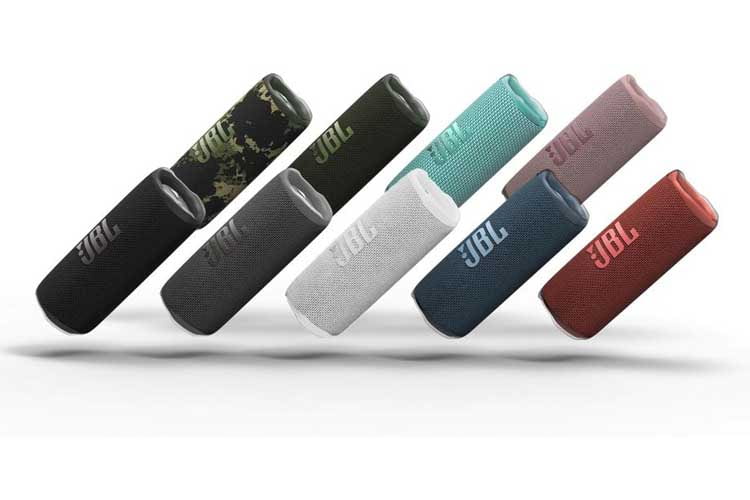 The JBL Flip 6 Bluetooth speaker is available in a total of 9 different color variations
(JBL)
However, we rate the price of around 140 euros as a bit high, as the larger JBL Charge 5 loudspeaker is available for a similar price (as of 09/2021). The battery life of up to 20 hours is eight hours longer than that of the JBL Flip 6 and the big brother also offers an additional power bank function, which it owes its name to.
PartyBoost: Sometimes it has to be a little louder. JBL Flip 6 can be coupled with several speakers from the JBL product portfolio. The only requirement is that the respective speaker also supports PartyBoost. If this is the case, the same music can be played in every room, creating the right conditions for a good celebration. Waterproof: Flip 5 offers protection against water and is IPX7 certified. Flip 6 has protection according to IP67 and is therefore water and dust resistant. Both models can be used indoors and outdoors and can even survive brief immersion in water. So there is no problem if the Bluetooth speaker falls into the pool during summer use.Bluetooth version: The JBL Flip 6 uses Bluetooth 5.1 to connect to playback devices. With JBL Flip 5 it was Bluetooth 4.2. This means that the pairing with Flip 6 is more stable. Users can also use the Bluetooth speaker to move further away from their smartphone or tablet.
Have there already been tests for the JBL Flip 6 Bluetooth speaker?
No, the successor to the popular JBL Flip 6 was only announced at the beginning of September 2021 and should be available from November 2021. We have not yet had any tests or reviews of the JBL Flip 6. (As of: 09/2021)
JBL Flip 6 pricing and availability
The JBL Flip 6 Bluetooth speaker was announced for November 2021. The RRP is 139 euros (as of 09/2021). As is typical for JBL, those interested in speakers can choose from numerous color variations: Dusty Pink, Gray Stone, River Teal, Fiesta Red, Ocean Blue, Midnight Black, Steel White, Forest Green and Squad.
Anker SoundCore 2 as an alternative to Flip 6
If you don't want to wait until November and are also looking for a sound bargain, we recommend the tried and tested Bluetooth speaker SoundCore 2. Although the speaker from Anker has been available for a while, it is still one of the most popular portable speakers. With a battery life of up to 24 hours, SoundCore 2 even offers twice as much power as the JBL Flip 6.
Not only frequent listeners get their money's worth at Anker SoundCore, but also bargain hunters, at around 40 euros the purchase price is almost 100 euros below the recommended retail price of JBL Flip 6. (As of 09/2021)
with dual driver, better bass, 24 hours of playtime, 20m range, IPX5 waterproof with built-in microphone, wireless speaker for iPhone, Samsung etc.
Note: Due to the marginal changes to the JBL Flip 5, we continue to rate the predecessor as a good choice. However, JBL Flip 5 is currently hardly available anywhere. We therefore suspect that JBL will replace the Flip 5 Bluetooth speaker with the JBL 6 in the long term. (As of: 09/2021)
What is the difference between JBL Flip 5 and JBL Flip 6?
With the new generation JBL Flip 6, the sound experts have made some improvements to the predecessor JBL Flip 5. We have summarized the most important differences and similarities in the table:
JBL Flip 6
JBL Flip 5
Colours
Available in 9 colors
Available in 11 colors
Bluetooth version
5.1
4.2
Sound equipment
Two passive radiators, a racetrack-shaped woofer, a separate tweeter, two passive bass speakers on the side, and a racetrack-shaped woofer
Playback time
up to 12 hours
up to 12 hours
Water protection
IP67 water and dust protection
IPX7 water protection
PartyBoost function
Yes
Yes