Meizu 17 series is officially released. Summary of Meizu phones: Which one have you used?
On May 8, Meizu officially released its first Snapdragon 865 flagship Meizu 17 series mobile phone. After its establishment for so many years, Meizu Technology's main business has been manufacturing smart phones from MP3 and MP4. Meizu has brought us many new products. It is now the 17th anniversary of Meizu. Some digital bloggers have summarized the MP3, MP4 and mobile phone products released by Meizu in recent years. Let's take a look.
In June 2003, Meizu released its first MP3-MX, which supports the common MP3 and WMA playback formats and simple recording and FM functions. Although this player is not cheap, it had an MP3 at that time. Many people's dreams; then in 2004, Meizu released ME, MI, E2, E5 multiple players; in 2005 Meizu released X2, X6, E3, etc .; Meizu brought us M6, 2006 and 2007 M3 and other products.
Starting in 2009, Meizu began to set foot in the smartphone industry. In February 2009, Meizu released its first smartphone, the M8, which was very popular as soon as it was launched, with sales reaching 100,000 units in only two months; in 2011, Meizu launched two phones, M9 and MX; In 2012, Meizu released MX2; in 2013, Meizu brought us MX3; in 2014, Meizu successively launched MX4, MX4 Pro, and Meizu Blue Note.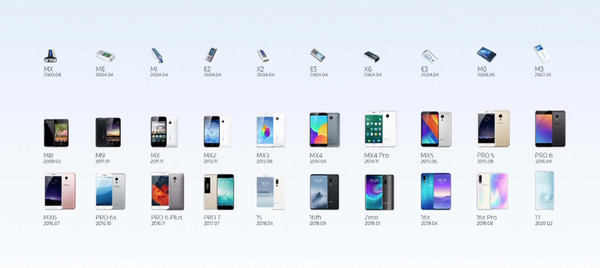 After 2015, Meizu began to launch a variety of mobile phones every year. From 2015 to 2018, Meizu has launched Charm Blue, MX5, Charm Blue 2, PRO 5, Charm Blue Metal, Charm Blue 3, PRO 6, Charm Blue Note3, Charm Blue 3s, MX6, Charm Blue E, Charm Blue U10 , Meizu MAX, Meizu 5, Meizu X, Meizu E3, Meizu 15, Meizu S6, Meizu 16th series, Meizu V8, Meizu 16X, etc.
In 2019, Meizu released Meizu Zero, Meizu Note9, Meizu 16s, Meizu 16Xs, Meizu 16s Pro, and Meizu 16T. In 2020, Meizu released its first Snapdragon 865 flagship-Meizu 17 series mobile phones. Among so many products released by Meizu, have you used them?