Overview of the best HomeKit products
What is Compatible with Apple HomeKit?
The range of HomeKit devices now ranges from kitchen fittings and smartwatches to WiFi routers. They can all be recognized by the "works with HomeKit" or "works with Apple Airplay" certificate, which is supplemented by a yellow house symbol.
HomeKit sockets & socket strips
Smart radio plugs, also known as smart plugs, connect normal household appliances to the desired smart home system. For example, lamps, music systems or coffee machines can be networked via HomeKit sockets and then operated with Siri.
Recommendation for WLAN sockets: Eve Energy is our HomeKit test winner
The elegant Bluetooth socket Eve Energy can be easily connected to an iPhone and controlled via the home app. An additional control center from the manufacturer is not necessary for this. In addition to being easy to use, the TÜV-certified HomeKit socket has a lot more to offer: It can measure power consumption and generate a cost forecast based on your personal electricity price. It is also so compact that it fits between the wall and the sofa, for example.
Elgato Eve Energy (2nd generation)
Popular adapter plug with power consumption measurement, smart control and Apple HomeKit compatibility.
The Meross indoor socket is a cost-effective alternative. In addition to the low price, it is characterized by many control options via app, Siri voice command or timer. In addition, the meross socket does not need its own control center (hub).
Meross socket (set of 2)
-11%
Inexpensive WiFi socket set of 2, compatible with Siri, Alexa, Google Assistant and SmartThings
Alternative sockets (note: some of them require an additional base station):
IKEA TRÅDRI socket (requires additional ZigBee Gateway) Onvis S3EU Smart PlugFIBARO Wall Plug (Fibaro Hub required) Lightwave socketBosch Smart Home adapter plug (requires Bosch Smart Home Gateway) LifeSmart Smart PlugSatechi Smart socketVOCOlinc VP3
Recommendation for socket strips: The Eve Energy Strip stands for high quality
The Eve Energy Strip enables remote control of up to three devices via WiFi. Since it does not require a bridge (control center), this multiple plug is a good solution for smart home beginners who only want to try out voice control via Siri without obligation and inexpensively. You can use the TÜV-classified HomeKit socket strip e.g. retrofit a coffee machine and floor lamp smart.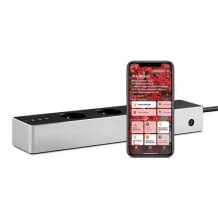 -9%
Smart multiple socket with independent control of the three individual sockets. Works with Apple HomeKit.
Alternative HomeKit socket strips:
Koogeek Wifi Smart Power StripVOCOlinc VP2 WiFi Power StripMeross Power Strip
Recommendation for outdoor sockets: The Meross outdoor socket defies the cold
Robust sockets that can withstand wind, weather and cold are required for the garden. After all, they should be usable all year round. The Meross Outdoor socket has two independently controllable outdoor sockets. If desired, they can be controlled not only spontaneously via app or voice, but also automatically via a timer or depending on sunrise or sunset.
Meross smart external socket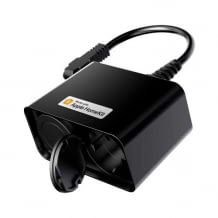 WiFi double socket for outdoors. Works with Alexa, Google Assistant and Apple HomeKit.
Alternative outdoor sockets:
GARDENA Smart Power (GARDENA smart Gateway required) OSRAM Smart + ZigBee-Plug (ZigBee Gateway required)
HomeKit lighting systems and WLAN lamps provide enlightenment
With the help of HomeKit-compatible lamps and lighting systems, e.g. If necessary, switch off all the lights in the apartment at the same time when leaving the house. Alternatively, it is also possible to simulate a sunrise in the morning with mood lamps and thereby gently wake you up.
Recommendation for lighting systems: Philips Hue is our test winner
Anyone who deals with smart lighting cannot avoid the multiple test winner Philips Hue. Because the lighting system offered by Signify offers a huge selection of ceiling and garden lamps, spots, light strips and mood lights with an impressively high color intensity and numerous control options.
Philips Hue Starter Set White & Color Ambiance E27 (4th generation)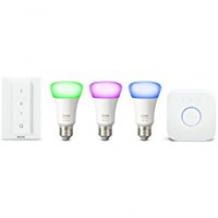 -30%
The most popular entry-level set in the Hue lamp world, including bridge and dimmer switch, HomeKit and Alexa compatible.
The IKEA TRÅDFRI system from the well-known Swedish furniture giant is a cheap alternative to Philips Hue. It impresses with a simple, classic design that goes well with many living arrangements and its inexpensive components.
IKEA smart home
IKEA Home Smart lighting control
With TRÅDFRI, IKEA turns the home into a smart home. The IKEA Home Smart lighting control scores with a very good price-performance ratio and compatibility with Alexa, HomeKit and Google Assistant. Discover now.
To IKEA
Alternative HomeKit lighting systems:
Recommendation for lamps: LIFX MINI light bulb
LIFX Mini Color and White E27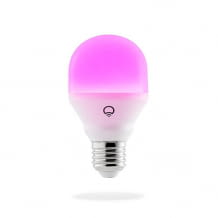 -35%
E27, adjustable, multi-colored, dimmable, no hub required, works with Amazon Alexa, Apple HomeKit and Google Assistant
Alternative E27 HomeKit lamps:
Meross lightbulbSmart LED lamp A60 E27Aqara Zigbee Smart LED E27 (Aqara Hub required) Koogeek Smart WLAN LED E27OSRAM Smart + Classic E27Yeelight E27 800lm
Recommendation for bedside lamps: Meross bedside lamp
Its elegant, timeless design and atmospheric light colors make the Meross bedside lamp the ideal sleep aid. Here, too, the lighting scenes can be linked to sunrise and sunset or controlled by timer. In addition, the light color or brightness can be changed spontaneously at any time by voice command or the app without having to get up and walk to the lamp.
Dimmable lamp, compatible with Alexa, Google Home and IFTTT
Alternative HomeKit bedside lamps:
Yeelight Mijia bedside lampXiaomi Mi Smart Bedside Lamp 2 bedside, mood & ambience lamp
Recommendation for mood lights: Nanoleaf LED panels
These modular, thin LED panels from Nanoleaf can be creatively combined without screwing or drilling and attached to the wall in a few seconds. Then its 16 million colors, the brightness and various light effects (animation direction, speed and highlights) can be changed via Siri. Thanks to the rhythm module, the lights can even be animated to match your favorite music.
Nanoleaf Light Panels Rythm Starter Kit
-22%
9 modular smart LED panels with sound module that animates the light panels to match the music. Compatible with voice assistants.
Alternative HomeKit ambient light offers:
Cololight LED module system (inexpensive alternative to the Nanoleaf Light Panels) LIFX Clean light bulb (with antibacterial function)
HomeKit Lightstrips: For a special light ambience
Regardless of whether it is a kitchen unit, desk, bed or sofa, with an intelligent light strip it is possible to put individual living areas in the limelight in an atmospheric and very individual way. Our recommendation is the high-quality Philips Hue Lightstrip, which requires a Philips Hue Bridge as a control center, but can be networked and controlled uniformly with up to 50 other components from the manufacturer.
Philips Hue LightStrip + Basic Set (without Bridge)
ZigBee-compatible light strip, dimmable, multi-colored, flexible and highlight as indirect lighting
If you are looking for a cheap HomeKit Lightstrip without a bridge connection, e.g. because he only wants to illuminate his TV cabinet indirectly, Meross should take a closer look at the offer.
-9%
WLAN LED strips with dimming function, timer, remote control and app control. Compatible with Alexa, Google and Apple HomeKit.
Alternative light strips for outside:
You can't go wrong with the Philips Hue Lightstrip Outdoor for the garden or courtyard. It is available as a 2 or 5 meter variant, both of which can reproduce 16 million colors and different shades of white.
Philips Hue LightStrip Outdoor, 2m
The bestseller from Philips Hue now also for outdoor use
More colorful HomeKit lights and LED strips:
Nanoleaf Canvas Smarter Light KitCololight StripEve LightstripLIFX Z
HomeKit speakers: boxes, soundbars and speakers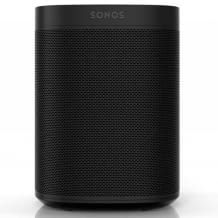 -5%
Compact speaker for great sound. The loudspeaker can be connected to a multiroom system.
If you prefer to stick with Apple products, you definitely can't go wrong with the new HomePod Mini. With an RRP of less than 100 euros, the HomePod Mini is the cheapest alternative for building a Smart Home based on Apple.
Apple HomePod Mini, black
Compact and inexpensive. For a room-filling 360 degree sound. With voice assistant Siri and voice recognition.
Five far-field microphones for speech recognition, as well as five digital class D amplifiers and a pleasantly compact design characterize Sonos Beam. The multiroom soundbar can be connected to any other Sonos speaker to form a sound system via WLAN.
The prerequisite for using the Sonos Beam Soundbar is a television with HDMI-ARC or optical digital audio output, as well as broadband internet and the use of the Sonos app.
-11%
Soundbar with Amazon Alexa voice control, AirPlay compatible, including HDMI and LAN (10/100 MBit / s) interfaces
Alternative HomeKit soundbars:
HomeKit TV: 4K TV with AirPlay 2
Almost all major television manufacturers now offer AirPlay 2-enabled devices. Well-known manufacturers include LG, Samsung, Sony and VIZIO. We summarize the most important ones.
Recommendation: The LG 55NANO806 TV impresses with its blaze of color
With a screen diagonal of 55 inches, 4K and HDR, this HomeKit compatible TV from LG offers impressive picture quality. LG's AI is also integrated, which uses two-stage noise reduction to reproduce the image reliably and cleanly.
LG 55 series NANO 806 television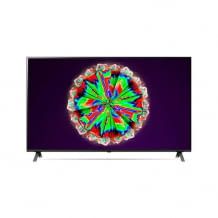 -10%
4k NanoCell Smart TV with local dimming. Incl. Active HDR and compatibility with Google Assistant, Alexa and HomeKit.
The LG 43UN71006LB television is a cheaper, smaller alternative. It also comes with HDR and 4K, but is a good deal smaller with a 43-inch diameter. It is therefore also suitable for apartments with less parking space or users whose seat is relatively close to the screen.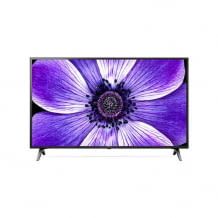 -12%
Smart TV with Quad Core 4k processor, AI sound, Active HDR. Incl. Alexa, Google Assistant and HomeKit compatibility.
Alternative HomeKit-enabled televisions
Vizio P-Series QuantumSony X950GSamsung QLED 4K Q6, Q7, Q8, Q9
HomeKit thermostats: Radiator & room thermostats heat up vigorously
Whether in the bathtub, on the sofa, deck chair or while on vacation: With a HomeKit-compatible thermostat, the temperature can be changed anytime and anywhere.
Recommendation: tado ° Thermostat Smart Starter Kit V3 +
The elegant tado ° thermostats not only stand out from the crowd of bulky standard models because of their elegant appearance, they are also particularly smart. They deliver e.g. Clear statistics on energy consumption enable smart individual room control and, if you take out an Auto Assist subscription, even offer the option of automatic window-open detection. The tado ° thermostats can be installed on almost all common radiators with thermostatic radiator valves.
The tado ° Thermostat Smart Starter Kit V3 + recommended by us already includes the bridge (control center) required for operation. If required, it can be supplemented at any time with additional individual thermostats from tado °.
tado ° Smart Radiator Thermostat Starter Kit (V3 +)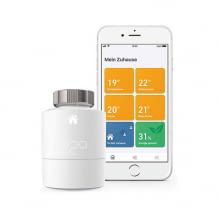 -17%
Intelligent heating control with room air skill; Compatible with Alexa, Apple Homekit, Google Assistant and IFTTT.
As an alternative without a bridge, the Eve Thermo radiator thermostat with presence detection, child safety and frost protection is suitable. An LED display for temperature display rounds off the equipment.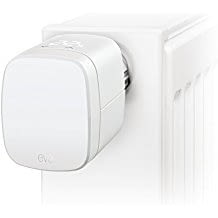 -2%
LED display, integrated touch control panel, automatic temperature control, no bridge required
Alternative HomeKit compatible thermostats:
Bosch Smart Home Radiator Thermostat (requires: Bosch Smart Home Gateway) Fibaro Radiator Thermostat (Fibaro Hub required) Heatmiser neoHoneywell Lyric T6RNetatmo wireless radiator thermostat
HomeKit door locks: safely lock or unlock entrances on demand
A networked locking system allows friends, children and relatives to enter the house without their own keys, while strangers have to stay outside. If you like, you can even use the HomeKit app to open the door for tradespeople or guests on the go.
Recommendation: NUKI Combo 2.0
The NUKI Smart Lock enables keyless opening of the front door at the push of a button. Since the integrated key turner can also pull lock latches, even knob doors are no problem for this smart retrofit solution.
Particularly practical: The Nuki Smart Lock can be easily installed from the inside using the key in the lock in just 3 minutes, so that there is no possibility of manipulation from the outside. If a move is pending, it can still be removed by its owners at any time and taken with them.
-10%
Electronic door lock: easy to retrofit, bluetooth capable and controllable via smartphone
Alternative HomeKit door locks:
HomeKit doorbells: Enable flexible access control
With smart doorbells, you can receive notifications on the go or you can communicate directly with visitors via the telephone system, which is why new doorbells with an app connection or voice control are becoming increasingly popular.
Recommendation: Netatmo Smart Video Doorbell
Our favorite among the smart HomeKit doorbells comes from Netatmo and, in addition to its intercom function, also impresses with the transmission of live video images. Person recognition and infrared night vision mode even make the small gadget a comprehensive security solution. Because the doorbell does not miss any movement in its environment, no matter how bad the weather or light conditions may be.
Netatmo Smart Video Doorbell
Smart video doorbell with camera, WiFi, 2-way audio, person recognition and without subscription. With local data storage.
Alternative HomeKit doorbells:
Robin ProLine CompactRing Pro Video Doorbell Doorbird
HomeKit surveillance cameras: For maximum security at home
Modern cameras switch on automatically when they are needed and stream their recordings directly to their owner's smartphone. They can also trigger other functions at the same time – for example, activate the exterior lighting or sound an alarm siren.
Recommendation: eufyCam 2C
Our favorite is the eufyCam 2C. With its recording quality of 1080p, the weatherproof housing and a good night vision function, this surveillance camera convinced us across the board. In addition, it can be expanded into a comprehensive wireless security system at any time via its control center. All recordings can be saved locally free of charge.
-33%
Surveillance camera in a double camera set with full HD resolution, 135 degree wide angle, night vision and person recognition.
The compact eufy Security Indoor Cam 2K is suitable for interiors and households with a small budget. Thanks to intelligent motion detection, it can differentiate between pets and people and lasts up to 180 days on just one battery charge. Your recordings are protected from unauthorized access by AES 256-bit encryption.
eufy Security Indoor Cam 2K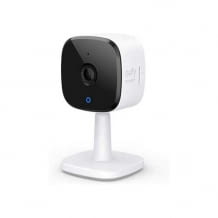 IP camera for indoor use. With WiFi, person recognition, voice assistant, motion sensor and night vision.
Alternative HomeKit surveillance cameras:
HomeKit garage door opener: Thanks to Siri, never get out of the car unnecessarily
Sometimes we're already on our way to work when we suddenly wonder if the garage door is closed. If you have a HomeKit, you can also control your garage door while driving with Siri voice commands and operate it if necessary.
Recommendation: Meross garage door opener MSG100
Anyone looking for an inexpensive solution to retrofit their existing electric garage door smart will make the right choice with the Meross MSG100. Because this particularly inexpensive model is compatible with a large number of garage doors, easy to install and, if desired, can even be operated with voice commands. If you like, you can also check your switching history via the app.
Meross Smart WiFi garage door opener
-54%
With app control and voice control via Alexa or Google Assistant. Incl. Notification mode. Easy installation.
Alternative HomeKit garage door opener:
Hörmann internal push button module Martgate Standard Lite GarageNice SPINBUS SN6031Summer garage door operator bas + Shelly 1 Garage DoorSomfy garage door control
HomeKit devices for the garden: automatic irrigation and Co.
There are also more and more HomeKit products for the garden, e.g. facilitate the maintenance of the outdoor facilities or provide more security through automatic lighting. We reveal what is already possible.
Recommendation: Eve Aqua Adapter
With the help of the battery-operated Eve Aqua adapter for outdoor taps, automatic garden watering is no longer a problem. It is suitable as a switching module for all common hose systems and multiple distributors, e.g. from GARDENA and Kärcher. Screwed between the tap and the garden hose, Eva Aqua supports up to 7 watering times, displays water consumption remotely or switches watering on and off via Siri.
-8th%
Wasting water is a thing of the past: control garden irrigation with Apple HomeKit via iPhone including consumption display, remote access and intelligent schedules
Alternatives to garden irrigation via HomeKit:
GARDENA Smart Water Control (GARDENA smart Gateway required)
HomeKit air conditioners: cooling devices for a comfortable temperature
What use is a heater in the summer heat? Sometimes it can be a little cooler. Smart room air conditioners also ensure good air quality and thus more concentration and a good mood. We present an overview of some options for networking with HomeKit.
Recommendation: tado ° Smart AC Control V3 +
All air conditioning systems that have an infrared control with display can be used with tado ° Smart AC Control V3 +. Using geofencing mode, the smart remote control of the air conditioning can even automatically detect how far away its owners are from home. As a result, she adjusts the temperature to the desired value in good time before returning home.
tado ° Smart AC Control V3 +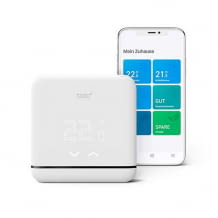 -14%
Ensures an optimal room climate and saves energy. Incl. Geofencing function, window open detection and voice control.
Alternative HomeKit air conditioners:
(Elgato) Eve Room Indoor Air Quality MonitorKaiterra Laser Egg Room Air SensorVOCOlinc – FLOWERBUD Ultrasonic Fragrance Atomizer & HumidifierNetatmo Healthy Home Coach Room Air SensorDe'Longhi Comfort Dehumidifier
Homekit blinds and window control: Everything at a glance
Recommendation: IKEA FYRTUR blackout blind
The stand-alone solution FYRTUR offers the possibility to control the blinds by remote control without any cables. The modern IKEA roller blind in a simple design is able to completely darken the windows and is therefore the ideal solution for bedrooms.
If the FYRTUR roller blind is integrated into an IKEA Smart Home system via the manufacturer's gateway, it can alternatively be networked with HomeKit and Siri and accordingly controlled remotely.
FYRTUR blackout blind, 100x195cm
Allows the blinds to be controlled wirelessly. With TRÅDFRI Gateway, compatible with popular voice assistants.
In addition, IKEA also offers the KADRILJ roller blind, which does not completely darken rooms, but protects them from prying eyes. Like FYRTUR, KADRILJ is available in different sizes. However, the color of both variants is limited to an elegant dark gray.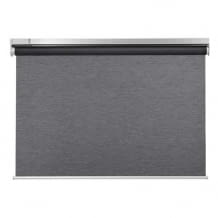 Semi-transparent roller blind with wireless control. With TRÅDFRI Gateway, compatible with popular voice assistants.
Unfortunately, IKEA's offers are the only stand-alone solutions to date. All other options are only possible in connection with an entire Smart Home system (e.g. Homee).
HomeKit Smart Switches: Radio switches for light control
If you are looking for a HomeKit compatible switch, you have the choice between pure light switches and models that e.g. can also control shutters or trigger heating scenarios at the push of a button.
Recommendation: Philips Hue Smart Button
Our favorite in this category is the compact Philips Hue Smart Button. Its holder is installed like a classic switch – however, the button can be removed if necessary. This means it can be used either stationary or mobile. If the Philips Hue button is connected to other components from the manufacturer via a bridge, it can e.g. Dimming lamps continuously.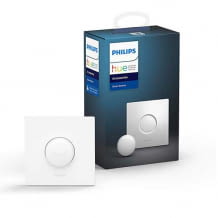 Light control and dimming without any installation. Can be placed anywhere.
For those who prefer to do without a bridge, the Eve button is recommended. The button has three different operating modes and can also be easily integrated into the Apple Smart Home. However, the Eve Button is much more expensive than our favorite and is much more noticeable on light walls due to its black color.
-15%
Smart remote control for controlling HomeKit devices and scenes. Compact and portable.
Alternative smart switches for HomeKit fans:
HomeKit smoke alarms as important protection in the event of fire
Smoke detectors have long been mandatory across Germany and yet many people do without them out of convenience. With smart models, annoying false alarms and constant battery changes are no longer an argument against retrofitting, because they offer maximum convenience with minimal maintenance.
Recommendation: Eve Smoke
The Eve Smoke smoke detector not only emits a warning sound if there is a risk of fire, it also transmits directly to the owner's iPhone or triggers pre-defined HomeKit scenes. If desired, several Eve Smoke smoke detectors can also be networked, whereby e.g. an immediate alarm is also issued in the bedroom if a fire detector in the basement or garage detects dangerous smoke development.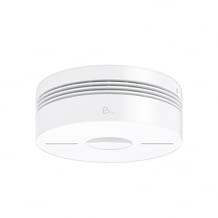 -9%
Smoke & heat dual warning device including self-test, alarm for several rooms possible, certified according to DIN EN 14604
Alternative HomeKit smoke alarms:
OPUS smoke alarm device Netatmo smoke alarm
HomeKit water alarms: monitor washing machines, dishwashers, etc.
Anyone who has ever experienced water damage knows how much effort, time and money go into repairs. That is why water alarms are reliable and inexpensive helpers, so that possible burst pipes can be detected early and damage minimized.
Recommendation: Aquara water alarm
The contact points of the Aqara water detector effectively detects water damage in the event of broken pipes or damaged hoses. If water reaches the contact points of the detector, it automatically sounds the alarm. When placed on the floor in the kitchen, bathroom or basement, leaking water is quickly detected.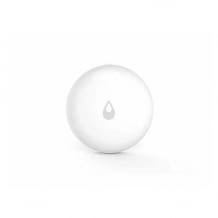 Water sensor for detecting floods. With an on-site alarm and via the app.
Alternative HomeKit water alarms:
Eve Water GuardFibaro Watermelder / Flood Sensor (Fibaro Hub required) LifeSmart Cube Water Leakage Sensor
HomeKit sensors: motion detectors are ready for use day and night
Essential for a HomeKit-controlled smart home system are sensors that trigger automatic reactions to certain situations. For example, they can illuminate the hallway as soon as someone enters it or switch off the heating if windows are left open for longer.
Recommendation: Philips Hue motion detector
If you want to save yourself having to switch the light on and off or want to ensure more security at stairways, you should use the Philips Hue motion detector. As part of the Philips Hue light system, it activates e.g. automatically lights the driveway, illuminates the garden effectively when someone enters it or controls indirect stair lighting. Its response time is less than 0.5 seconds and its range is 5 meters.
Philips Hue motion sensor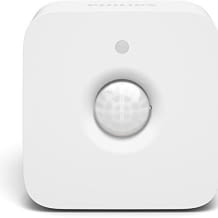 -7%
Predefined scenes are activated when movements are detected. Simple assembly with magnetic holder. Additionally output of the temperature in the room.
As usual with Eve (formerly Elgato) products, the Eve Motion motion detector also offers its functions to the full without a connection to a bridge. So if you don't want to use a bridge, you will find it with the Eve Motion motion detector.
-12%
Stay up to date: Receive notifications as soon as motion is detected. Works perfectly with the Apple iPhone.
Alternative motion detectors:
Aqara motion detector (Aqara Hub required) Bosch Smart Home motion detector (requires Bosch Smart Home Gateway) Fibaro Motion Sensor (Fibaro Hub required) LifeSmart Cube Motion SensorOnvis Smart Motion Sensor
With the help of door and window contacts, smart home owners know immediately if someone tries to break in from the outside. This means that the police can be notified immediately and a break-in can be prevented before serious property damage or theft occurs. Apart from that, door and window contacts can also be used to check at any time via app whether a window that was opened for ventilation has been forgotten and thus emits an unnecessary amount of heating energy to the outside.
Recommendation: Bosch Smart Home door / window contact
The Bosch door / window contact not only helps to protect against burglars but also serves as a reminder to save energy. When the windows are open, it can therefore reduce the temperature directly in conjunction with a compatible Smart Home radiator and the manufacturer's bridge. The smart door / window contact from Bosch can be used at ambient temperatures of 5 to 50 degrees Celsius.
Bosch Smart Home door-window contact
-29%
Detects open windows and doors and ensures lower electricity bills and more security in your home
The Eve Window Guard door / window contact, whose elegant design also meets high demands, is suitable as an alternative that does not require a bridge. It works without additional cables or connections and is therefore particularly easy to install.
-18%
Zuverlässiger Alarm, sobald das Fenster oder Balkontür geöffnet wird. Harmoniert perfekt mit Apple HomeKit.
Alternative Tür-/Fensterkontakte für HomeKit Nutzer:
Aqara Tür- und Fenstersensor (Aqara Hub erforderlich)EiMSIG Fenster- und GlasbruchsensorFibaro Tür- und Fensterkontakt (Fibaro Hub erforderlich)Koogeek Door/Window SensorOnvis EinbruchmelderOPUS Tür- und Fensterkontakt
HomeKit Wetterstationen: Geben Auskunft über das aktuelle Klima
Mithilfe von Wetterstationen haben Nutzer immer alle nötigen Informationen zur Außentemperatur, Wetterlage, Innentemperatur sowie Raumluftqualität zur Verfügung. Dadurch erfolgt am Morgen nie eine kalte oder nasse Überraschung beim Verlassen des Hauses.
Empfehlung: Netatmo Wetterstation
Neben den Informationen zum Wetter eignet sich die Netatmo Wetterstation auch um ungünstiges Raumklima zu erkennen, welches häufig zu Nebenwirkungen wie Kopfschmerzen, gereizten Augen oder trockener Haut führen kann. Besonders praktisch: Passend zur Netatmo Wetterstation gibt es vom Hersteller zahlreiche weitere Komponenten und Sensoren, wie den Netatmo Raumluftsensor.
-12%
Messung der Umgebungsdaten innen und außen in Echtzeit, Wettervorhersage, aktuelle Warnmeldungen über App und Fernzugriff auf die Daten
Für eine Wetterstation die keine Bridge benötigt raten wir zu der Elgato Eve Room. Diese misst neben Temperatur und Luftfeuchtigkeit auch den Kohlenstoffdioxidgehalt im Raum. Sein schwarzes Design macht den Raumluftsensor dabei zum absoluten Blickfang.
Elgato Eve Room (2. Generation)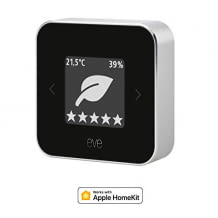 -10%
Jetzt mit integriertem Display: Misst Luftqualität, Temperatur und Luftfeuchtigkeit in deinem Raum.
Alternative Angebote zum Wetter:
HomeKit Wasserhähne: Heißwasser per Sprachbefehl
Mithilfe von smarten Wasserhähnen lässt sich zum Beispiel direkt kochendes Wasser aus dem Hahn abrufen oder eine bestimmte Füllmenge einstellen. Das ist z.B. dann praktisch, wenn Eltern ihr Kleinkind auf dem Arm und eigentlich keine Hand frei haben, um dessen Babybrei zuzubereiten.
Angeboten werden HomeKit Wasserhähne z.B. von Kohler Konnect über dessen smarte Toilette wir bereits 2018 berichtet hatten.
HomeKit Router, Repeater und Mesh-Zubehör: Smarte WLAN Verbindung
HomeKit Router bieten höhere Sicherheit und ermöglichen mehr Einstellungsmöglichkeiten als viele klassische Modelle. Zudem wird durch die HomeKit Anbindung der Bedienkomfort gesteigert und die Handhabung vereinfacht.
Empfehlung: Mesh WLAN Router eero 6
Der eero 6 Mesh WLAN Router bietet schnelle Geschwindigkeiten sowie mehrere Datenströme gleichzeitig, weswegen er sich besonders fürs Smart Home lohnt. Ein einzelnes Gerät deckt bis zu 140 Quadratmeter ab, drei eero 6 Modelle als Mesh System verknüpft sogar bis zu 460 Quadratmeter. Und das Beste daran: eero 6 funktioniert mit jedem Internetanbieter.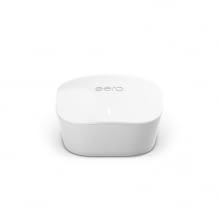 -40%
Schneller eigenständiger Router mit TrueMesh-Technologie erweitert die WLAN-Abdeckung
Alternative HomeKit Router:
HomeKit Steuerzentralen: Steuerpult des Apple Smart Homes
Die Steuerzentrale eines HomeKit ist die Universalfernbedienung, die per Sprachbefehl und in Kombination mit Siri zur Kontrolle des Smart Homes dient. Sie sollte einfach zu handhaben und flexibel sein.
Empfehlung: HomePod
Ganz klassisch ist die beste Steuerzentrale für ein Apple Smart Home weiterhin der HomePod von Apple selbst. Denn er punktet nicht nur mit seiner Raumerkennung, die den Standort wahrnimmt, sondern auch durch 7 Hochtöner  mit Audio-Beamforming sowie Touch-Sensoren als zusätzliche Navigationsoption.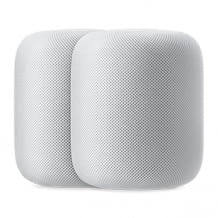 -10%
Erster smarter Lautsprecher von Apple – beeindruckender Klang, leistungsstark und perfekt zur HomeKit-Steuerung
Alternative HomeKit Steuerzentralen:
HomeKit kompatible Smart Home Systeme
Diese Anbieter vertreiben vollständige und HomeKit kompatible Smart Home Systeme:
HomeeAqaraBosch Smart HomeIKEA TradfriSomfy
HomeKit Fertighäuser: Diese Anbieter bieten HomeKit Pakete
Insgesamt listet Apple drei Unternehmen, die bei Bauprojekten passende HomeKit Pakete mit anbieten. Diese sind:
R&FWeberHausBrookfield Residential
Welche Geräte sind mit HomeKit kompatibel?
Um Apples hohen Ansprüchen gerecht zu werden, müssen Kooperationspartner strenge Richtlinien erfüllen. Nur dann dürfen sie sich mit dem Zertifikat "works with HomeKit" oder "works with Apple Airplay" als HomeKit kompatibles Gerät schmücken.