QNAP Introduces QTS 4.5.2: SNMP Enhancements, Support for SR-IOV, Intel QAT, and New 100 GbE Adapter
Press Release: QNAP® Systems, Inc. (QNAP) has officially introduced QTS 4.5.2, the latest version of the advanced QNAP NAS operating system. Key features of QTS 4.5.2 include SNMP enhancements for network device monitoring and support for Single Root I / O Virtualization (SR-IOV) and Intel® QuickAssist Technology (Intel® QAT) for virtual machines (VMs). QNAP also introduced for the first time its ultra-fast 100GbE network expansion card. With comprehensive enhancements to virtualization, networking, and management capabilities, QNAP NAS can help businesses and organizations realize the highest performance potential to meet current and emerging IT challenges.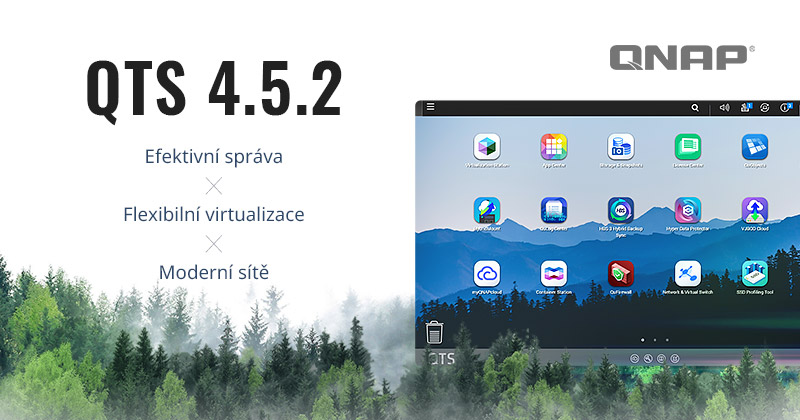 Source: QNAP
Key new features in QTS 4.5.2
SR-IOV Network Virtualization By installing SR-IOV-compatible PCIe SmartNICs on a NAS device, bandwidth resources from the physical network card can be allocated directly to the VM. With direct operation outside the Hypervisor vSwitch, I / O improves full-scale and network efficiency by 20%, ensuring reliable VM applications and reduced CPU overhead.
Intel® QAT Hardware Accelerator Intel® QAT provides hardware acceleration that releases computationally intensive compression, improves IPSec / SSL cryptography performance, and supports SR-IOV for better I / O throughput. Everything can be passed to virtual machines on a NAS device for optimized performance.
Network Expansion Card 100GbE QXG-100G2SF-E810 Dual Port (Coming Soon)
The QXG-100G2SF-E810 uses the Intel® Ethernet Controller E810, supports PCIe 4.0 and provides bandwidth of up to 100 Gbps to overcome performance bottlenecks. It supports Windows® and Linux® servers / workstations, allowing users to achieve optimal business performance for a wider range of system applications and services. Higher bandwidth density with reduced lines helps reduce cabling requirements and operating costs.
QTS 4.5.2 is now available in the Download Center.
More information about the QTS 4.5.2 system can be found here.