Review of Tesla Smart Camera PIR Battery: First-class security at an affordable price
Are you thinking of purchasing a security camera to protect your property, but would you like to get it for the most friendly amount possible? Then you might be interested in our reviews today. We received the Smart Camera PIR Battery from the workshop of the Czech company Tesla, which is sold at a relatively low price, but still offers a number of interesting functions, at least on paper. But what is the camera like in real life?
You could be interested in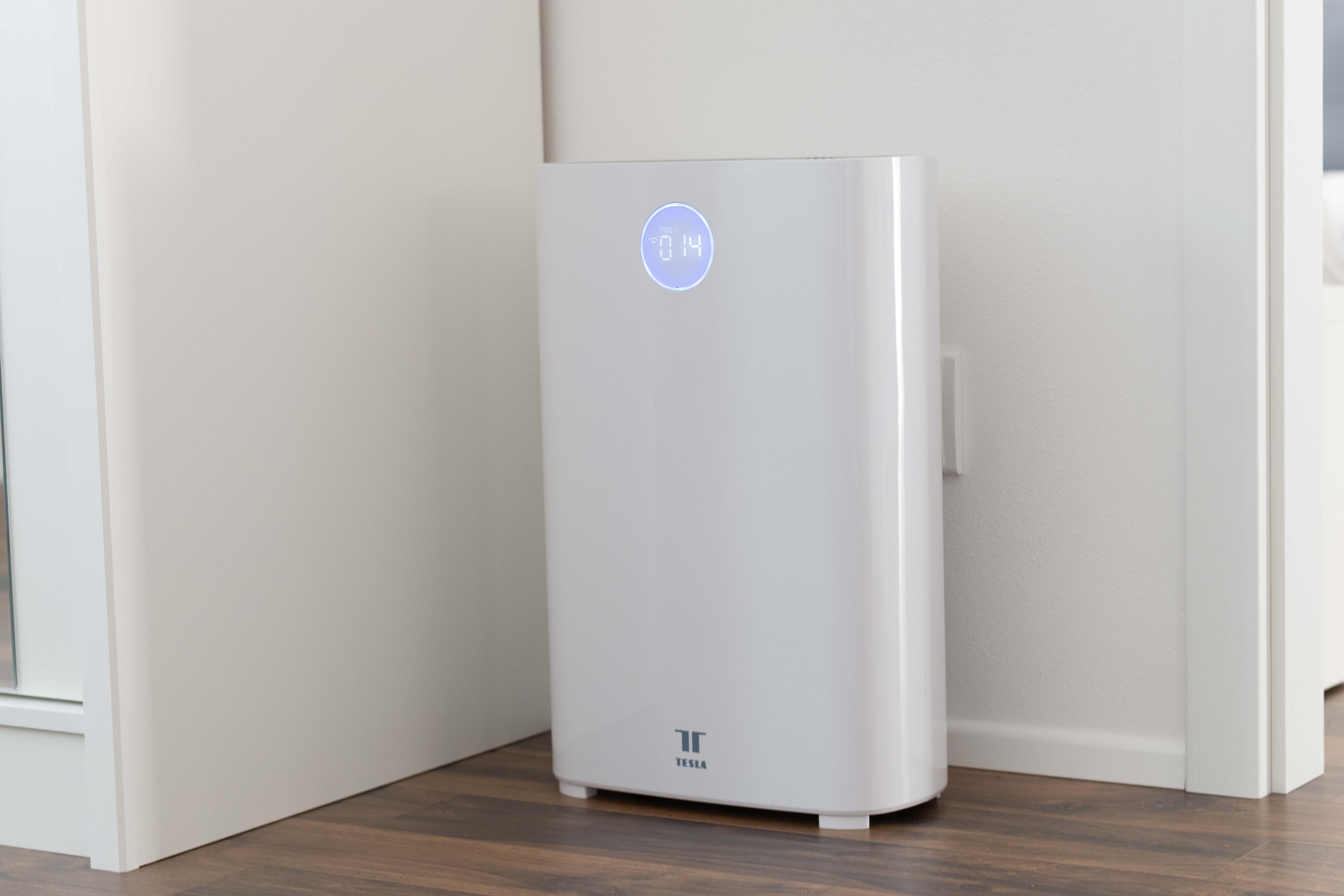 Tesla Smart Air Purifier Pro: Smart air easily, quickly and cleverly
Review
Jiří Filip
11. 9. 2021
0
Technical Specifications
Before we start the testing itself, I will introduce you to the technical specifications of the product. The Smart Camera PIR Battery is in a way a classic IP outdoor camera, which in other words means that in order to connect to it and watch the image in real time, it needs to be connected to the Internet. It has an ultra-wide lens with a resolution of 1920 x 1080 px (with the proviso that the resolution can be switched from HD to SD) with support for night vision and a paper maximum afterglow of 10 meters. The battery is powered by a rechargeable battery, which, according to the manufacturer, ensures operation for up to 90 days, which is not a bad result at all. There is also a PIR, ie a passive infrared sensor, to detect any movement, which the camera can subsequently alert through a mobile notification.
Source: Editorial Flight Around the World Apple
When it comes to storing footage from the camera, this can be done either on a microSD card or on cloud storage. Here, however, it must be said that in order to use the cloud, you need to subscribe to a service that allows it and which also offers a few other tweaks. Its price is $ 4.49 per month for the base plan and $ 9.99 per month for the premium plan. In the case of an annual plan, you pay $ 44.99 for the base and $ 99.99 for the premium. The plans then differ from each other "only" by the time for which the recording from the camera is stored in the cloud. In the case of basic, we talk about 14 days, in the case of premium we talk about a month. I have to say that this division of the subscription sounds really nice to me, because it doesn't force you to pay extra for any extra features other than the time of deposit. On the other hand, I admit that if it was possible to connect the camera to HomeKit, which unfortunately is not possible at present, the use of HomeKit Secure Video is "free" (in quotes is because it is not free, as you still have to subscribe to iCloud to they had access to it) would be more friendly for me as an apple maker.
Source: Editorial Flight Around the World Apple
We will stay with OS compatibility for a while. The camera is controlled and monitored specifically through the Tesla Smart application, which was created by Tesla to manage all the products of its smart home. So it's nice that if you're already "going" to Tesla, you can still make do with that one application, which is also in Czech. It is, of course, available free of charge for both iOS and Android, in a number of language versions, although our mother tongue is of course authoritative for us. As mentioned above, the camera communicates with the phone via the Internet, to which it connects via its WiFi module with a frequency of 2.4 GHz. This is where you need to think – with 5GHz, the camera doesn't understand much.
The camera can also please with its dimensions. It is 57 mm wide, 100 mm high and 62 mm deep, making it undoubtedly one of the smallest security cameras on the market. It is made of plastic, which at least has a really durable effect to the touch, so I believe that if God forbid, the camera fell from a height to the ground, it would survive without much damage. The icing on the imaginary cake can be a speaker and a microphone, thanks to which you can communicate through the camera, or scare away unwanted people, or water resistance, thanks to which it is not a problem to leave the camera in the rain or snow.
Photo gallery
tesla pir 2 camera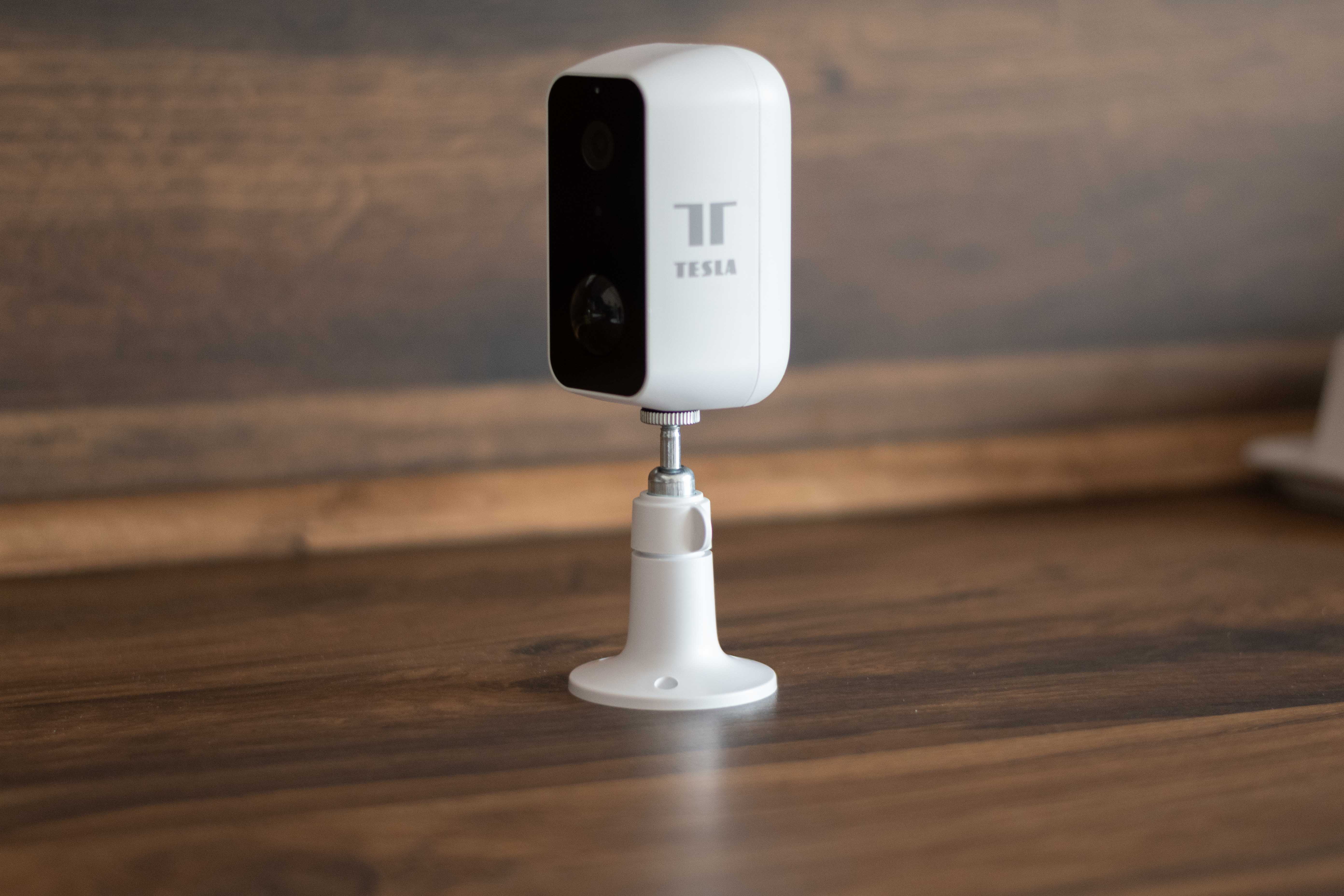 tesla pir 3 camera
tesla pir 6 camera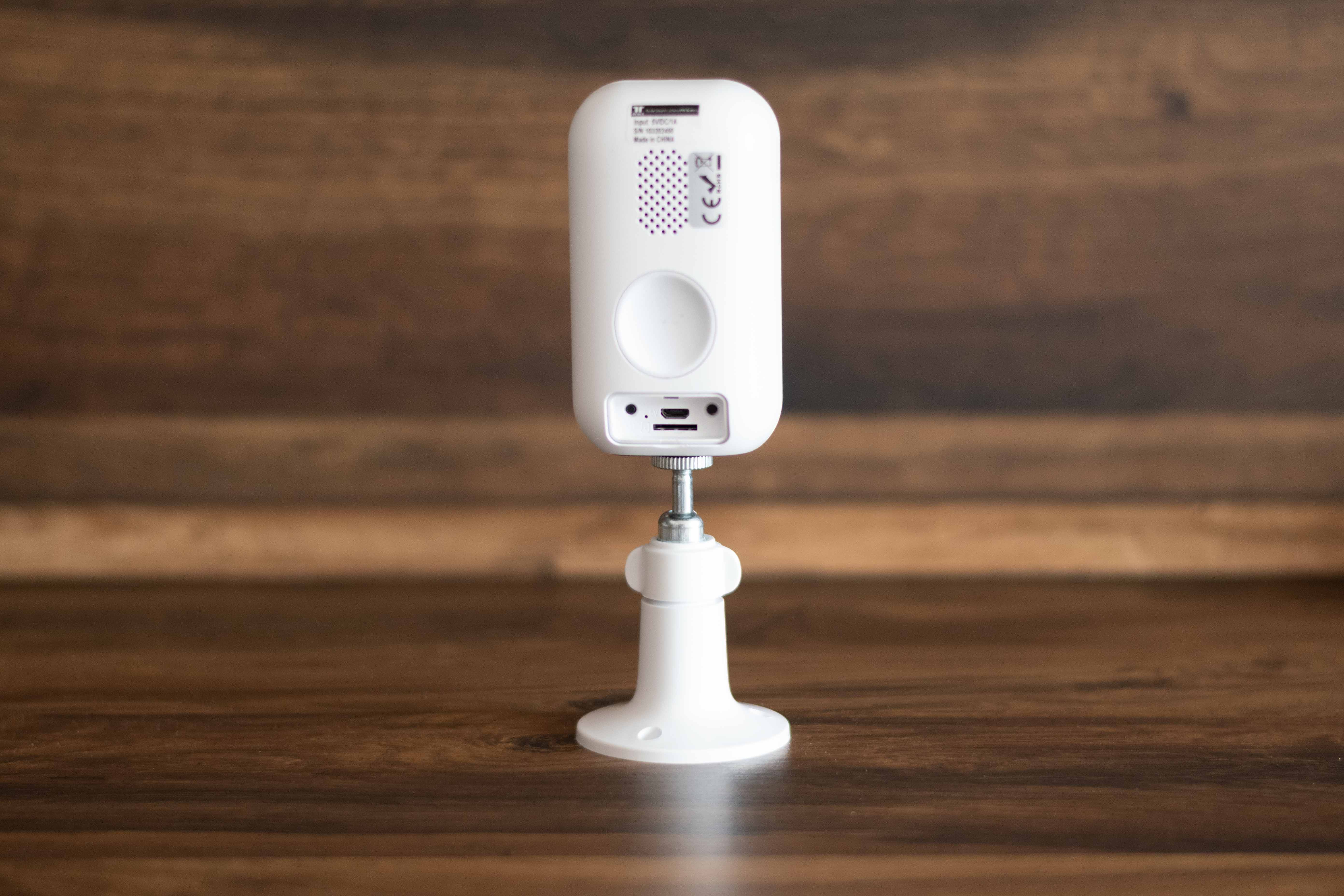 tesla pir camera 4
Enter the gallery
Installation and first start
Did you think the installation of security cameras was complicated? I will mislead you today. Thanks to the fact that the Smart Camera PIR Battery communicates wirelessly and is also powered by a battery, it logically eliminates the need to prepare any cabling, which is, at least in my opinion, always the biggest challenge when installing electronics. All you have to do is decide whether to use a magnetic mount that attaches to the back of the camera or to mount a classic hinged mount in its lower thread, which allows for more field of view adjustments, but is also more space-consuming. In both cases, screws, dowels and a drill are all you need. In short, a complete toy.
The first run is not complicated in any case. This will guide you through the application itself, which first informs you that it is necessary to "bring the camera to life" after unpacking by pressing the rear Restart button and then just show the QR code in front of its lens, which will appear on the phone display that then just fills in the WiFi data, a few access is allowed and it's done. The commissioning of the camera from installation to the possibility of monitoring the surroundings through it is therefore a matter of literally units of minutes.
Testing
When I went into testing the camera, I was confidently curious about how well the image captures (in terms of resolution and smoothness) day and night and how well it can communicate with the phone. And honestly, it only took me a few days of intensive testing to be able to say that you will be really happy in both of these directions. Sure, the picture doesn't look as nice as if you were shooting on an iPhone, but the fact that we're talking about 1 / 2.9 '' CMOS with a resolution of 2MPx is, in my opinion, at a really good level, which is enough for a product of a similar nature without any problems. The camera can capture even very detailed quality in very decent quality, which can often be crucial, in fact in any light. He can handle both the darkness and the glow.
Source: Editorial Flight Around the World Apple
As for the night mode, I would actually evaluate it practically the same as the day mode. Its activation can be set automatically, which is my best solution, with the proviso that once the camera switches, it can lighten the perimeter about ten meters away. Sure, the farther an object is in this perimeter, the harder it is to see, but that's the imaginary pain of virtually every night vision. In addition, the image quality is really perfect when shooting nearby subjects – I was honestly surprised by how much.
You don't even have to worry about the picture being torn. The recordings from the camera are always completely smooth and, thanks to that, they look pleasant and natural when browsing. It is necessary to take into account that when watching the image over the Internet – whether WiFi or mobile data – you will encounter a response of about reality. transmission, but again it must be reiterated that, given the nature of the product, this cannot be considered a problem. After all, we're talking about a security camera, not a website you'll use to chat with friends.
Photo gallery
camera screen 1
camera screen 2
camera screen 3
camera screen 4
Enter the gallery
We will stay with the application for a while, as you manage the entire camera through it. I have to say that her level is really good, although I was a little surprised that even though she is in Czech, sometimes an English message popped up in her, for example, when the camera connection failed or other "non-standard" situations. Not only here, however, there is room for improvement. Through the application, of course, you also control the PIR sensor, or its (de) activation and so on. I admit that I like simple solutions in software and therefore I was not completely pleased that games with (de) activation of PIR must be performed through general automation, which is easy to create but still difficult than if I had the opportunity to open directly at the camera for example, a timer in which I would choose not to run two PIR watches now. At the same time, I don't think it would be completely out of the question to enable the deactivation of the blue LED, which lights up whenever it detects movement – after all, if I have a camera in a cottage and detects thieves, I don't want . Fortunately, in all cases, we only talk about software issues, which should not be unchangeable.
And how does the PIR sensor as such work? I have to admit, great. His sensitivity is truly admirable, and it has seldom happened to him that he would not notice movement for some unknown reason. On the contrary, I was amazed at how many times he "noticed" even the slightest movements, which he subsequently alerted me to via phone notification. The great thing is that when PIR is active, every motion record is automatically saved in the application, even with a snapshot of the moment, so you can then go back to what was actually happening here. That there is then no need to add notifications to both the iPhone and the Apple Watch.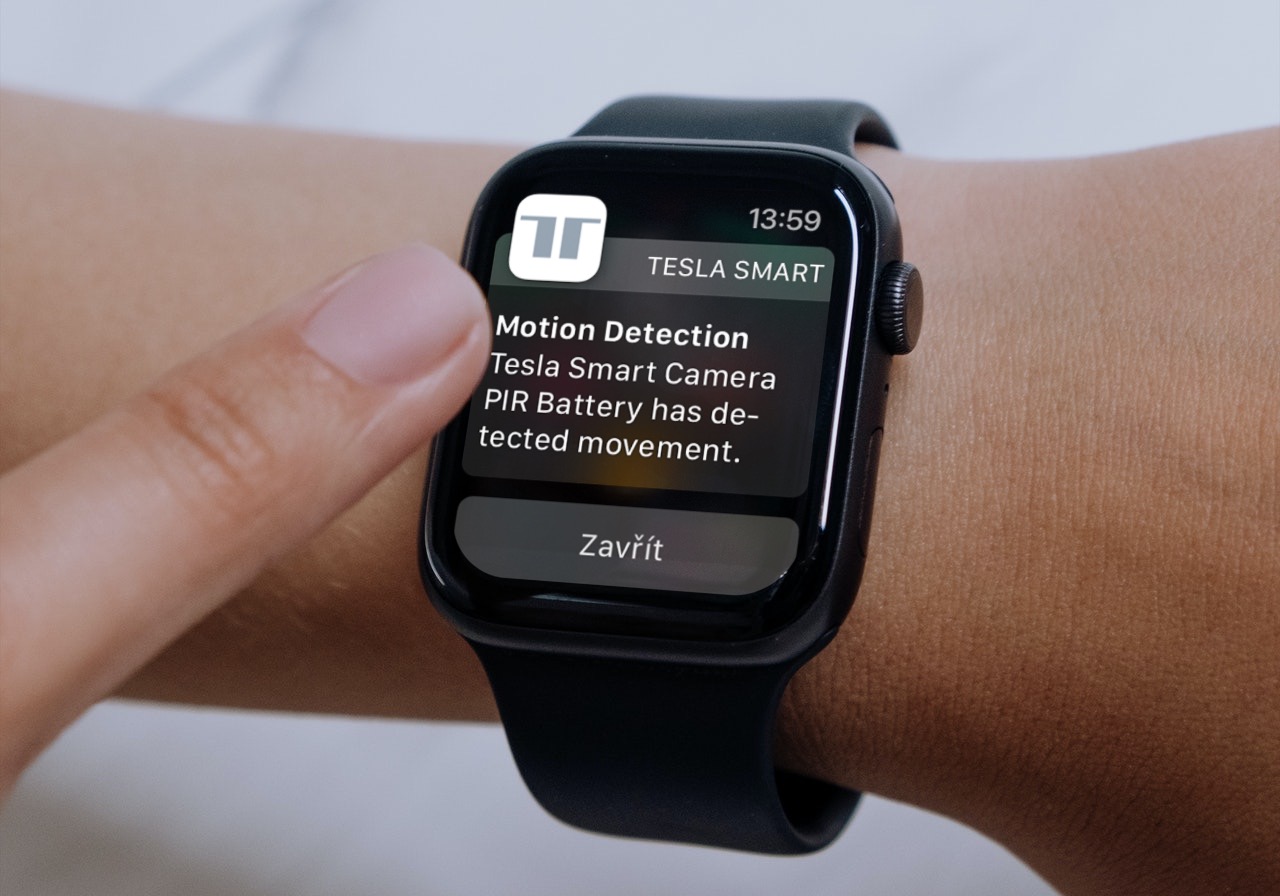 Source: Editorial Flight Around the World Apple
You can enjoy quite a bit of fun with a speaker and a microphone. The camera can be set to shoot with or without sound. In my opinion, the sensitivity of the camera's microphone is very decent, and even the recorded sound as such is not bad at all – again, according to the conditions of this type of device. But the real fun starts the moment you start talking through the camera using the app on your phone. Although the quality of her speaker is not the highest, it is enough to communicate with the person on the other side, and therefore to scare uninvited guests. Even here, however, it is necessary to take into account a certain response, which makes communication a bit uncomfortable.
But not to praise (apart from the application), there are things that freeze a bit. However, the truth is that they are all understandable in nature and cannot be considered as shortcomings, but rather as a tax on simplicity. As I wrote above, the Smart Camera PIR Battery is a classic IP camera, which in other words means that it is fully usable only when connected to the Internet. If you throw it on the facade of your house or somewhere in your garden, which is covered by a WiFi network, you will be satisfied with it, because you will make the most of it over the phone. However, as soon as you want to put her in a chat without an electrical, let alone internet connection, she will suddenly become a piece that is no longer so smart. The only thing he can do is "just" record the surroundings on a microSD card, from which you will have to check it. But the tweaks of online neighborhood monitoring, communication through a microphone-speaker simply do not threaten. Just as you do not count on the possibility of any tilting of the camera remotely and so on. The manufacturer did not decide to use a similar technology, both because of its energy intensity and because it was again dependent on an Internet connection, which is simply a limit. So what do I mean by this paragraph? Not that the camera is bad, as it is by no means, but it is extremely important to be clear about how and where I will use it and to decide whether or not it is suitable for this use.
Source: Editorial Flight Around the World Apple
Resume
The evaluation of the Smart Camera PIR Battery from Tesla must be perceived on two levels. It is undoubtedly a great product that fulfills exactly what you would expect from it and it does it really well, even so that I would easily attach it to my facade permanently, but it does it fully only when connected to the internet. Once it's not available, you have to accept that the camera is quite limited and will offer a handful of what the internet has to offer. But again, it is not a shortcoming, but rather a tax on its compactness and simplicity, and that, as a result, all competitors offer the same restrictions. Sure, we can argue about whether it would not be nice to have a SIM card slot in the camera, through which she could log in to the network and thus be able to communicate remotely, but it is necessary to realize that her endurance would go down on the other hand. price, which are things that are extremely important in the current version. To sum it all up – the Tesla Smart Camera PIR Battery is a really good security camera that is definitely worth buying, but you need to be very clear about how you will use it. This is the only way he can meet your expectations.
Tesla Smart Camera PIR Battery can be purchased here