Review of the universal film case for iPhone iOgrapher Multicase
In today's review, we will shine a light on accessories that could attract many enthusiastic video creators for iPhones, iPads and other smartphones or tablets. We received the Multicase film case from the iOgrapher company together with external lighting and a microphone. The whole set was lent to us by the company DISK Multimedia s.r.o., which has been offering these products for a long time, and we know from hearsay that they are doing very well in the store. That's why we were interested in what is actually so unique and useful for a given target group on a given case. You will find out in the following lines whether we have managed to find out or not. A review of the universal film case for the iPhone iOgrapher Multicase is finally here.
Technical Specifications
I specifically received a case designed for smartphones with a maximum size of 165.1 x 85.7 mm. You can easily get all the iPhones that Apple currently offers – 4.7 ", 5.8", 6.1 "and 6.5" models. However, the truth is that the 4.7 "iPhone is already on the imaginary edge, as the minimum dimensions of the phone for insertion are 139.7 mm x 57.2 mm. From my own experience, however, I can say that the phone is held in the holder. I tested it with, among other things, a 4.7 "iPhone SE 2nd generation. For the sake of completeness, I would like to add that I also put the iPhone XS and iPhone 11 into the holder.
Photo gallery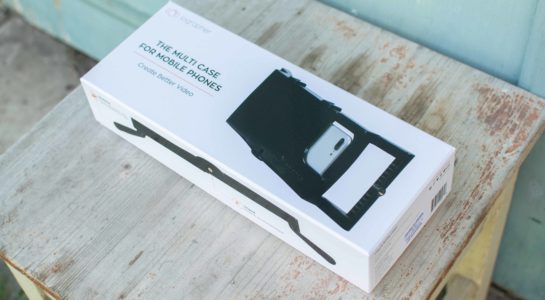 iOgrapher Multicase 1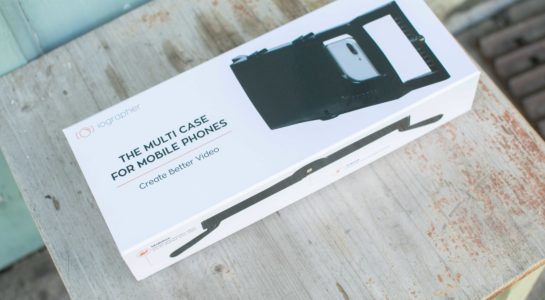 iOgrapher Multicase 2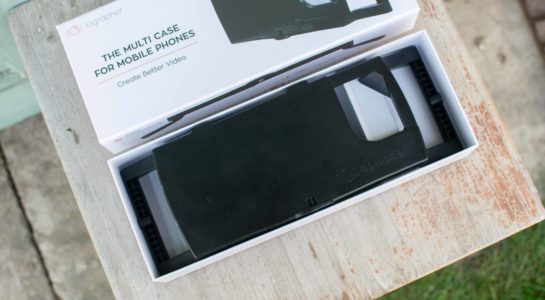 iOgrapher Multicase 3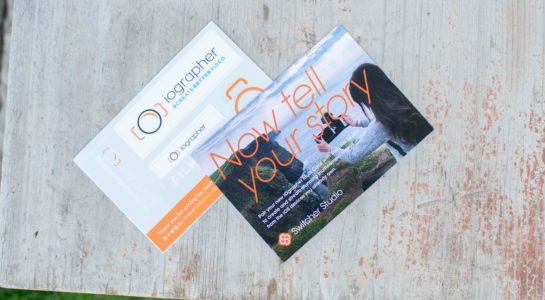 iOgrapher Multicase 4
Enter the gallery
Although the holder looks quite robust in pictures and photos, in reality it is not a monster. Its dimensions are 33 x 12.7 x 25.4 cm, thanks to which I would not be afraid to call it quite compact. Sure, you don't put it in your pocket, but probably no one expects that from a film holder anyway. As for the elements for connecting accessories, the holder has two slides and then threads for mounting on classic tripods. The nice thing is that you will find these threads both on the underside of the holder and on the side handles, thanks to which it can be used both horizontally and vertically.
IOgrapher film holders are available in many designs, and it is not a problem to buy holders for iPads or GoPro action cameras. However, I think that the most sought-after holders are those for iPhones and other smartphones, so in our review we will focus primarily on them. However, if you are looking for a type-similar holder for the iPad, know that in the DISK menu you will find holders with practically the same specifications that I mentioned above – although of course adapted in size to tablets. If you are interested in the price of this holder itself, it is 2590 crowns.
Holder processing
Photo gallery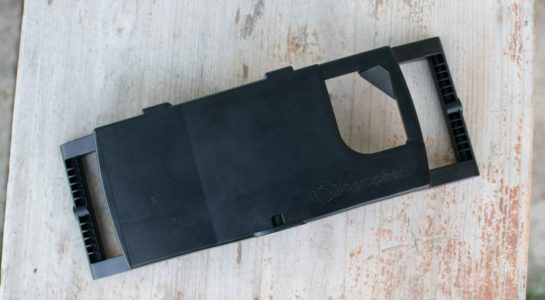 iOgrapher Multicase 5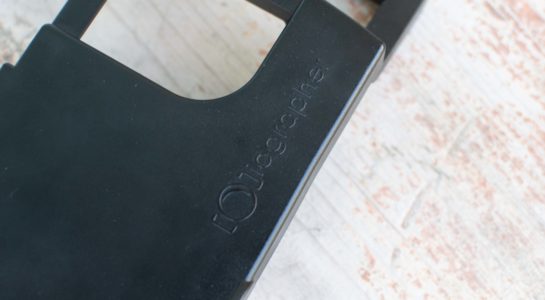 iOgrapher Multicase 6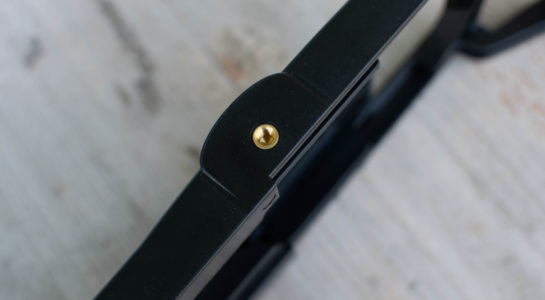 iOgrapher Multicase 7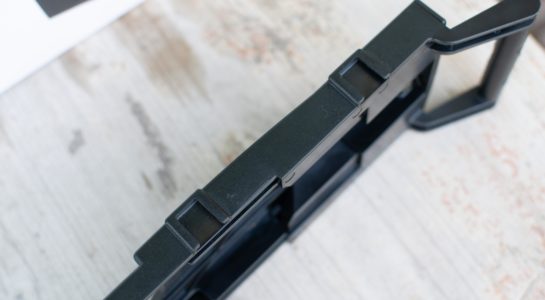 iOgrapher Multicase 8
+2 Photos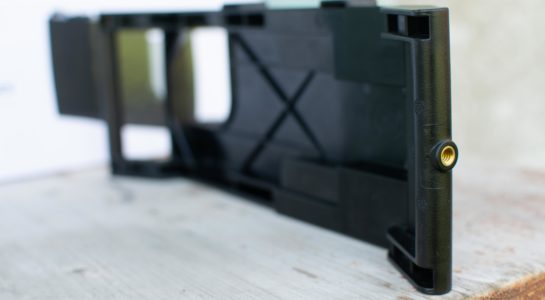 iOgrapher Multicase 9
Enter the gallery
The whole holder is made of ABS plastic and polycarbonate, which makes it relatively light, but also durable. Some may argue that plastic is a really bad choice for similar products, but I'm really more happy for it. This is because, on the one hand, I simply shoot videos with my light hands and, on the other hand, when using plastic, there is almost no risk of scratching the smartphone placed in the holder. In addition, the surface treatment of the product may at first make you feel that it is a metal, as it is very close to it. If I were to evaluate the processing from the production point of view, I would give the manufacturer a one with an asterisk. The product is made really beautifully with every detail tightened to a successful end. Whether we are talking about a sled, threads on a tripod or a spring system holding phones in a holder, everything not only looks, but also works without any compromise.
Testing
I tested the film case specifically with the Manfrotto Lumimuse 3 LED light and the Rode Videomic Go microphone together with the connecting cable from Rode. As for the smartphones used, as I mentioned above, the 2nd generation iPhones SE (ie 4.7 "model), iPhone XS (ie 5.8" model) and iPhone 11 (ie 6.1 "model) were used. . I haven't encountered any problems with any of the phones, which are due to a bad fit or something similar, when put in the case. The phones are relatively ingeniously held in the cover by its lower spring edge, thanks to which they sit in it as nailed. One does not have to be afraid that they will fall out of it, because even in the event of major shocks, they simply do not move. Of course, the accessories inserted in the sledge on the upper edge of the holder are also completely stable. In my opinion, the nice thing is that you are able to put them in the case even in classic covers. Sure, they can't be abnormally large, but they're used by as few of us.
The main mission of similar holders is to provide their users with both good stabilization of their record and a platform on which to place accessories that will move the record to the next level. After testing, I can say with peace of mind that both of these things perform iOgrapher Multicase perfectly. I'm not going to lie to you – video stabilization has been at a really good level for iPhones in recent years, so I was kind of wondering if such accessories make sense at all. After testing, however, I must admit that he has. The record is made with a much wider and generally more natural grip than the one holding the phone, which is at least more pleasant for me personally and thanks to that I am able to hold the phone virtually motionless, even when moving. We will not lie that with a similar case we will reach the level of gimbales and similar gadgets, but on the other hand, they are priced a little elsewhere and you will not attach other accessories to them. After all, it is its use that takes the usability of the entire case to a whole new level.
If you are really serious about shooting videos and you already have something behind you, you will surely agree with me when I say that, for example, the light-emitting diode is not a chart on the iPhone. Yes, it is enough for photos with a flash and some video in the dark can also illuminate you, but it is definitely not lighting that would be enough for a quality recording in the dark. And just at this moment, the Manfrotto Lumimuse 3 LED comes to the scene, which one simply attaches to one of the sledges, switches it on and is taken care of. Its luminosity is really great – compared to the iPhone, I would not be afraid to say that it is up to 10 times better (which is not surprising given how big the product is and that it is designed specifically for backlighting. However, I do not mean that Apple is in in this direction backwards, but that it is simply great how you can help thanks to the sledge and additional light – especially when you practically do not feel this help, because the case is not difficult and the installation of light is not complicated. interconnect the phone, so there is no need to worry about port occupancy.
The same in pale blue can be said in the result about the additional microphone Rode Videomic Go. With sound in general, the iPhone can capture it really well, but it's short of conventional external microphones. The truth is that the difference between it and the iPhone is not striking, but even minimal improvements are often more than welcome. So I fitted the second sledge with this very microphone, I connected it through the connecting cables to the iPhone and voila, I could start recording. It's a pity that I had to use a Lightning reducer – 3.5 mm Jack for the connection, as the Lightning cable is not offered by the manufacturer. Otherwise, nothing more can be complained about. The microphone starts to pick up sound immediately after connecting to the phone, and the difference between it and the sound recorded by the phone can simply be heard if you compare them with each other on a high-quality audio set. You can see my test records with the case in the video below. I can hardly reveal his qualities than through him.
Resume
The iOgrapher Multicase is one of the most interesting things I've been able to review lately. That's because, thanks to him, you are really able to significantly move your filmmaking art forward – that is, if you feel like using it to the fullest. The possibilities that you suddenly get into your hands thanks to this case are really enough and I guarantee you that they are all really first-class. Therefore, I would look in vain for any weakness in the product as such. Sure, the price for a "piece of plastic" may seem quite high, but on the other hand, you can fit this "piece of plastic" with almost anything you can think of and especially what you need to improve the quality of your recording. When I add a really nice grip or still relatively compact dimensions, there is not much to hesitate over. So if you are serious about filmmaking, you should not miss the iOgrapher case together with accessories in the form of additional light or a microphone in your arsenal.
You can buy iOgrapher Multicase here