Review of Twelve South BackPack: an elegant shelf for your iMac
If you love Apple, then you also love the sleek design and minimalism that goes hand in hand with its products. As long as you only use a computer with a wireless keyboard and mouse, you don't have to deal with anything and its design remains undisturbed. However, when you need to connect something to your computer, then you start to accumulate cables of things on your desk that aren't always as elegant as the Mac itself. Fortunately, if you have an iMac and need to connect an external drive to it, you can solve it relatively easily and elegantly so that no one will see it. "There's plenty of room for an iMac," they told themselves in Twelve South, making a shelf for the iMac stand called the BackPack.
Photo gallery
BackPack Twelvesouth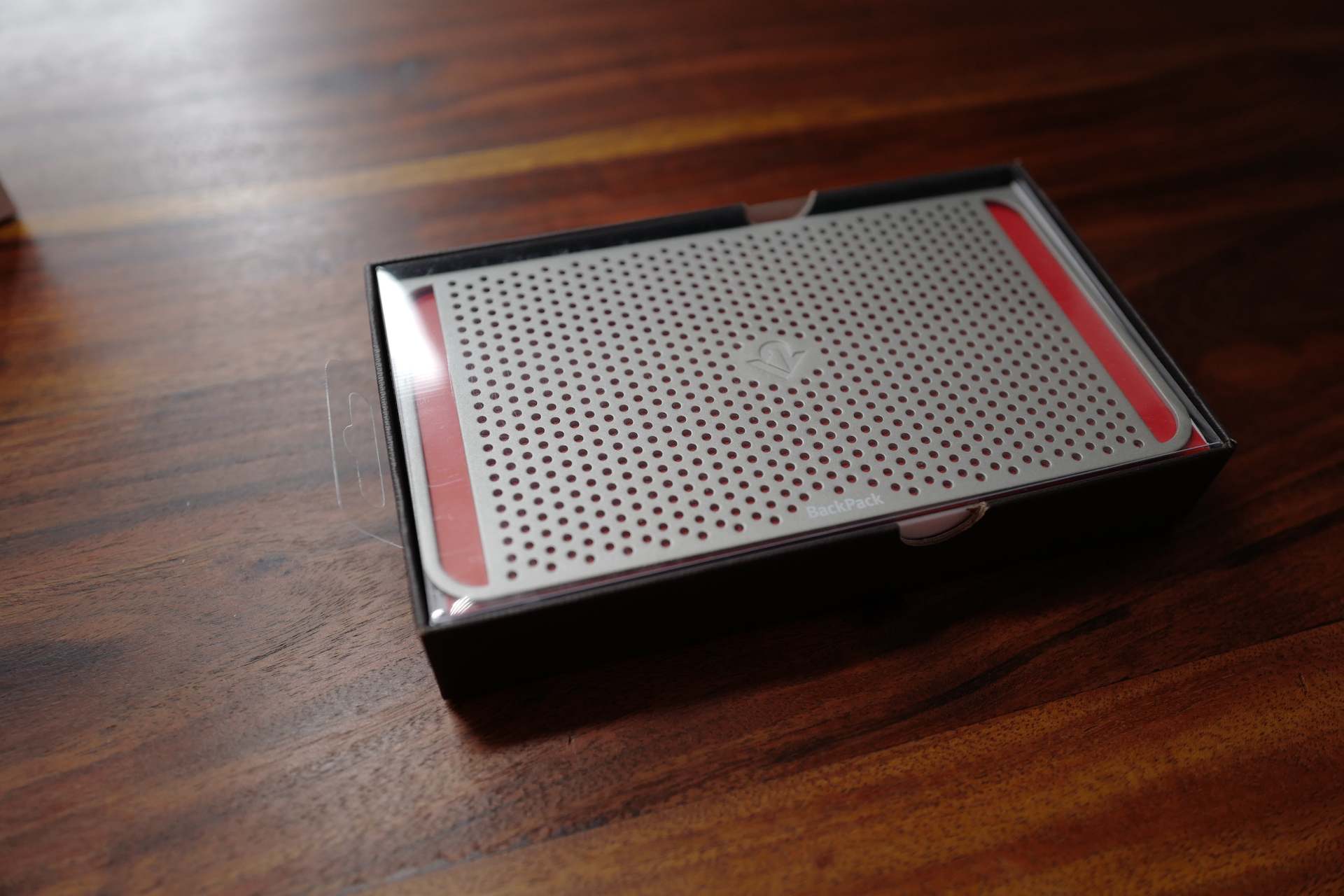 Twelve South backpack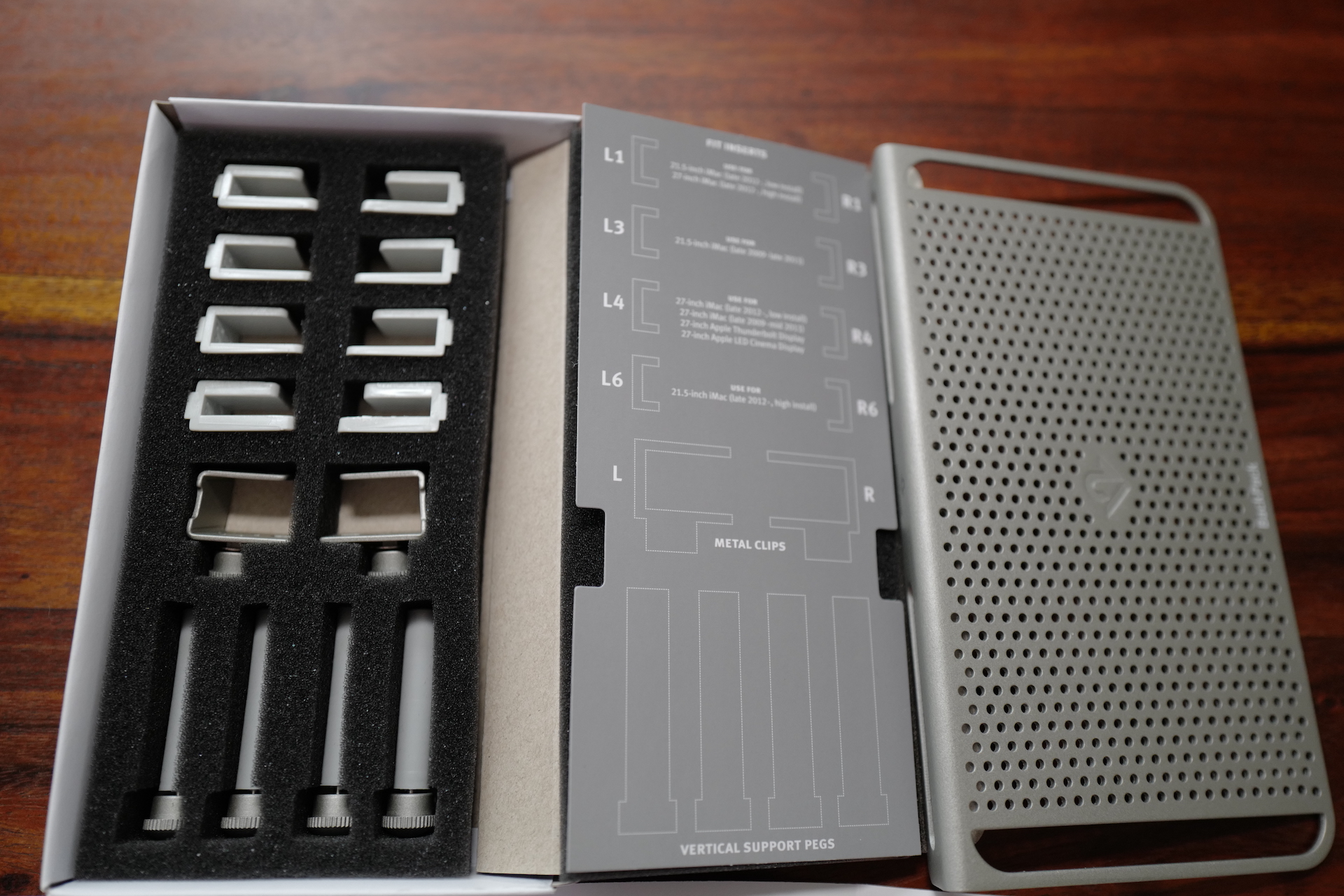 Shelf on iMac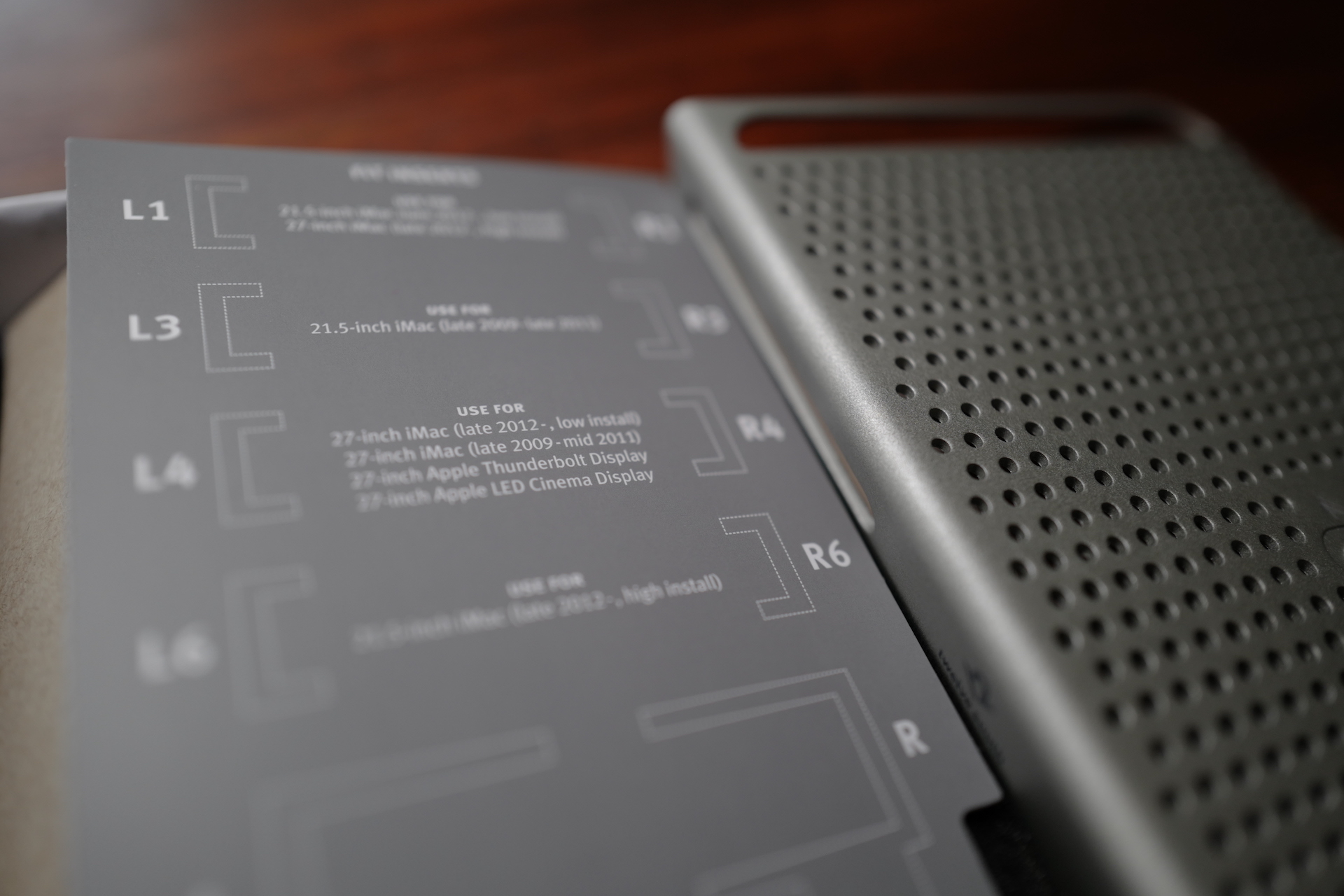 iMac shelf +2 Photos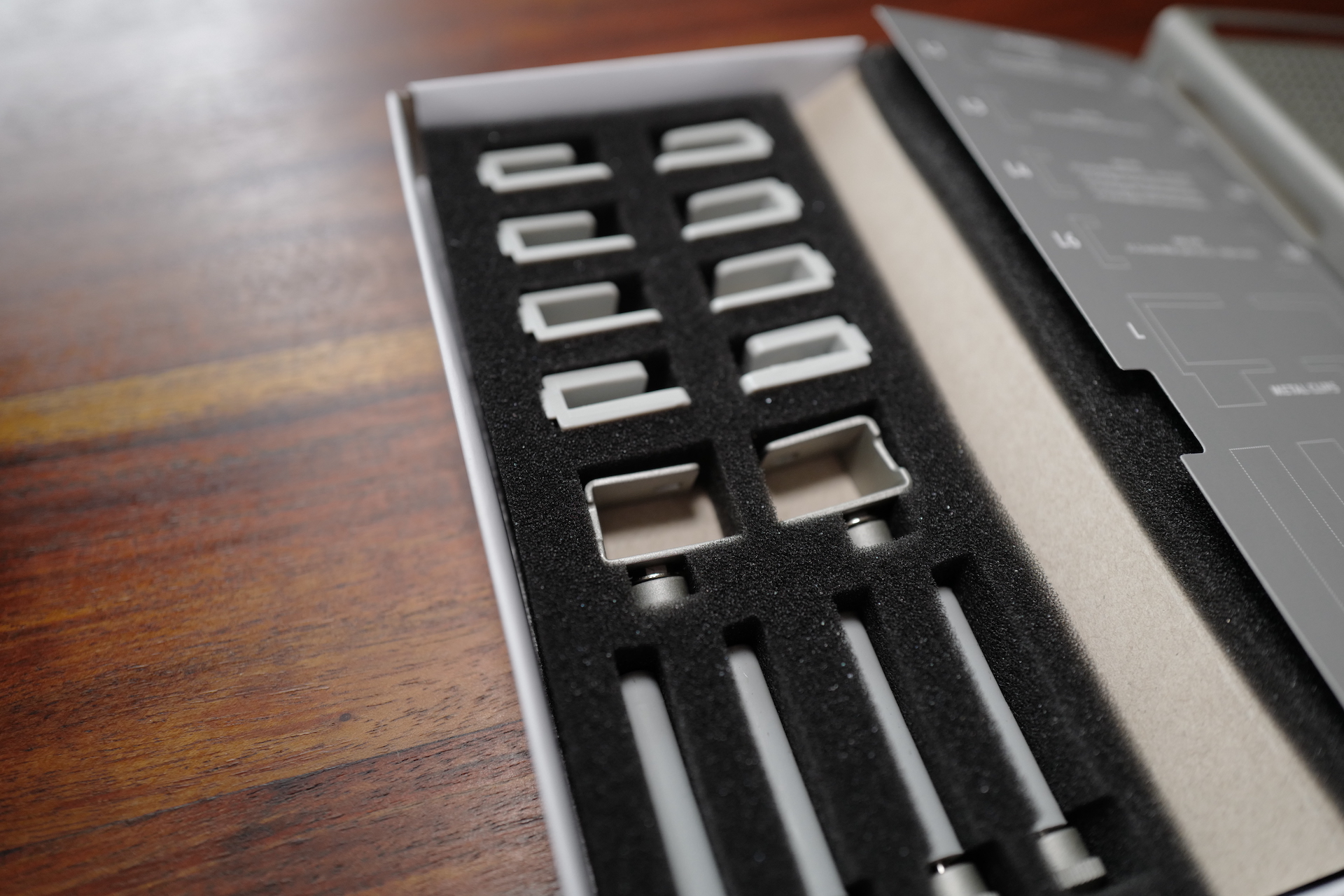 Backpack unboxing
Enter the gallery
The BackPack attaches to the leg of your iMac to a height that reaches the body of the computer, so you suddenly have a place where you can place anything you can think of and hide it elegantly behind the computer itself. If you have an iMac at the reception, for example, you can use the shelf for business cards, candies or anything you want to offer clients. The BackPack is available in two different colors for the classic iMac and also for the iMac Pro, space gray and silver aluminum. The shelf itself is made differently from aluminum, which is machined in the same way as the aluminum of the iMac itself. Thanks to the sophisticated mounting method, you can also attach two or even three shelves to one leg of your iMac and hide everything you don't want behind its body to disturb your perfectly tidy desk.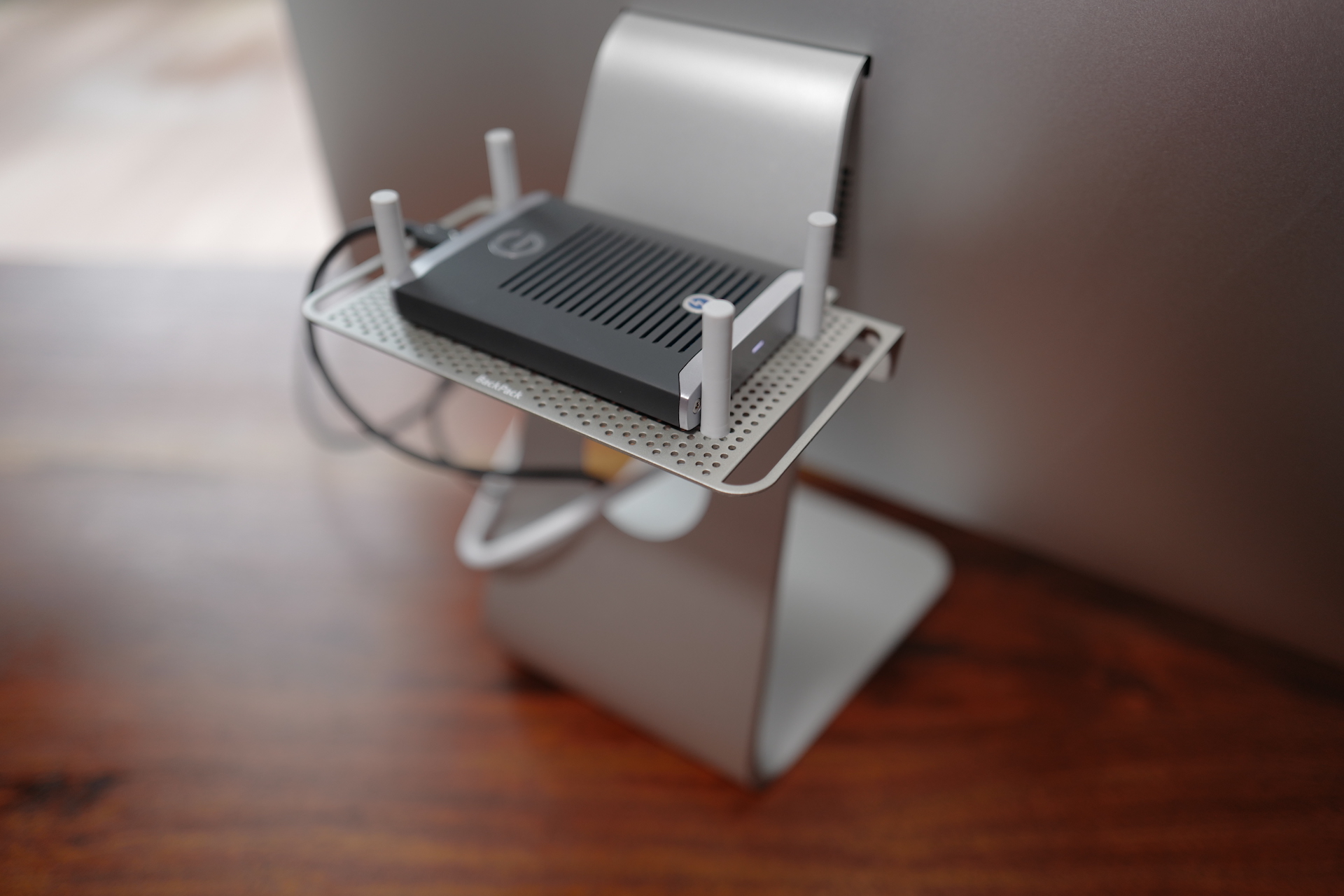 The package includes the "shelf" for the iMac, a pair of tightening clamps that attach the shelf to the iMac's leg, rubberized support pins, and four pairs of plastic pads. These allow you to mount the shelf on everything from a 21.5 ″ iMac to a 27 ″ iMac, including the LED Cinema Display or Thunderbolt Display. Plastic pads are used so that you can mount the shelf really on everything Apple has produced in the last decade (with a few exceptions), but also so that you do not connect aluminum to aluminum and avoid scratches. The assembly itself is very simple. All you have to do is choose suitable washers and then just mount the clamps on the shelf and tighten them with the washers where you want the shelf.
Photo gallery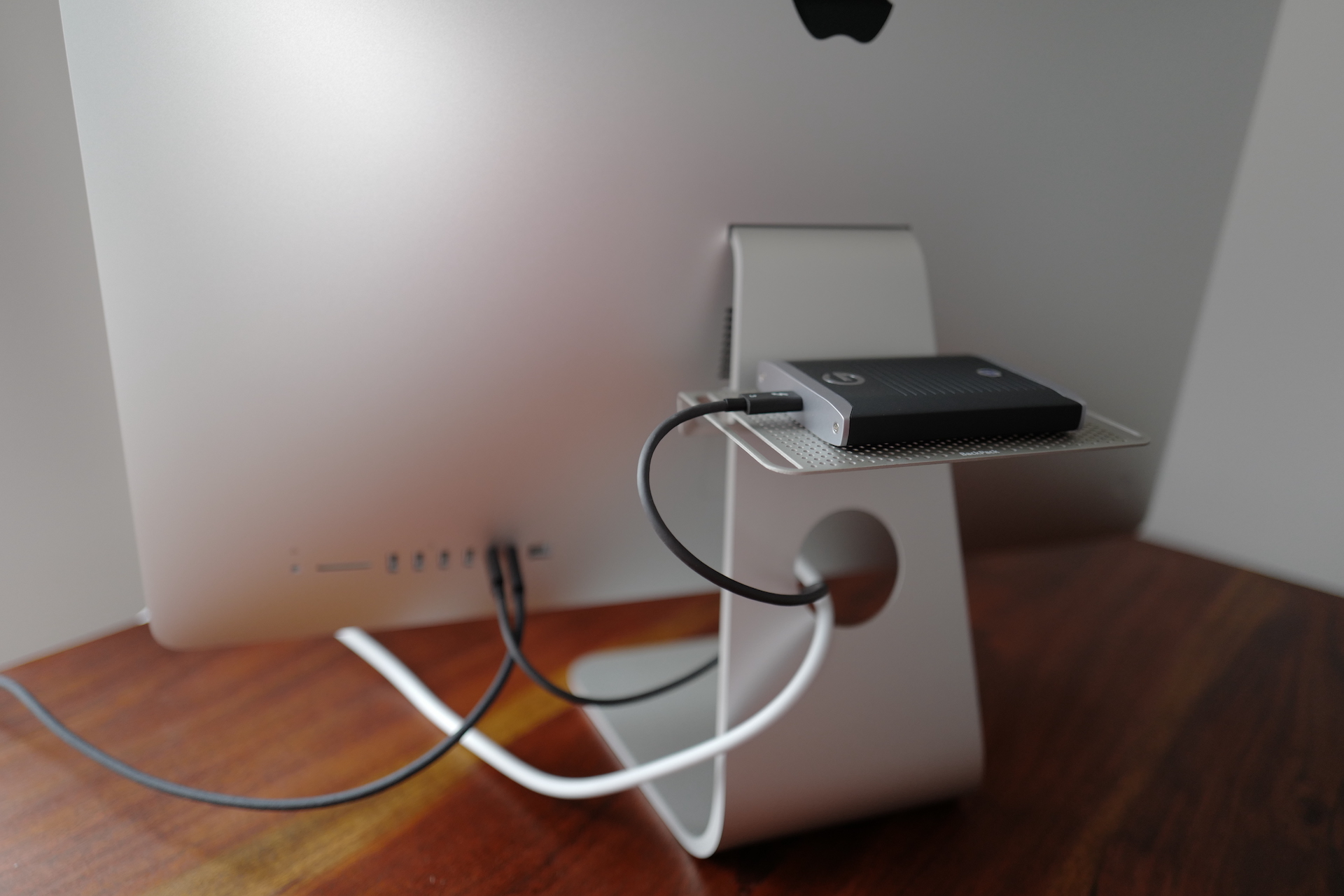 iMac shelf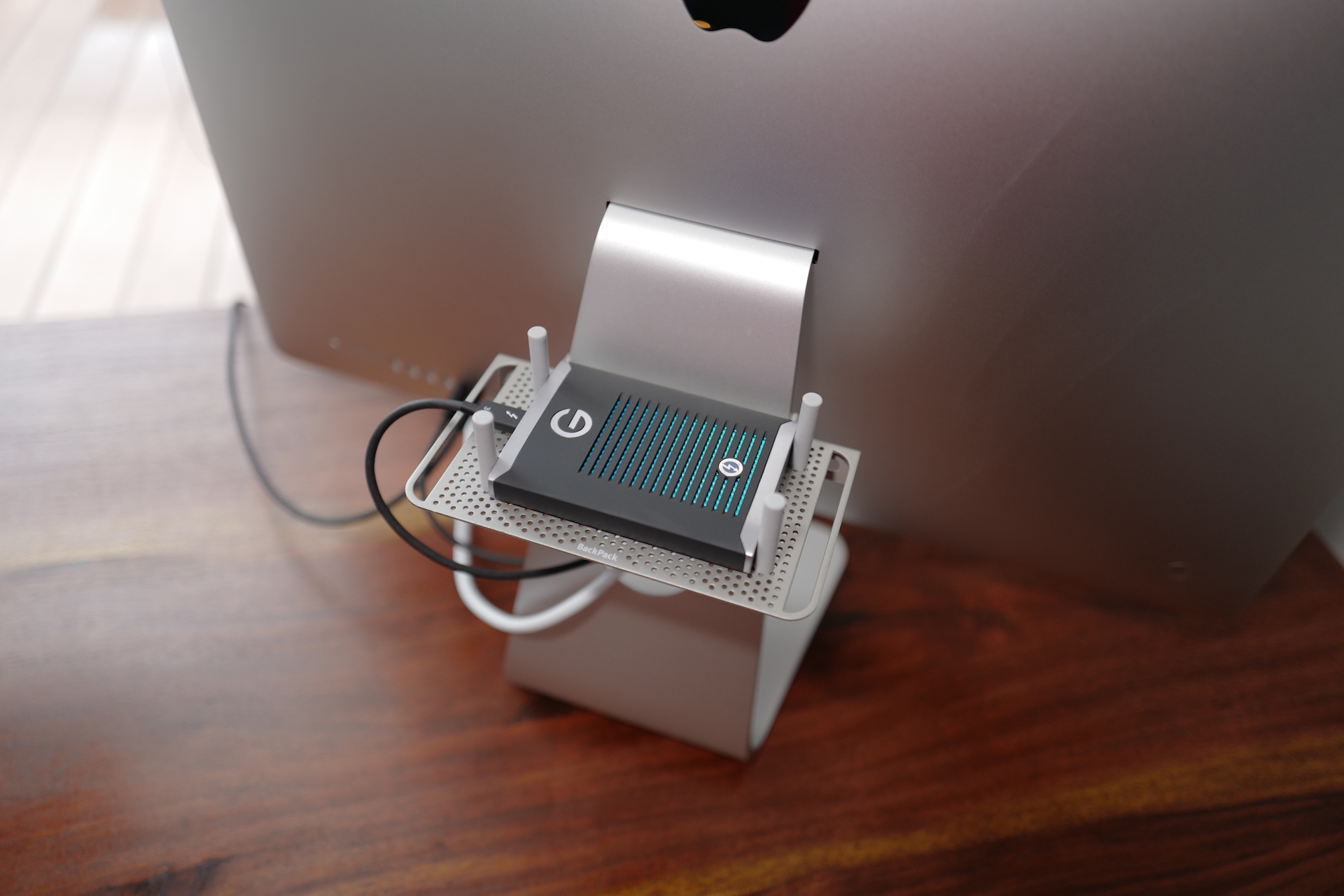 Holder imac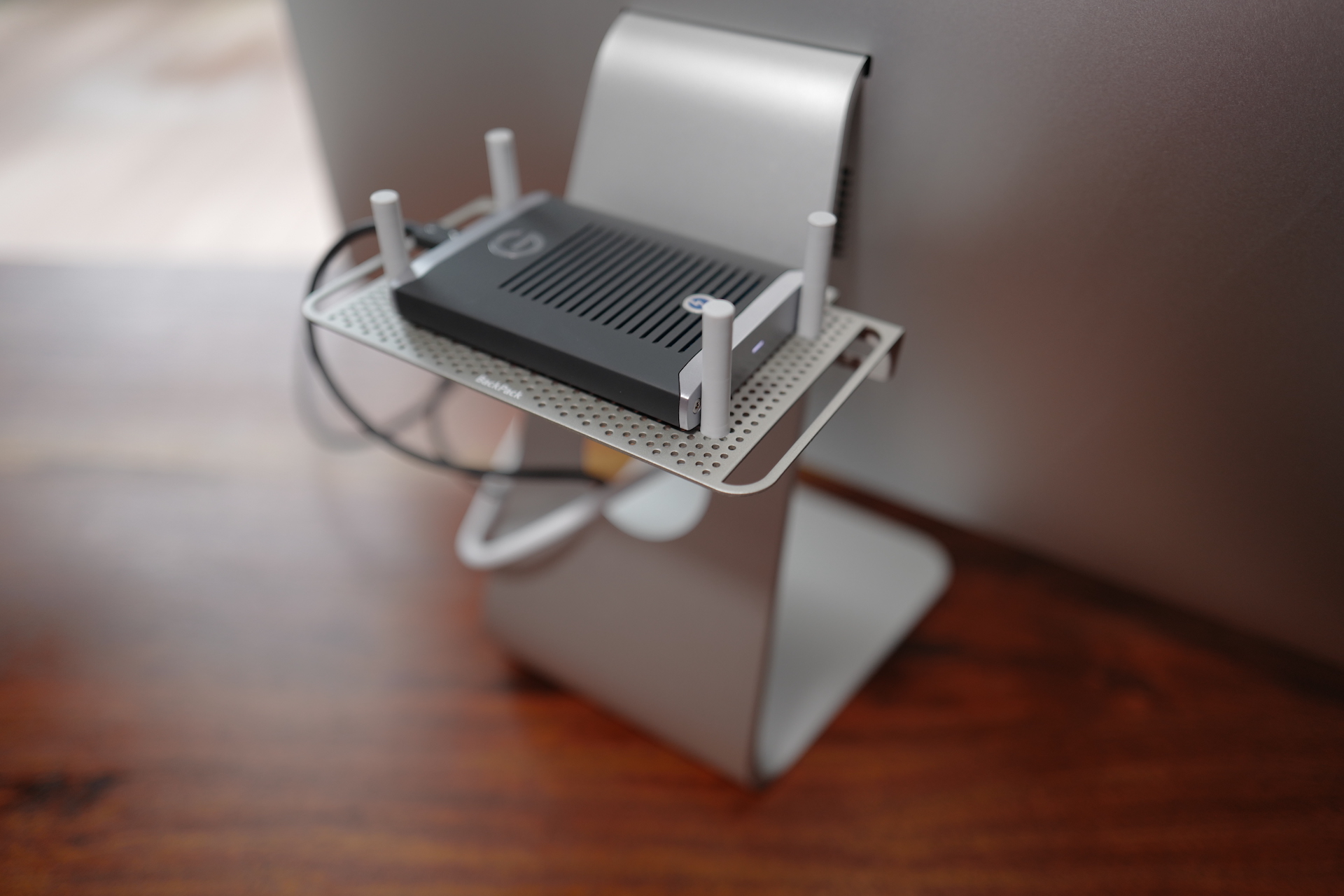 Backpack imac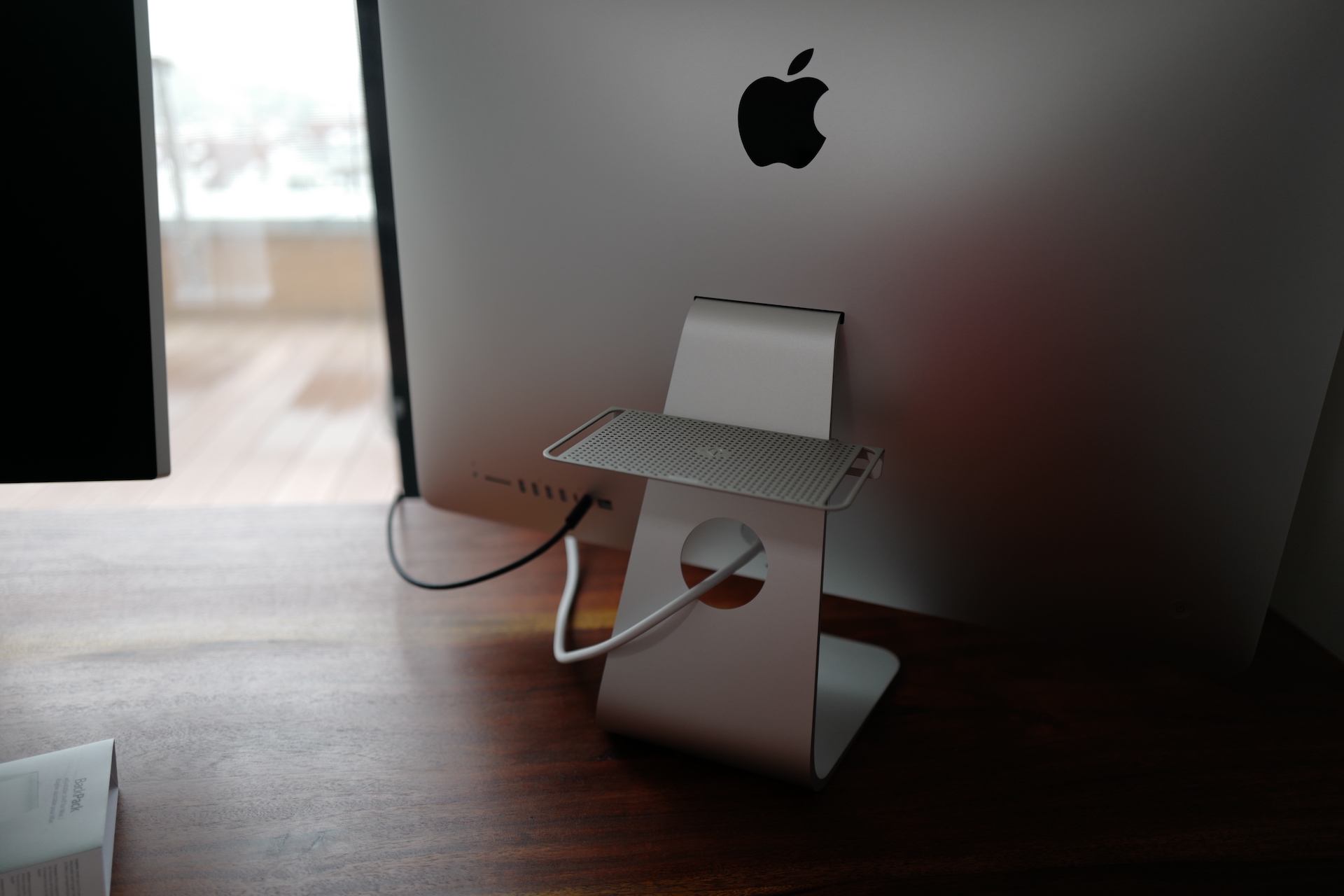 iMac BackPack +5 Photos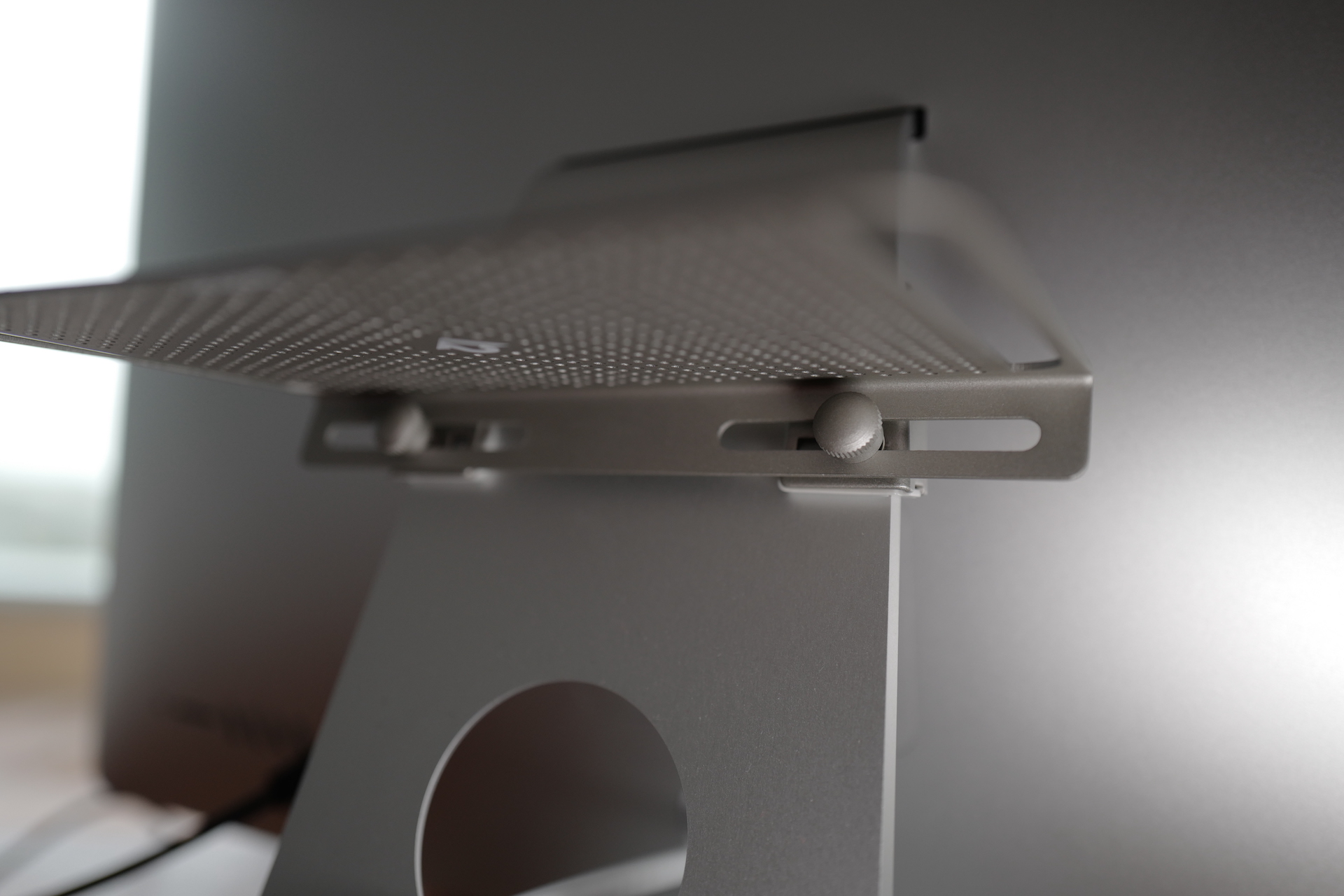 iMac holder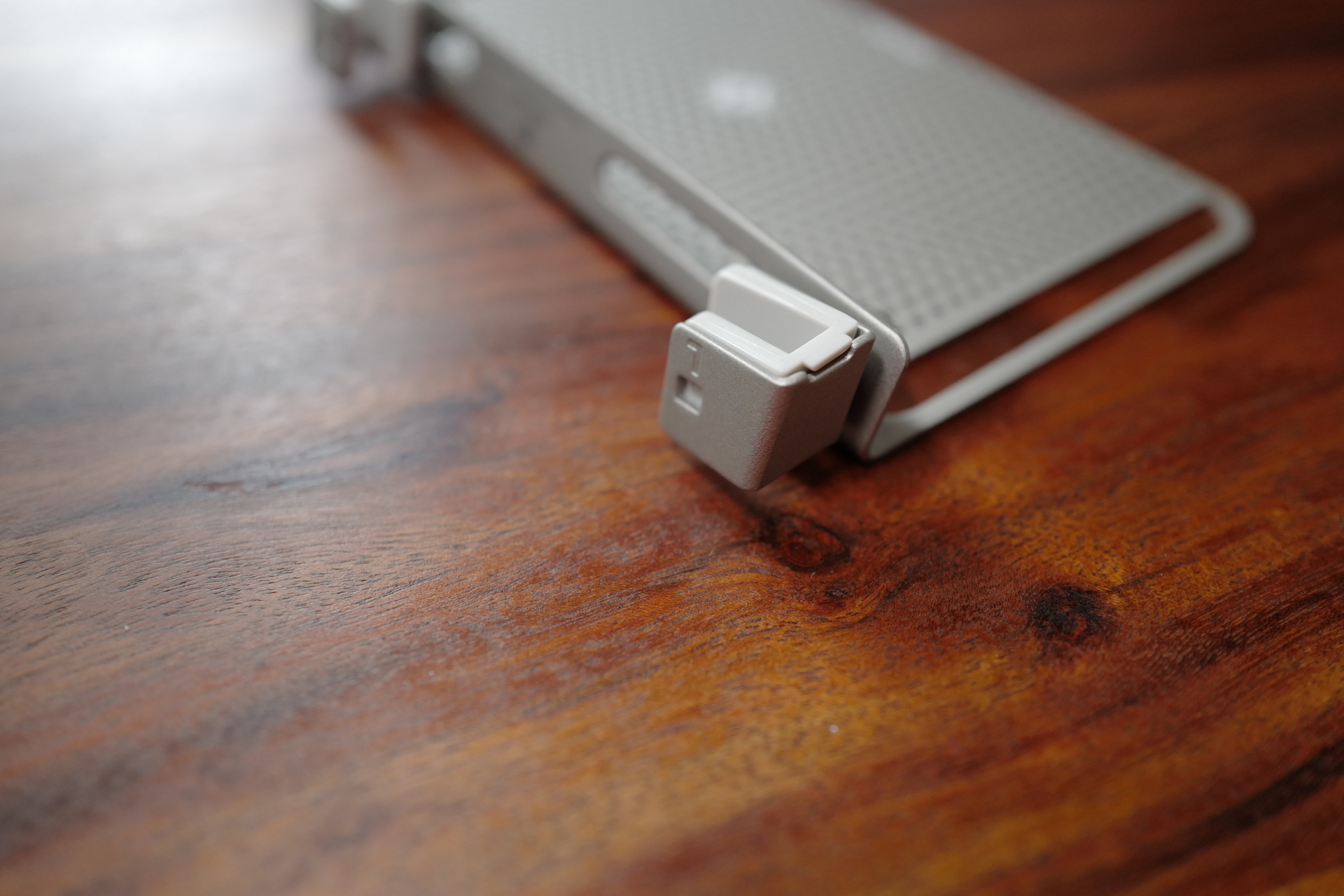 iMac Backpack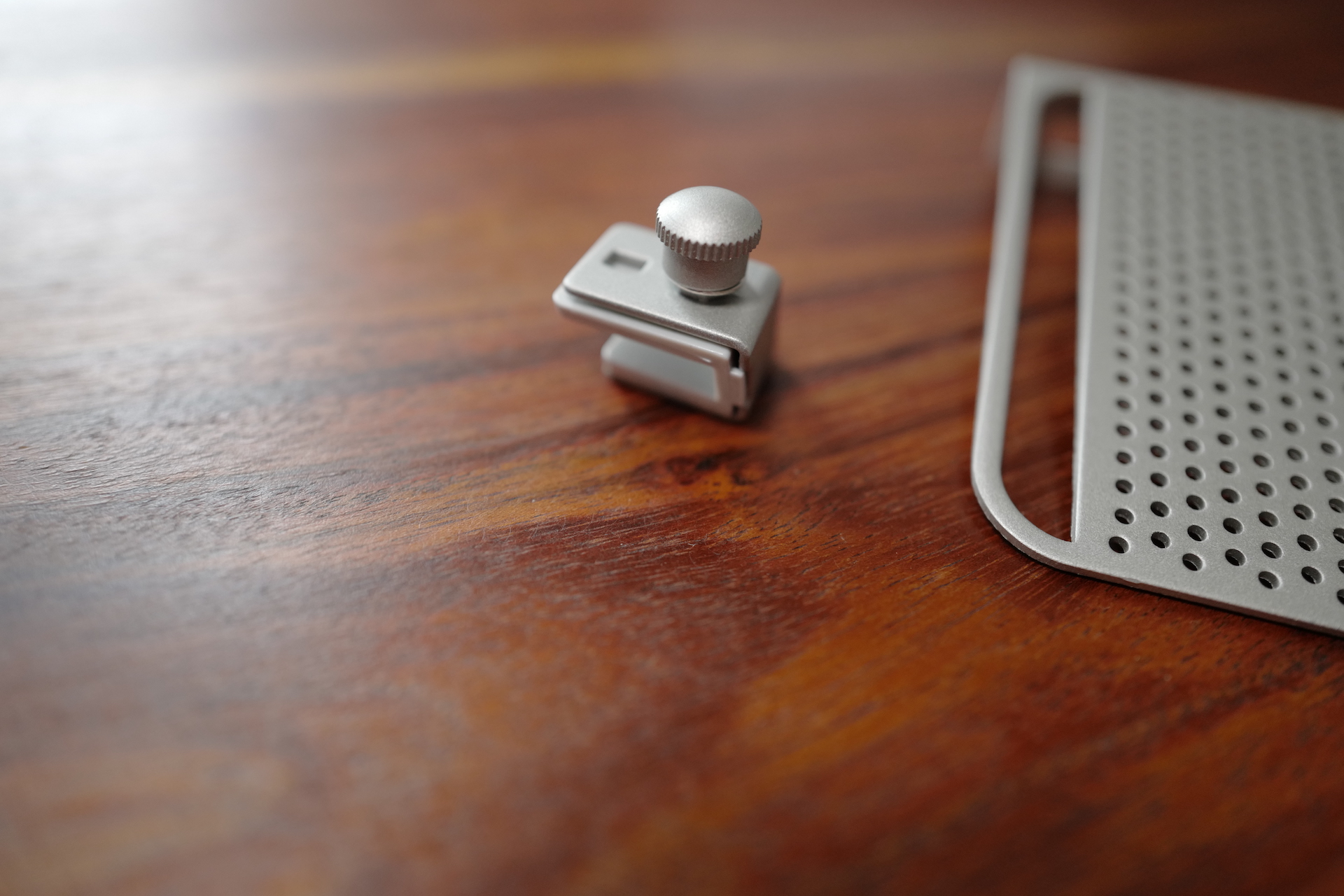 BackMack iMac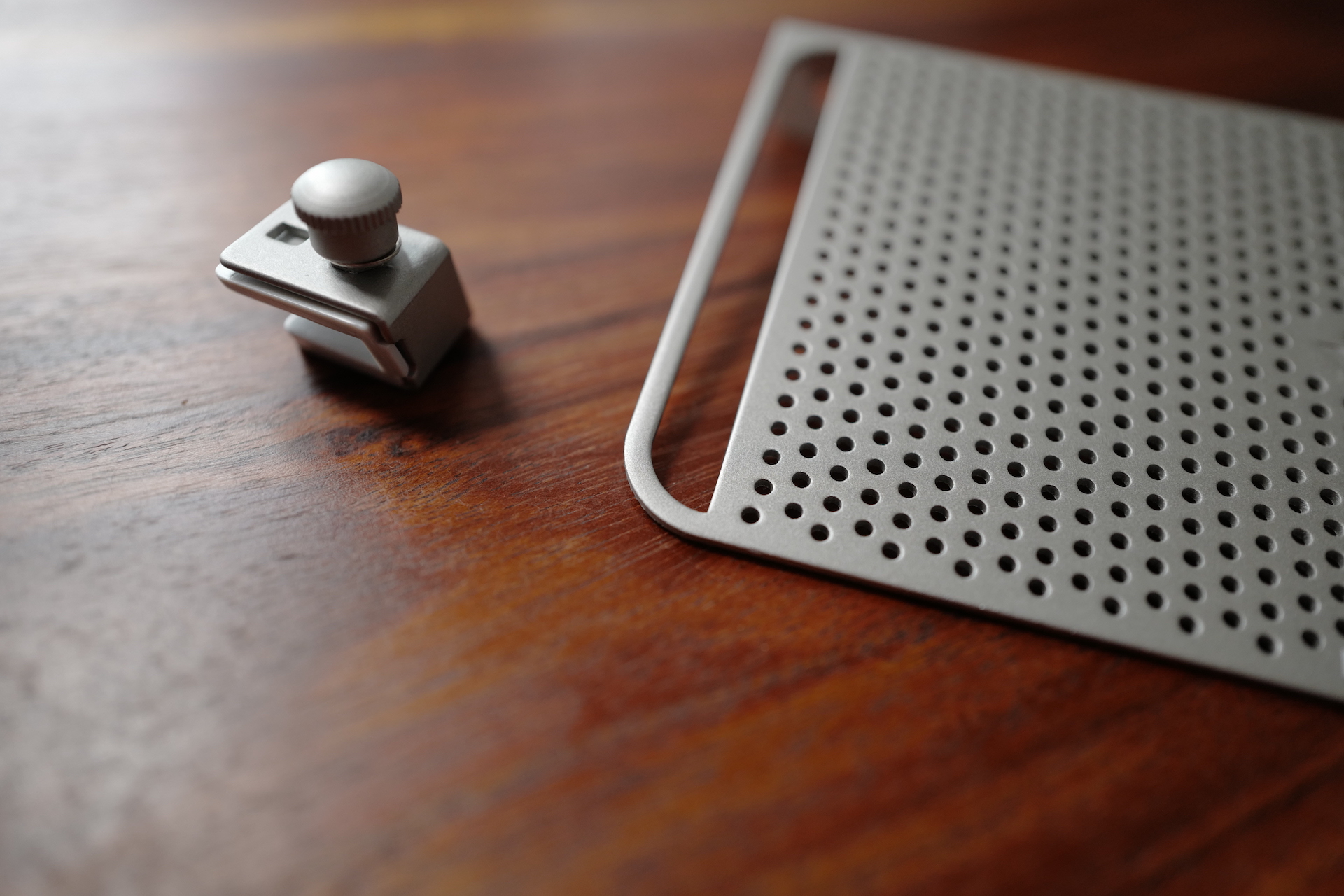 Twelve South imac
Enter the gallery
Then you can (but of course not have to) use four rubberized pegs, which are used to fix things directly on the shelf. Because the shelf is made of aluminum and contains hundreds of holes throughout its surface, you can also place things on it that have problems with overheating, such as some mechanical external drives. Support pins can be freely mounted in the individual holes to secure objects against falling or to be fixed so that they do not move on the shelf.
Everything holds very firmly and the shelf is stable even in a situation where you place heavier objects on it. You don't have to worry about a risk of falling or anything like that, and if, for example, you fix the disc placed on the shelf with the included pins, everything is even more stable. It is entirely up to you whether you use such a thing and it makes sense to you. Personally, Twelve South BackPack suited me for an external drive, which is why I reached for it. If you are solving a similar problem and do not want to have something else next to your iMac, then BackPack is the ideal solution.
You can buy a BackPack right here.