Savior or junk? These amazing Corona products are there
Air purifiers help to ban corona viruses from indoors
As quick and effective helpers against pollen, cigarette smoke or viruses, air purifiers are a good addition to classic push ventilation. Because although they cannot completely replace opening the window, like our article Corona miracle cure or virus thrower? shows that they are a good way of removing pollutants from the air in a room.
In order to purchase an efficient device, consumers should ensure that it has a HEPA filter of class H13 or H14, recommends the consumer advice center in North Rhine-Westphalia. In addition, the selected air purification device should filter the room air at least 6 times in 60 minutes and, if possible, manage without ozone because, according to the Federal Environment Agency, this can react chemically with the room air and form irritating gases. In addition, experts advise against using UV devices for air purification in private rooms.
Stiftung Warentest named the Philips AC2889 / 10 air purifier the 2020 winner, but at the time of the test in March, it did not yet check the individual devices for their effectiveness against corona viruses. Upon request, the manufacturer confirmed to us, however, that its air purifiers or their HEPA filters contain 99.97 percent of particles of up to 0.3 µm (estimated most difficult particle size) and up to 0.003 µm (smallest measurable particle size, smaller than the smallest known virus) can capture. As a result, a similar performance can be expected for SARS CoV 2 aerosols. An independent institute was also commissioned to scientifically prove this.
Editor's tip: The Philips AC2887 / 10 version without app is significantly cheaper than the Stiftung Warentest Sieger Philips AC2889 / 10.
Philips AC2887 / 10 air purifier
-8th%
Removes up to 99.9% of viruses and aerosols from the air. For a room size of up to 79 square meters. With high quality sensor.
However, we strongly advise against clunky air purifier necklaces to hang around or decorative trees with an alleged filter effect as an alternative to real air purifiers. Especially because their effectiveness against corona has not been proven and the filter performance with regard to other pollutants is likely to be very low.
Boring November gray? With the right masks it gets colorful
Whether with a glittering unicorn, flower, leopard print or skull: the selection of everyday masks is huge and includes numerous crazy models that are also suitable as a gift or a Santa Claus surprise. How about e.g. with a funny Santa Claus motif for your favorite colleague or a humorous cat mask for your mother-in-law? There are also mask sets and Christmas collections.
Mouth and nose protection mask beard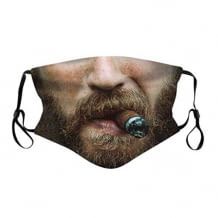 Funny mouth and nose protection mask in 3D optics. Breathable and reusable.
Mouths that make faces or animal facial expressions are also increasingly ending up on makeshift masks. So every wearer can easily slip into a new role that suits them.
Mouth and nose protection mask monkey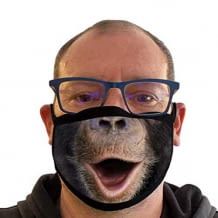 Funny mouth and nose protection mask in 3D optics. Breathable and reusable.
If you want more security, you should use an FFP 2 or FFP 3 mask with a multi-layer filter system. They are also recommended by the Robert Koch Institute (RKI) for dealing with corona sufferers and accordingly offer a particularly high level of protection.
This is how good FFP masks differ from cheap copies:
CE marking with four-digit identification number of the certification body, FFP protection level, EN standard, manufacturer name and article number. The mask manufacturer Moldex also points out that serious manufacturers can show an EU type examination certificate on request. made possible by adjustable or stretchable straps, a fully sealing lip on the outer edge of the mask or a nose support. Easy to use that prevents mistakes when putting on or wearing it. This also includes a high level of comfort, e.g. Air valves can be installed for easier inhalation and exhalation.
OptiPro Particulate Respirator (KN95 / FFP2)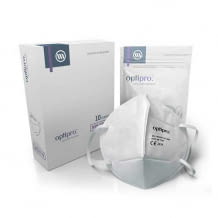 FFP2 face mask with high filtration capacity. Comfortable to wear with little breathing resistance.
Soap dispensers and doorknob covers prevent contamination through contact
Wherever people from different households come together and touch the same surfaces, the risk of infection from smear infections increases. It doesn't even have to be corona viruses: Even a cold can quickly weaken the immune system for days, which makes it easy for other pathogens.
Help here include automatic dispenser for liquid soap or disinfectant. They are available from 20 euros in many modern designs that fit inconspicuously into the bathroom ambience of their users.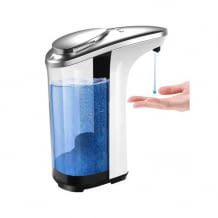 -48%
Automatic and contactless soap dispenser with infrared sensors. The soap dispensing can be set in 5 levels.
There are also self-disinfecting protective covers for all situations in which doors can only be opened by pressing a handle. Their fibers e.g. kill viruses and bacteria through a combination of copper and silver ions. These special substances retain their protective effect even if they are put in the washing machine at 40 to 60 degrees.
ALB fabrics® ProtectMe Touch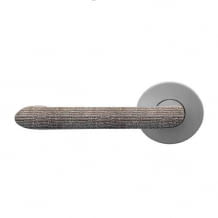 Pack of 4 made of self-disinfecting door handle protection thanks to high-tech fiber. Washable and reusable.
Without protection, but still popular – crazy Corona gadgets
Corona concerns us every day like hardly anything else and causes a lot of frustration. Some manufacturers therefore try to sweeten the mood for their customers with humorous decoration ideas and gagdets. For example with funny hamster cups, toilet paper earrings, crazy Corona T-shirts or Christmas tree tags with face masks.
Even those who have miscalculated when buying toilet paper and no longer know what to do with the many roles can find suitable solutions online, such as a toilet paper cannon. She converts the paper into small spheres, which she then shoots up to 9 meters.