Senso secure – wireless window sensor detects attempted break-ins
Intelligent locking monitoring that cannot be fooled and reacts to vibrations
The senso secure wireless window sensor takes security very seriously: even incorrect operation of the window is detected immediately. After all, what use is it to report a window as locked if it is only ajar?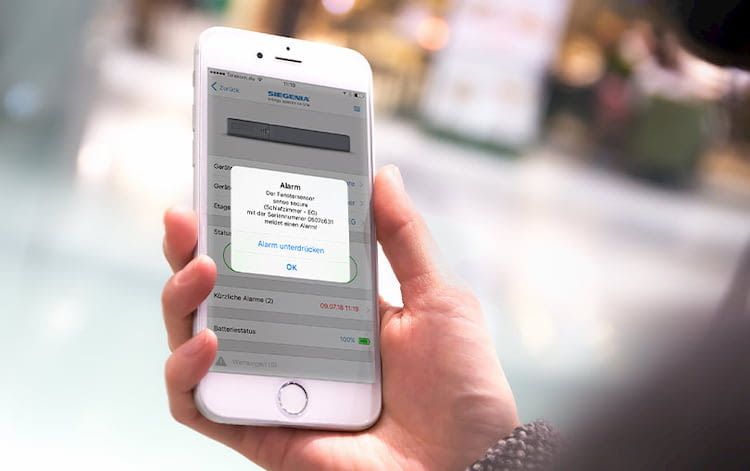 (Siegenia)
In addition, the senso secure locking monitoring system uses an integrated vibration sensor to detect a shock on the window element as a potential break-in attempt and automatically triggers a deterrent alarm tone. The alarm message can also be automatically sent to the smartphone via push notification. Since the window sensor communicates wirelessly, it can be easily used and retrofitted without tools or cables. Users can integrate it completely concealed in the profile of wooden and plastic windows.
SIEGENIA Connect Box: Simply connect the wireless window sensor to the WLAN router
The SIEGENIA Connect Box serves as an interface between the wireless window sensor senso secure and the WLAN router. This allows users to conveniently integrate and query up to 20 wireless window sensors in the SIEGENIA Comfort app. In the event of an alarm, the SIEGENIA Connect Box also triggers a high-pitched, deterrent alarm tone for 30 seconds.
With the SIEGENIA Comfort App (Android | iOS), users can keep an eye on the exact opening and locking status at all times, can leave the house with a calm mind and retain full control even when on the move. In addition to window monitoring, the SIEGENIA Comfort app also enables convenient control of all smart SIEGENIA drive or ventilation systems and offers numerous additional functions.

(Siegenia)
Get a 15% end customer discount for Cyber ​​Week: with the code "UPGRADE-SMARTHOME"
In the SIEGENIA online shop, end customers can secure a 15% discount on the wireless window sensor senso secure and on the SIEGENIA Connect Box during Cyber ​​Week. To do this, buyers from November 23rd to 30th, 2020 simply enter the discount code "UPGRADE-SMARTHOME" when ordering at shop.siegenia.com.