Smart help with sporting goals for the new year
Fitness tracker and smart watch as a motivator – step by step towards the annual goal
Technology not only simplifies everyday life in the smart home. Some practical components protrude into the big topic of health and sport. These include fitness trackers and smartwatches. On the one hand, they serve as a visual highlight, showing the time, the weather or news. On the other hand, more and more health functions are being added and are becoming standard, such as determining sleep phases, measuring pulse and sports activities, e.g. B. Swimming or running.
Fitness tracker Mi Band 5 – bargain recommendation with a strong battery
You don't always have to dig deep into your pocket for helpful gadgets to get a good device. The Mi Band 5 from Xiaomi is a real price-performance recommendation. It has already served a large part of our team well. For only about 30 euros (as of 12/2020), users receive a stylish, slim fitness tracker with eleven different fitness modes and a 1.1-inch AMOLED color display. We especially like the excellent battery life of around 10 days on the Mi Band 5. For comparison: z. B. Some smartwatches need to be charged daily.
The cooperation between the smartphone app and the fitness tracker worked well in the test and the touch controls on the display are also reliable. Connected to the mobile phone, you can navigate through playlists or receive messages and incoming calls. However, if you want to achieve your annual sporting goal by jogging, you have to rely on your smartphone when it comes to GPS. An integrated GPS module is not integrated in the Mi Band 5. However, we do not rate this as a weak point in this price range, as it is reserved for models from around 100 euros.
-20%
The Xiaomi Mi Band 5 impresses with improved functions, a larger display and 11 sport modes.
Premium smartwatch for Apple fans – Apple Watch Series 6
In addition to the Apple AirPods, the California manufacturer also offers popular smartwatch models. With the latest series of Apple Watch Series 6, users can look forward to a very special function that has so far made Apple Watches unique: a blood oxygen measurement. The measurement results can be viewed in the Apple Health app.
Also practical: an iPhone does not have to be nearby to receive messages or calls (cellular model). Thanks to the integrated GPS, it doesn't have to be there for the smartwatch to track running routes. Of course, Apple's voice assistant Siri is also on board. The ECG measurement and the always-on display can also score points. Users can also choose between numerous designs of the dial and choose different bracelets. The Apple Watch Series 6, however, has its price of around 500 euros for the GPS and cellular version (as of 12/2020). In addition, your battery only lasts an average of one day.
Apple Watch 6 (GPS + Cellular, 40mm)
Calling, writing messages without a phone, OLED display, fitness tracking
Note: Users should be aware that the values ​​determined by fitness trackers or smartwatches offer orientation for sporting activities and are not a substitute for a medically accurate diagnosis.
Master jogging laps with music on your ears
Music is a popular companion in everyday life. Whether at home with Bluetooth speakers or on the go with Bluetooth headphones. Music is also a decisive motivator in sports. Because during your favorite album or an exciting podcast, many meters of jogging or sit-ups and push-ups are done almost all by themselves. However, when investing in headphones for sports, users should make sure that they are protected against splash water and thus at least resistant to sweat.
Our recommendation Bose Sport Earbuds are specially designed for training. They are protected against splash water and have another advantage: A secure fit prevents the earbuds from falling out of the ear during strong and intensive movements. In addition to the exchangeable attachments, a flexible wing ensures great stability. Thanks to Active EQ, the sound is clear and, as is typical of Bose, of good quality.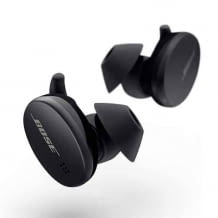 -24%
Wireless Bluetooth headphones with top sound and the highest level of comfort. Incl. Touch sensor control. Weather and sweat resistant.
Tip: If you value active noise suppression during exercise, you should take a closer look at the slightly larger but very similar version of the Bose QuietComfort Earbuds. They are also suitable for training, as they are also protected against splash water and also sit securely in the ear. The advantage of strong active noise canceling: Loud background noises in the gym will then be a thing of the past, as these are reliably filtered out.
Bose QuietComfort earbuds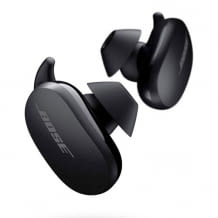 -21%
In-ear headphones with active noise cancellation, crystal clear sound and optimized for Bluetooth 5.1
Smart scales – numerous values ​​for visible fitness success
When it comes to your own problematic weight, scales are a haunted ghost. It is avoided and often forgotten under the closet in the bathroom or in the bed. But with the resolution to do more sport, it helps to control goals based on weight. Smart models are also networked with compatible smartwatches and several statistics in the app then show successes. Body fat scales not only measure weight, but also values ​​such as BMI. This is achieved with the help of diodes on the scales that send small, imperceptible electrical surges through the body. Therefore, users should use the step barefoot.
We recommend the RENPHO body fat scale, as it can not only be used with the manufacturer's own app, but is also compatible with Samsung Health, Fitbit, Google Fit and Apple Health. This makes it particularly suitable for bundling collected values ​​from existing wearables and evaluating them together.
-23%
Bluetooth bathroom scales with app: measures weight, BMI, muscle mass, etc. v. m.
Note: In general, body fat scales are harmless, but they are not suitable for children, pregnant women or people with heart problems.
In addition, the following applies: As with the values ​​determined by smartwatches and Co., these are orientation measurements that can be inaccurate and have no medical claim. The fitness gadgets do not replace a visit to the doctor.
Tips for leisurely people – interested in sports as a spectator
The weaker self can sometimes be stronger than your own resolutions for the new year. Therefore, our last suggestion contains tips that serve a different interest in sport. Namely, how one can experience sporting events digitally, visually or acoustically.
There are many different streaming services that take users into the world of fairy tales, crime series or exciting films. If you are particularly interested in sports events and would like to follow them live from the sofa, we recommend DAZN. With a trial month, subscription offers that include live streams, documentaries by popular athletes such as Mario Götze or exciting summaries attract visitors. In contrast to Netflix or Disney Plus, there is no focus on series and films, but a clear focus on sports. There is hardly any limit to the variety of sports shown. B. basketball, soccer, boxing, even chess or sport fishing.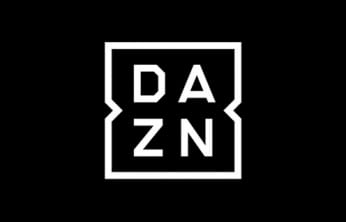 1 month free, then from € 9.99 per month
DAZN membership
Sport in HD live and on demand – no matter when and where. Can be used on up to 6 different devices. Try now for 1 month for free!
To DAZN
For those who like it classic and want to follow soccer games acoustically like in the past, we recommend an Echo Dot 4. It is one of the cheapest Echo speakers and offers access to e.g. B. to Bundesliga games in the audio stream via Amazon Music. Then practical voice commands to Alexa are sufficient, such as For example: "Alexa, play the Bayern Munich game." Or "Alexa, play Bayern against Dortmund." How exactly this works, we show you in our How-To Bundesliga Listen to Alexa and Amazon Music for free – that's how it works.
Amazon Echo Dot (4th Gen) | anthracite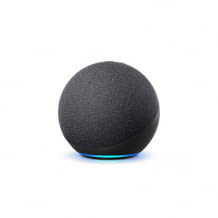 Amazon's sustainably produced Echo Dot with 42 millimeter speakers and 3.5 mm stereo audio output
Tip: Amazon is not only involved in audio streams from the Bundesliga: users can also watch games via Amazon Prime Video. This applies e.g. B. for the 2020/21 seasons. However, different conditions apply here, as Amazon Prime customers can, for example, access streams from DAZN at an additional cost.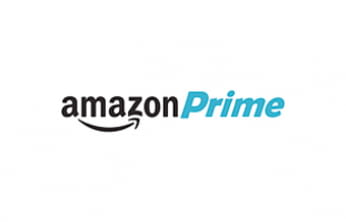 Amazon Prime: 1 month free
One year Prime for 69 euros
Free shipping on Prime products, access to Prime Video and Prime Music, and much more. Cancel anytime.
Try now for 1 month for free!
To Amazon