Smartwatch test overview 2021: purchase advice, tests and prices
The most important things about smartwatches in brief
The following three features are the most important when choosing a smartwatch:
Operating system: Android, WatchOS, Wear OS or Windows Phone – there are now suitable smartwatches and apps for every common operating system. Important: Some models only work with the newer versions of certain operating systems. Battery: Depending on the smartwatch model and intensity of use, the battery or rechargeable battery life varies between one day or several weeks. Price: Smartwatch basic models are already available for around 30 euros, while some Apple Watch Series 6 special editions can cost over 1,500 euros. We recommend spending at least 120 euros on a good smartwatch with extensive networking.
The best smartwatches at a glance
From countless smartwatch models in all price ranges, we have selected those that have particularly impressed us with their features.
Bargain tip: Willful Smartwatch
A 1.3-inch touch color display, the brightness of which can be adjusted in three stages, and numerous tracking functions characterize this affordable smartwatch in the Apple look. It can even be connected to an Android smartphone or iPhone via Bluetooth and inform its owner about incoming calls or text messages.
Fitness wristwatch with 1.3 inch color touch display, step counter, sleep monitor and stop watch
With many special functions for women: Garmin Lily Sport
Garmin Lily Sport presents itself elegant and with a 14 millimeter bracelet width dainty enough to also be suitable for narrow wrists. It scores with a 2.54 centimeter touch display, aluminum bezel and a battery life of up to 5 days. In addition to fitness functions, call notifications and other practical extras, the smartwatch also offers a menstruation and pregnancy tracker as well as nutrition tips for users.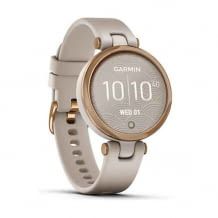 -17%
Stylish ladies' smartwatch with high-quality aluminum bezel, hidden touch display and smartphone notifications.
Elegant variant for men: SANAG E3
This smartwatch with a customizable screen vibrates for new incoming calls or SMS, Facebook, WhatsApp, Twitter or Instagram messages. It also tracks the number of steps, distances and calories burned and reminds you to move more if you sit for too long. Last but not least, SANAG E3 supports several sport modes such as running, swimming or cycling and can track the heart rate.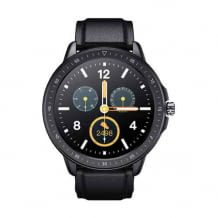 -20%
Smartwatch in a classic look with sports functions, music control, remote photography and sleep tracking.
Exclusive smartwatch with EKG app: Apple Watch 6
Anyone who opts for an Apple Watch Series 6 can look forward to a particularly high level of security. Because it not only measures the blood oxygen and, if requested, creates an ECG, it can even detect falls and provides an SOS mode. In this way, users always know what their health is like and when they should see a doctor.
Apple Watch 6 (GPS, 40 mm)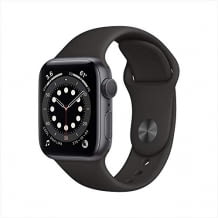 -7%
Measures blood oxygen levels and heart rhythm. With GPS to take calls and answer text messages.
Extra tip for children from 5 years: XPLORA 4
In contrast to the equipment of smartwatches for adults, XPLORA 4 offers few health and fitness functions, but is primarily geared towards the safety of small users. Combined with a SIM card that supports mobile internet, children can call or chat with their parents at any time. In addition, the XLPORA 4 children's smartwatch can be used to locate the offspring in an emergency. An integrated camera and an SOS button complete the equipment.
XPLORA 4 children's smartwatch
-31%
Waterproof kids smartwatch with call function, camera, GPS and SOS function, school mode and pedometer.
More guides on the subject can be found here:
Comparison table: Technical data of our recommended smartwatches
Our direct comparison can be used to quickly and easily find out which is the best model for your personal requirements.
Willful smartwatch
Apple Watch 6
Garmin Lily Sport
SANAG E3
XPLORA 4
Bracelet size
(Wrist circumference in cm)
k. A.
40 mm series: 13 – 20 cm
42 mm series: 14 – 22 cm
14 mm wide interchangeable bracelet
k. A.
k. A.
Housing material
TPU plastic
aluminum casing
Anodized aluminum
plastic
plastic
colour
Black, blue, gray, green, purple or pink
u .a. Black, plum, red, white or pink
i.a. White-ivory, taupe-mocha, agate gray-rose gold
Black or pink
Blue, pink or turquoise
Display
1.3 inch TFT-LCD display
Always-On Retina LTPO OLED Display (1,000 nits brightness)
2.54 cm TFT-LCD display with 16 gray levels
1.4 inch color display
1.4 inch TFT touchscreen
Storage
yes, but very tight
32 GB memory
No
No
4 gigabytes
Connectivity
Bluetooth 5.0
WLAN (802.11b / g / n 2.4 GHz and 5 GHz), Bluetooth 5.0
Bluetooth
Bluetooth
Requires a SIM card that supports mobile internet
waterproof
no, only splash-proof
waterproof up to 50 m
yes, up to 50 m
Yes
yes, according to IP68 up to 1.5 m
GPS
No
yes, optionally also GPS + Cellular (with integrated cellular technology)
only via smartphone
No
yes, for tracking
Battery range
about 7 days
18 hours
Up to 5 days
about 4 days
1 to 4 days
Further equipment
Brightness adjustable in 3 steps pedometer calorie consumption and Schlaftracking9 TrainingsmodiAnruf / SMS notification heart rate measurement music control stopwatch compass always active altimeter blood oxygen sensor electrical cardiac sensor (ECG app) Apple PayGymKitInternationale NotrufeAlarme abnormal heart rate All Day Stress tracking relaxation timer Women's Health Tracking Tracking the FlüssigkeitsaufnahmeUmgebungslichtsensorBeschleunigungsmesserNotfallhilfeHerzfrequenz- and sleep trackingVibriert for calls, Facebook, WhatsApp, Twitter and Instagram News Suitable for MusiksteuerungPersonalisierbarer Bildschirm10 Sportmodi2 Megapixel camera with 4GB storage spaceMicrophone & loudspeakerMake and receive callsSend and receive messagesStep counter (G-sensor)
Availability
View Willful Smartwatch on Amazon
View Apple Watch 6 on Amazon
Watch Garmin Lily Sport on Amazon
View the SANAG E3 Smartwatch on Amazon
View XPLORA 4 on Amazon
How does our smartwatch expert rating come about?
When evaluating smartwatches, we not only rely on our own experience, but also take into account, if available, laboratory results from Stiftung Warentest as well as other expert opinions and customer ratings. We also include current trends in our smartwatch recommendations. In this way we avoid the development of a subjective tunnel vision and can offer you a good overview of the market.
Smartwatch purchase advice – these are the most important selection criteria
If you are thinking of buying a smartwatch, you are spoiled for choice between thousands of women's and men's smartwatches, which can differ greatly in terms of price but also in terms of their functions. We bring light into the darkness and reveal what really matters.
Display: The display of a good smartwatch should measure at least 1.3 inches in order to be able to display content clearly. Design: The color palette of modern smartwatches ranges from sporty silver, to puristic black and bright orange, red or green to elegant gold. At least just as diverse is their housing design, which z. B. can be round or square. In addition, most manufacturers offer numerous interchangeable bracelets with which the look of your own watch can be varied quickly and cheaply. The digital dials are another customization option, of which there is usually a large selection available. Payment functions: More and more smartwatches have contactless payment functions such as Apple Pay or Google Pay. However, if you want to use these, you should check whether before buying the watch his bank is one of the cooperation partners for the desired payment service. Battery range: Some devices such as the high-priced Apple Watch Series 6 have to be recharged every day, while the batteries of other models last up to two weeks. Basically, however, the more intensive tracking functions are used, the faster the battery weakens. The GPS mode in particular consumes a lot of energy. Organization tools: Many people can report calls and text messages, but answers directly via watch are usually only possible with very expensive devices. The common organizational features also include: alarm clock, timer and appointment management. Health features: The heart rate and sleep phases of their wearers measure their wearers' heart rate and sleep phases even particularly inexpensive models, even if not always very precisely. Cycle tracking, on the other hand, is more of a typical feature of somewhat higher-priced branded devices. ECG creation and blood oxygen measurement have so far only been reserved for a few. Comfort functions: Voice control is a particularly easy way to access smartwatch features even when you don't have your hands free while doing sports or, for example, when carrying shopping bags. Music control on the wrist instead of a smartphone is also practical. Acquisition costs: Smartwatches with solid basic equipment are available for 30 euros, but you should invest at least 120 euros in buying a smartwatch to use comprehensive analysis functions.
A good smartwatch scores with ease of use and many functions
(Halfpoint / Adobe Stock)
This is how our smartwatch favorites fare with users
The following overview shows how well our favorites have proven themselves in expert tests and in everyday life for private users.
Bargain tip: Willful Smartwatch in the review check
Smartwatch fans on a budget should keep an eye on the Willful Smartwatch. This affordable model offers all the important functions of a fitness tracker with a pedometer, heart rate measurement, sleep monitoring and call notification and supplements them with smartwatch features. For example, users are B. informed about incoming Twitter, SMS, Facebook or WhatsApp notifications and emails.
Editor's rating of the Willful Smartwatch This bargain comes with good basic equipment, but is not waterproof and does not have a GPS mode.
Fitness wristwatch with 1.3 inch color touch display, step counter, sleep monitor and stop watch
More Willful Smartwatch tests and ratings
In Amazon customer ratings, this smartwatch received 4.2 out of 5 stars (as of: 07/2021). We have not yet had any further experience reports or laboratory results from Stiftung Warentest (as of: 07/2021)
Exclusive smartwatch with EKG app: Apple Watch 6 in the test overview
Creating an ECG spontaneously is no problem for the Apple Watch Series 6. In addition, it can even be used to measure the oxygen content in the blood. This is made possible by green, red and infrared LEDs that shine into the blood vessels on the wrist and use photodiodes to measure how much light is reflected. Algorithms then analyze the color of the blood and use this to calculate the amount of oxygen present. Overall, this results in astonishingly precise health feedback, even if it cannot yet keep up with medical devices and therefore does not replace a visit to the doctor.
In addition, the Apple Watch Series 6 stands out from the crowd with a high-quality Always-On Retina display and offers numerous other health, fitness and entertainment features. Including: 70 million songs on Apple Music, as well as many podcasts and audio books.
Editor's rating of the Apple Watch Series 6 We couldn't find a higher quality equipment in any other smartwatch. Because the Apple Watch Series 6 is the only smartwatch in our test comparison that can measure the oxygen content in the blood and create an ECG. It is also able to detect falls and offers a helpful SOS mode. The battery range is comparatively tight at around 18 hours.
Apple Watch 6 (GPS, 40 mm)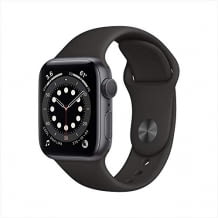 -7%
Measures blood oxygen levels and heart rhythm. With GPS to take calls and answer text messages.
More Apple Watch Series 6 tests and ratings
In the CHIP test, the Apple Watch Series 6 achieved the grade very good (1.3), the best placement of all tested smartwatches. In the price assessment, however, she only scored 'acceptable'. (As of: 11/2020) The Apple Watch Series 6 received an overall grade of good (1.7) from the ComputerBild technology experts. positive comments about the always-on display, the scratch-resistant housing, the Siri integration and the Apple Pay payment function. On the other hand, they rated the short battery life and the exclusive compatibility of the watch with iPhones, which excludes Android users, less well. (As of: 09/2020)
With many special functions for women: Tests on Garmin Lily Sport
Many female users reject bulky, large sports watches in dark tones, such as those offered for men, and want a subtle alternative. That's why Garmin developed Lily Sport especially for them. This modern ladies smartwatch is a. Available in feminine colors such as wild berries or agate gray with rose-gold accents. The strap, which is only 14 millimeters wide, is available in different colors as a silicone version or made of Italian leather and allows the watch to be adapted to almost any outfit.
On her touchscreen, Lily Sport hides, among other things. SMS messages, calls or calendar reminders and provides access to a menstrual cycle and pregnancy tracker. In addition, inter alia Apps for yoga, walking, cardio and breathing exercises on board. Once charged, the battery of the small smartwatch can last up to 5 days.
Editor's rating of the Garmin Lily Sport Elegant model that is also suitable for delicate wrists and scores with extensive equipment.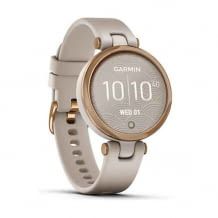 -17%
Stylish ladies' smartwatch with high-quality aluminum bezel, hidden touch display and smartphone notifications.
More Garmin Lily Sport reviews and testimonials
On Amazon, Garmin Lily Sports averaged 3.9 out of 5 stars. (Status: 07/2021) Stiftung Warentest has only tested other Garmin Smartwatch models, but Garmin Lily Sports has not yet. (As of: 07/2021)
Shapely variant for men: SANAG E3 in the test overview
Those who prefer it sporty rather than classy should use the SANAG E3 Smartwatch. Instead of using interchangeable bracelets, it ensures variety in everyday life with its customizable 1.4 inch color screen and a large selection of modern dials.
This smartwatch can also inform its user of incoming calls, SMS, Facebook, WhatsApp, Twitter or Instagram messages via a vibration alarm, provided that it has been networked with the wearer's smartphone.
SANAG E3 supports several sport modes such as running, swimming and cycling. For a better assessment of your own fitness level, heart rate monitoring and sleep tracking are also part of the basic equipment. The automatic movement reminder is also practical if the user of the watch sits too long.
The editors' rating of SANAG E3: Their top price-performance ratio and the modern design make the SANAG E3 an absolute bestseller on Amazon for a reason.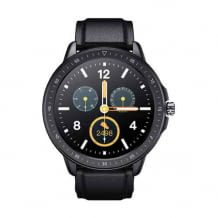 -20%
Smartwatch in a classic look with sports functions, music control, remote photography and sleep tracking.
More SANAG E3 tests and field reports
With 4.1 out of 5 stars, the SANAG E3 Smartwatch performed well in Amazon customer reviews. (Status: 07/2021) We have not yet received a test result from the Stiftung Warentest experts for the SANAG E3 Smartwatch. (As of: 07/2021)
Extra tip for children: XPLORA 4 Smartwatch at a review overview
Children usually like to romp and run by nature, which is why additional movement reminders or fitness modes are unnecessary for them. Instead, the cheerfully colorful and very robustly designed XPLORA 4 children's smartwatch focuses on games and fun for the little ones and reassuring safety functions for the grown-ups.
Because while an integrated camera for snapshots and the ability to send emojis encourage children to wear the watch, parents can set up safety zones and be notified when the little ones leave this area. The device can also be located.
The prerequisite for the aforementioned functions is a SIM card that supports mobile Internet and should have a data volume of around one gigabyte per month. The PIN protection of the SIM card must be deactivated before inserting it into the watch. According to the manufacturer, SIM cards from Telekom, Vodafone or O2 are particularly suitable for XPLORA 4.
An emergency call button attached directly to the housing and the option of receiving or sending voice messages also ensure convenience and even more security.
With this gadget, parents can safely let their children play outside or make the way to school on their own. The only disadvantage is that the SIM card has to be bought separately and causes permanent extra costs.
XPLORA 4 children's smartwatch
-31%
Waterproof kids smartwatch with call function, camera, GPS and SOS function, school mode and pedometer.
More XPLORA 4 tests and field reports
Amazon customers gave this children's smartwatch an average of 4.3 out of 5 stars. (Status: 07/2021) In the ComputerBild test, XPLORA 4 was rated as good and among other things. Praised for the location option via GPS mode, ease of use and the ability to chat with parents. However, the testers found it disadvantageous that an expensive data tariff was necessary for operation in the test and that the watch turned out to be clunky. (Status: 02/2020) XPLORA 4 has not yet received a test rating from Stiftung Warentest. (As of: 07/2021)
An overview of other popular smartwatch classics
The following models have been available for a while and have therefore already been rated by a large number of users and professionals. In contrast to the newer smartwatches, however, they not only score with good performance, but also with a very good price-performance ratio.
Smart retro model: Huawei Watch GT2 in the test comparison
The Huawei GT2 Smartwatch, which contains a powerful Kirin A1 processor, is elegant and modern. It can not only precisely track training routes via GPS connection with the smartphone, but also record and diagnose six common types of sleep disorders using TrueSleep 2.0 technology. In addition, the TruRelax mode enables efficient stress measurement. The Huawei GT2 then helps to reduce tension with breathing training if desired.
Editor's rating of the Huawei Watch GT2 Users who find common smartwatches too bulky will get their money's worth with the noble Huawei Watch GT2 and at the same time benefit from a good battery range. However, you should bear in mind that, like most devices in this price range, GPS functions can only be used in conjunction with a smartphone.
Further Huawei Watch GT2 Smartwatch tests and ratings
Customers at Amazon gave this model 4.7 out of 5 stars. 93 percent of buyers rated this smartwatch with 4 or more stars. (Status: 07/2021) However, the Huawei Watch GT2 received the rating satisfactory (3.2) from Stiftung Warentest, partly because the testers were dissatisfied with the manufacturer's data protection measures. (Status: 06/2020) The CHIP team praised the outstanding battery life and high accuracy, but complained about the lack of WLAN connectivity and the poor equipment in the opinion of the testers. (As of: 04/2020)
With integrated LTE module: Samsung Galaxy Watch Active 2
Its frameless aluminum design, the large display and its numerous modern dials make the Samsung Galaxy Watch Acitve 2 an absolute eye-catcher. As a unique selling point, it has a digital bezel, which can be used to call up functions quickly and intuitively.
An integrated heart rate monitor also monitors the heartbeat of the Samsung Galaxy Watch Active 2 and measures the stress level, as is usual with many smartwatches. What is special about it, however, is that it automatically recognizes up to seven typical activities, whereupon the integrated running coach gives training tips in real time. Thanks to its water resistance of up to 50 meters, wearers do not even have to take the watch off while swimming.
It is also convenient that the LTE version of the Galaxy Watch Active 2 with integrated eSIM card always remains connected even without a smartphone.
The editors' rating on Samsung Galaxy Watch Active 2Smartwatch for style-conscious users who like to be always up to date with regard to their fitness.
Samsung Galaxy Watch Active2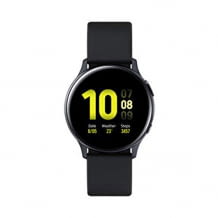 -51%
Modern smartwatch with a frameless design and an innovative, digital bezel
More Samsung Galaxy Watch Active 2 reviews and testimonials
More than 7,500 users have already rated the beautifully designed Samsung Galaxy Watch Active 2 on Amazon, giving it an average of 4.6 out of 5 stars. (Status: 07/2021) The technology professionals from ComputerBild discovered significantly more advantages than disadvantages in their test and gave this model a grade of good (2.1). As the strengths of the sports watch, they named the Bixby voice assistant, the bright display and the automatic training recognition, among other things. (Status: 06/2021) At Stiftung Warentest, a similar variant of the Samsung Galaxy Watch Active 2 presented here was tested and rated as satisfactory (2.7). (As of: 06/2020)
With extra storage space for music: Fitbit Versa 2
The Fitness Smartwatch Versa 2 leaves little to be desired and offers an extraordinary amount of comfort. In addition to the color AMOLED display including touchscreen function, it can also be controlled via the directly integrated voice assistant Alexa. In addition, more than 300 songs can be saved on the smartwatch – enough to keep you motivated even during long training sessions.
The smartwatch can also be connected to the cell phone's GPS mode. Alternatively, the successor model Fitbit Versa 3 is available with directly integrated GPS mode and also with Alexa or the Google Assistant included. However, since the Model 3 is significantly more expensive, we decided to recommend the tried and tested Fitbit Versa 2 here.
Even under water, Fitbit Versa 2 is always close at hand and can even cope with water depths of up to 50 meters. Comfort functions such as sleep and cycle tracking or Fitbit Pay round off the features of Fitbit Versa 2. With normal use of all these functions, the battery will easily last up to four days.
Editor's rating of the Fitbit Versa 2Schick Smartwatch for active users, which is compatible with a large number of apps and services. For example with the Strava, RunKeeper, Weight Watchers, Lose it! or MapMyRun App.
-35%
Fitness smart watch with voice control, music function and heart rate measurement, water-repellent up to 50m depth
More Fitbit Versa 2 tests and ratings
In the customer reviews on Amazon, the Fitbit Smartwatch Versa 2 received an average of 4.5 out of 5 stars (as of 07/2021). In the ComputerBild test, this model received a good grade. The technology experts praised the sleep analysis, the Fitbit Pay payment function and the music storage. However, they criticized the fact that GPS can only be used via a smartphone with an integrated GPS function. The testers also noted that Alexa can only be used if a smartphone with an open Fitbit app is in the immediate vicinity. (Status: 09/2019)
What is a smartwatch?
A smartwatch is an intelligent wearable that functions as a supplement to the smartphone. Calls can be made, e-mails dictated and sent via voice control via a smartwatch. In addition, the digital appointment calendar can be called up with a glance at the wrist. The smartwatch is usually operated via a touch display, a rotating bezel or mechanical buttons. Voice control with Alexa, Siri or Google Assistant is also possible with many models.
What is the difference between a smartwatch and a fitness tracker?
Heart rate monitors and fitness trackers are geared towards sports functions and are primarily used for health management. Payment modes or options for receiving messages are increasing more and more, but are not yet built in as standard. In terms of design, fitness trackers are usually very discreet and rather narrow.
Smartwatches are usually much larger than a fitness bracelet. One reason for this is certainly the more extensive equipment. So wearers of a smartwatch z. B. not only informed about calls via vibration alarm, but thanks to LTE equipment can often also answer and answer them directly. The smartwatch functions also include office functions such as appointment reminders or sophisticated health features such as fall detection and ECG measurement.
In some smartwatches (e.g. Apple Series 4,5 and 6) voice assistants are also directly integrated, so that smart home control is also possible.
Which smartwatch functions are there?
In addition to cycle, sleep and movement analyzes, heart rate measurement, tracking of different sports and music control, there are many other ways to use a smartwatch. For example, to be notified when emails are received. The hands-free control of the smartwatch via voice assistants such as Siri or Alexa is particularly practical.
Anyone who wants to take calls and receive push e-mails without a WiFi connection while on the move needs an LTE / cellular option. This is z. B. optionally available for a higher price from Apple Watches.
More and more smartwatches offer practical, contactless payment functions
(Kaspars Grinvalds / Adobe Stock)
Are smartwatches suitable for showering or swimming?
Many smartwatch providers advertise water resistance, but only mean protection against splash water. Anyone who takes a shower or swimming with such a watch must expect damage.
Our overview table provides orientation for the selection:
Pressure (water column)
Resilience
3 bar (3 ATM)
only survives splashes of water
5 bar (5 ATM)
suitable for showering
10 bar (10 ATM)
suitable for swimming
20 bar (20 ATM)
Diving watch
Note: Some smartwatches with 5 ATM are also suitable for sports activities in the water thanks to their special housing and integrated swimming mode. Usually, however, the 5 ATM marking only stands for suitability for brief immersion.
Which smartwatches are the best at Stiftung Warentest?
At Stiftung Warentest, the Apple Watch Series 6 in the 44 millimeter aluminum edition achieved 1st place with a grade of good (2.0), but can only be used by iOS users. To everyone who owns an Android smartphone, Stiftung Warentest recommends Garmin Fenix ​​6 Pro or Grit Polar X as high-quality alternatives to the test winner. (As of: 05/2021)
For each of these, however, you pay at least 400 euros, so it can be worthwhile to include our bargain tips in the purchase decision.
Which smartwatch is good?
Some of our favorites are available for as little as 30 euros. Your name is:
Willful Smartwatch – bargain tipGarmin Lily Sport – with many special functions for womenSANAG E3 – shapely variant for menXPLORA 4 – extra tip for children from 5 yearsApple Watch Series 6 – incl. EKG app for the discerning
Which smartwatch is good and cheap?
Is particularly favorable z. B. the popular Willful Smartwatch, which is already available in stores for around 30 to 40 euros. It scores with up to 7 days of battery life, is available in many colors and, despite its low price, comes with a 1.3-inch TFT-LCD display.
Which smartwatch is the best?
In terms of technical equipment, the Apple Watch Series 6 is clearly ahead. The prices of their variants with 400 to over 1,500 euros are not for everyone. On the other hand, our other recommendations are also good and much cheaper:
Willful SmartwatchGarmin Lily SportSANAG E3
Smartwatches usually offer tracking functions similar to fitness trackers
(Oleg Breslavtsev / Adobe Stock)
Which smartwatch has the best battery life?
Die längste Ausdauer unter allen von uns bewerteten Fitnesstrackern, Pulsuhren und Smartwatches beweist das Xiaomi Mi Band 4 mit drei Wochen Akkureichweite, das inzwischen vom Hersteller um das Mi Band 5 und Mi Band 6 mit immerhin zwei Wochen Akkureichweite ergänzt wurde (Stand: 07/2021).
Welche Smartwatch passt zu mir?
Vor der Entscheidung für ein Modell sollten Nutzer sich überlegen, ob sie ihre Uhr primär als Sport Smartwatch oder als Alltagshelfer im Büro verwenden möchten. Denn Sportler benötigen unter Umständen ein LTE-Modell mit GPS-Integration, um ihre Trainingsrouten zu überwachen. Wer dagegen auf diese energieintensiven Funktionen verzichten kann oder sie nur gelegentlich nutzt, profitiert von einer großen Auswahl günstiger Basismodelle.
Was sind die Smartwatch Vor- und Nachteile?
Nicht immer bedeutet ein hoher Preis auch automatisch, dass die entsprechende Smartwatch eine hohe Akkureichweite hat. So halten die Akkus einiger Apple Watches z. B. nur rund 18 Stunden durch. Mit welchen Stärken und Schwächen Nutzer bei Smartwatches sonst noch rechnen müssen, zeigt unsere Zusammenfassung.
Smartwatch Vorteile
Smartwatch Nachteile
Vereinen viele Funktionen in sich, wie Timer, Wecker, Terminverwaltung, Musiksteuerung, Pulsmessung, Schritt- und Herzfrequenztracking oder SchlafüberwachungImmer mehr Modelle bieten praktische BezahlfunktionenBereits ab 30 Euro erhältlichAkkureichweite z. T. weniger als 1 TagGPS-Modus oft nur in Verbindung mit einem Smartphone nutzbar
Was kostet eine Smartwatch?
Smartwatches mit Basisausstattung gibt es teilweise schon für etwa 30 Euro. Wir empfehlen etwa 120 bis 250 Euro für eine gute Smartwatch zu investieren, um von einer umfassenden Ausstattung zu profitieren. Besonders hochwertige Smartwatches mit Sprachsteuerung oder EKG App können hingegen sogar über 800 Euro kosten. (Stand: 07/2021)
Quellen und weiterführende Informationen zu Smartwatches
Apple: Apple Watch Series 6 (44 mm) Produktseite des HerstellersGarmin Lily Sports Produktseite des HerstellersSamsungGalaxy Watch Active 2 Produktseite des HerstellersXPLORA Herstellerseite mit Modellüberblick