These are the best Nanoleaf alternatives for individualists
The most important things about Nanoleaf alternatives in brief
The following overview shows which factors are important when choosing a Nanoleaf alternative.
Design: Square, triangular, round or honeycomb: there are suitable light panels for every taste. Fastening: Some models bring a stand so that their users can create a free-standing light sculpture, others are simply screwed or glued to the wall. Control: Particularly inexpensive Nanoleaf alternatives can sometimes only be operated via touch control, but a bit more expensive can be controlled via app or voice command instead.
The best Nanoleaf alternatives at a glance
Our overview of the most popular Nanoleaf alternatives shows which other manufacturers also have good light panels on offer.
Good and cheap with touch control: Kangtaixin Hexagon LED panel
The six honeycomb-shaped light panels from the Kangtaixin starter set can be individually glued to a wall to form patterns using adhesive pads. Alternatively, they can be connected to a free-standing light sculpture in the bracket that is also supplied. Users can then switch the light panels on and off or change the color by touching them.
Kangtaixin Hexagon LED Panel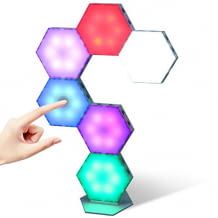 LED lights supplied with 6 hexagonal lights that can be connected in any way by protruding magnets.
For free-standing light sculptures: Cololight PRO light system
If you opt for Cololight PRO, you can place the six included modules individually on the supplied concrete base and then control them via the app or – networked with Alexa or Google Assistant – also via voice commands. A total of over 100 Cololight light elements can be combined and z. B. be put together on a wall to form a large-scale pattern, changes are possible at any time.
Cololight PRO lighting system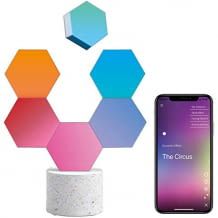 Lighting system with expandable modules that you can put together yourself. Become your own lighting designer using the app and create a pleasant ambience.
Includes 6 music modes and microphone: Govee Glide Wall Light
While other sets only offer one music mode, the Govee Glide Wall Light Set has six music modes. In addition, it impresses with over 40 retrievable light scenes and an individually adaptable design layout. In addition to the free manufacturer's app, users can also choose to control the popular Alexa and Google Assistant AIs, provided that users have suitable devices and network them with the light panels.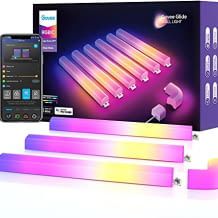 Seven interchangeable glide segments in any order for a shape with up to 55 colors at the same time. Can be controlled together with the Govee Home App.
HomeKit controllable premium solution for the discerning: LIFX Tile Kit
With LIFX Tile, a modular, expandable lighting solution moves into your own home, in which each light panel is equipped with 64 individually adaptable zones. In this way, unique color effects from strong contrasts to smooth transitions can be created. Particularly convenient: This Nanoleaf alternative can even be networked with Apple's HomeKit and then controlled via Siri.
5 individually adaptable and dimmable tiles, flexible layout adjustable with 64 user-defined zones per tile.
The proven original: Nanoleaf XXL Canvas Smarter Kit
While other entry-level sets contain only three or a maximum of six LED panels, this Nanoleaf Canvas Smarter Kit with 17 pieces offers a lot of design freedom. The control panel included in the scope of delivery can even control up to 500 LED modules. In addition, this high-quality lighting solution is compatible with all common voice assistants and other smart components such as Samsung Smart Things.
Nanoleaf Canvas Smarter Kit

-3%
17 intelligent square Nanoleaf screens with RGBW LED including control panel and integrated music synchronization technology.
Technical data of the Nanoleaf alternatives in comparison
Not only is there a great variety in panel shape, brightness and control options are also very different in our Nanoleaf alternatives.
Status: 12/2021
Kangtaixin Hexagon LED Panel
Cololight PRO lighting system
Govee Glide Wall Light
LIFX Tile Kit
Nanoleaf Canvas Smarter Kit
Panel shape
Honeycomb shape
Honeycomb shape
LED bars
square
square
Panel size
10.4 x 8.9 x 1.8 cm
7.5 x 2.4 x 8.6 cm
Approx. 30 x 6.5 cm
Approx. 20 x 20 cm
15 x 15 cm
Touch controls
Yes
Yes
no
no
Yes
App
no
Cololight Smart Home App (Android | iOS)
Govee Home App (Android | iOS)
LIFX App (Android | iOS | Windows)
Nanoleaf App (Android | iOS)
Voice control
no
Alexa and Google Assistant
Alexa and Google Assistant
Amazon Alexa, Apple HomeKit (Siri), Google Assistant
Alexa, Apple Home Kit (Siri), Google Assistant
colour
RGB
16 million colors
16 million colors
16 million colors
16 million colors
brightness
k. A.
k. A.
k. A.
2,100 lumens (420 lumens per panel)
748 lumens (44 lumens per panel)
Connectivity
None, only controllable manually
WiFi (2.4 GHz)
Bluetooth, WLAN (2.4 GHz)
WIRELESS INTERNET ACCESS
WiFi (2.4 GHz)
Extras
Connection by magnets on / off or color change by pressing the panels Stable base made of real concrete19 individually controllable LEDs per moduleOwn effects and shapes possibleTimerUnlimited number of modules can be connectedOver 40 dynamic scenesUp to 55 colors can be displayed simultaneouslyMusic synchronization via built-in microDimmable64 user-defined zones per panelAdditionally compatible with Nest, Samsung SmartThings, IFTTT and moreIntegrated LIFX and cloud connectionDimming Saturation controlMusic visualization modeScreen mirror functionAdditionally compatible with Samsung SmartThings, IFTTT and Nanoleaf-RemoteEach control panel can control up to 500 square plates
scope of delivery
6 light modules, 2 x 4 double-sided adhesive dots, 1 USB cable (without adapter), 1 plastic holder
6 light modules, concrete base and main controller
6 light strips, 1 corner piece, 1 control box, 1 adapter
Set of 5 LED panels, mounting strips for attachment, cable with plug
16 light modules, 18 connecting pieces, 68 double-sided adhesive strips, 1 control panel (can function as a normal light square), 1 power supply unit
Availability
View Kangtaixin Hexagon LED Panel Set at Amazon
View Cololight PRO lighting system on Amazon
View Govee Glide Wall Light on Amazon
View LIFX Tile Kit on Amazon
View Nanoleaf Canvas Smarter Kit on Amazon
Buying advice on Nanoleaf alternatives
In addition to the selection criteria already mentioned, beginners should also pay attention to the following properties when buying a Nanoleaf alternative.
Starter kits: Depending on the manufacturer, the number of light modules varies – sometimes only 3, sometimes over 15. Therefore, we recommend not only comparing the total costs per starter set, but also paying close attention to the scope of delivery. Synchronization: Many Nanoleaf alternatives can be synchronized with music on request and thus ensure an optimal party atmosphere. Networking options: Compatibility with the Alexa and Google Assistant voice assistants may be considered the standard for LED modules from 100 euros. HomeKit compatibility is much rarer. Connection pieces: Some LED modules adhere magnetically to the next element, others can be plugged into one another or screwed together.
Smart wall panels wrap every room in atmospheric light scenes
(Nanoleaf)
What do good Nanoleaf alternatives cost?
There are starter sets with several light modules and touch controls for around 50 euros. For entry-level solutions with more convenience and app operation, you usually pay 100 euros or more. (As of: 12/2021)
How do you attach Nanoleaf alternatives?
Most manufacturers either supply adhesive strips or provide their light panels with small mounting pre-drilled holes through which they can be screwed to a wall. Alternatively, brackets for freely positioning the modules on a table or shelf are sometimes included in the scope of delivery.
Is there a Nanoleaf alternative from Philips Hue?
Signify, the manufacturer of the popular Philips Hue lighting series, offers a large selection of smart lights, but wall panels comparable to Nanoleaf are not yet available there. (As of: 12/2021)