These devices can be controlled with Amazon Alexa
Note: Some devices can be controlled directly via Amazon Alexa, others require a combination with a control center from the manufacturer (also called a bridge, gateway or hub). All system-dependent Alexa devices are listed in the overview for the respective smart home system and are not listed again separately in the product categories.
Alexa sockets and adapter plugs
Anyone who thinks that they have to buy all household appliances for home networking is wrong. Because WLAN sockets also retrofit conventional devices with Amazon Alexa. These practical radio plugs manage, for example, a coffee machine (with toggle switch), toaster, kettle, fans, television or computer.
Recommendation: The best Alexa WLAN socket comes from TP-Link
Our favorite for use with Alexa is the branded model TP-Link HS100, which performed very well in our test. The TP-Link HS100 WLAN socket can, for example, automatically switch lamps on and off for burglary protection. With a maximum load of up to 16 A, the TP-Link HS100 clearly stands out from the mass of cheap no-name Alexa sockets, which often only withstand 10 A, are poorly made and offer no customer service.
-40%
This smart socket can be controlled by smartphone, compatible with Amazon Alexa and Google Home
More Alexa-compatible WLAN sockets
TP-Link: The HS110 variant can be loaded with 16 A just like our favorite and also measures the energy consumption. If you are looking for an inexpensive alternative, you should take a closer look at the basic version, Tapo P100. It is particularly compact and ideally suited for switching normal electrical devices.Action: The Alexa socket LSC Smart Connect from Action is a particularly affordable model, but can still convince with its performance. You can find out more about this in our LSC System Praxistest.gosund: With the gosund SP1 WLAN socket, devices can be voice and app controlled. In addition, like the TP-Link HS110 socket, measures the energy consumption. HORSKY, Queta Plug, TECKIN and Co .: Caution is advised with these inexpensive China models. Because often they hardly offer German support in case of problems and are processed very cheaply. In addition, some manufacturers simply rename their poorly rated Alexa sockets and thus disguise customer criticism.
Alexa compatible outdoor WiFi sockets
There are currently only a few system-independent Alexa devices that can also be used in the garden to control the lawn sprinkler or in the bathroom. Such outdoor WLAN sockets for Alexa or Echo control are offered by Alfawise, for example. There are also system-linked sockets from AVM (FRITZ!), Ledvance (OSRAM Smart +) or innogy radio-controlled sockets for outside (see Smart Home Systems section). You can find detailed information and further tips on Alexa sockets in the guide: "These WLAN sockets can be used with Alexa".
Alexa socket strips & WLAN multiple sockets
If you want to control several classic household appliances by voice or app, you can also use a networked socket strip. The brennenstuhl connect WiFi socket strips, for example, which we have already tested in practice, are particularly well made and practical.
brennenstuhl Connect Ecolor WLAN 3-way socket strip
Smart 3-way WLAN power strip with voice control via Alexa or Google Assistant. Flexible schedules can be set via the app.
The tint Smart Power Strip is a cheap alternative with two switchable ports. B. can be integrated into a Philips Hue lighting system and controlled via Alexa.
More Alexa-enabled multiple sockets
gosund: gosund also has its own socket strip with three USB ports and three classic socket ports for Alexa users, including a timer and app.SMAHO, BEVA, Maxcio and Co .: Cheap China socket strips with Alexa compatibility, but they do are often not particularly durable.
Alexa thermostats
Cozy warmth in autumn and winter enables flexible heating systems with Alexa connection. The smart WiFi thermostats can be turned up on cold days in the whole house on demand, even before the user has put his first foot out of bed.
Recommendation: tado ° is the best Alexa WiFi thermostat
Our favorite among the Alexa thermostats is the WLAN thermostat V3 from the tado ° heating system. Its advantages include a high-quality, elegant design, the IFTTT connection and the option of individual room control.
tado ° Smart Radiator Thermostat Starter Kit (V3 +)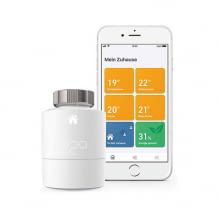 -17%
Intelligent heating control with room air skill; Compatible with Alexa, Apple Homekit, Google Assistant and IFTTT.
tado ° Radiator Thermostat: Intelligent tado ° WLAN thermostat for classic radiators, controllable with Alexa and Echo devices. tado ° room / wall thermostat:. The tado ° wall thermostats are also suitable for underfloor heating. Tado ° air conditioning / tado ° cooling: With the tado ° app (Android | iOS), not only thermostats, but also almost any air conditioning system can be networked and controlled with Alexa. tado ° Extension Kit (additional product): radio receiver for the heating system (for single-family houses without room thermostat or with radio thermostat) / also suitable for underfloor heating.
As an inexpensive alternative, we recommend the Homematic IP radiator thermostat in a classic design, which is also voice-controlled via Alexa.
Homematic IP starter set room climate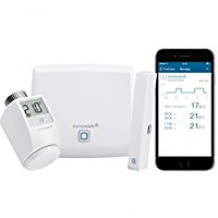 -26%
for intelligent heating control, Alexa compatible
More Alexa-compatible WiFi thermostats
devolo: In addition to a room thermostat, the devolo HomeControl Smart Home System also includes a suitable wall thermostat that can be networked with the manufacturer's Alexa skill. Emerson: Various, high-quality room thermostats are part of the portfolio of this Alexa device manufacturer. They are mostly sold as Sensi Smart thermostats.Eurotronic: The ZigBee thermostat Spirit from Eurotronic impresses with a striking orange display and many practical heating features. Ecobee4: Noble black thermostat model with a puristic look, Ecobee 4 is also compatible with IFTTT and Samsung SmartThings.meross: Several meross WLAN thermostats can be networked and uniformly operated via the MTS100H control center. Netatmo: The Netatmo room thermostat and the Netatmo radiator controller convince with their elegant design, high functionality and lots of practical accessories (e.g. door / window sensors).
Alexa lamps and lighting systems
Regardless of whether you spend your evening with a good book in the bathtub or with a glass of red wine on the sofa – the smart lighting elements presented here can be used even more conveniently with the Amazon Alexa voice assistant without having to get up and walk to a switch.
Recommendation: Philips Hue is the best Alexa lighting system
Our favorite for fully networking the lighting are the Philips Hue lights and dimmers, which are connected via the Philips Hue Bridge. They fully convinced us in the practical test with their high color intensity and the large range of functions and have already achieved multiple test victories in other expert evaluations.
Philips Hue Starter Set White & Color Ambiance E27 (4th generation)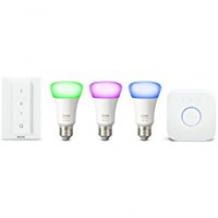 -30%
The most popular entry-level set in the Hue lamp world, including bridge and dimmer switch, HomeKit and Alexa compatible.
Other Alexa-compatible lighting systems
Innr: Inexpensive lighting solution with its own bridge. However, lamps can also be integrated into the Philips Hue app on request. Usable with Alexa are e.g. B. the Innr GU10 LED spot and the 7-piece set Innr Smart RGBW LED E27.IKEA TRÅDFRI: The Alexa-compatible IKEA TRÅDFRI lamp series is complemented by TRÅDFRI remote control, dimmer set, light panels and cabinets with integrated smart lighting. Even normal IKEA lighting can be integrated with a TRÅDFRI transformer.
Alexa-compatible WLAN lamps and bulbs without system connection
Users who want to try out smart lighting without having to buy a whole system are well advised to use the following WLAN lamps. These are then controlled directly via the app or – if Alexa-compatible – also by voice.
Yeelight: Inexpensive smart home bulbs that can display up to 16 million colors and can be dimmed if necessary. LIFX / LIFX +: The range of this supplier includes easy-to-use LEDs for E27, E14 and GU10 sockets.TP-Link: The LB130 WLAN lamp from TP-Link can also be conveniently operated via app or Alexa and is also IFTTT-compatible.
Alexa Lightstrips
LED light strips effectively set furniture edges in scenes, indirectly illuminate the hallway when going to the toilet at night, or cover garden sculptures in atmospheric colors. We summarize which smart light strips can be networked with Alexa.
Recommendation: Philips Hue Lightstrips
The LED strips belonging to the lighting system of the same name let every home shine in up to 16 million colors and also convinced us with their intense luminosity in the Philips Hue practical test.
Networked with Alexa, they generate e.g. B. high-quality, white light for concentrated work or warm colors for recharging your batteries and relaxing. The Philips Hue app and Philips Hue Bridge can also be used to synchronize the Lightstrips with music or films.
Philips Hue LightStrip + Basic Set (without Bridge)
ZigBee-compatible light strip, dimmable, multi-colored, flexible and highlight as indirect lighting
Inexpensive alternative: LIFX Lightstrip
If you don't have a Philips Hue system yet and don't want to buy its control center (bridge), the LIFX Z starter kit is the right choice. It can be used immediately without additional components and can be extended up to 10 meters. If necessary, the multi-colored LED strip can also be dimmed continuously.
-15%
Smart WiFi LED light strip. Multi-colored and dimmable. No hub necessary. Voice control possible.
More Alexa LED strips
Govee: Various Alexa LED strip variants are available from Govee, e.g. B. Govee 5 meter LED strip with 44 lighting scenes pre-installed in the app as well as an integrated microphone and music synchronization gosund: Perfect ambient retrofit solution for atmospheric lighting of the television. The gosund Alexa LED strip can be used for 40 to 60 inch TVs.Innr: The dimmable Innr Smart Outdoor Flex Light Color light strips are even suitable for outside use.Luminea: This company offers a WLAN controller for RGB LED strips, the normal one LED-LightStrips makes Alexa compatible. Light strips up to 20 meters in length can be used. TECKIN: Inexpensive Chinese light strip with 16 million representable colors. Also suitable for music synchronization. Tint: This lighting series by Müller-Licht, which is often offered by the discounter ALDI, includes u. a. also an Alexa-compatible outdoor light strip with ZigBee wireless standard.
Alexa televisions & TVs
If this has not happened to you before – no sooner have you been sitting comfortably on the couch in the evening than the annoying search for the remote control begins. This doesn't have to be the case, however, because there are several ways to control your own television via Alexa. The Amazon Fire TV Stick is a good retrofit solution for older models. New televisions (smart TVs), on the other hand, can often be networked via an Alexa skill or bring an Alexa voice remote control with them.
Alexa TV recommendation: Grundig Vision 7 – Fire TV Edition
The basic Vision 7 in the Fire TV Edition is available as a 32, 43, 49, 55 or 65 inch variant. Some of them score with 4k Ultra HD technology and the seamless integration of numerous live TV channels and streaming channels on a single start page. In addition, the Grundig Fire TV Edition televisions offer access to thousands of apps, Alexa skills and other streaming services thanks to integrated Alexa and Fire TV technology.
Grundig Vision 7 – Fire TV Edition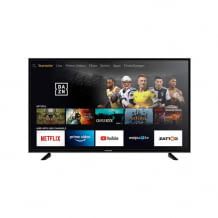 43 inch TV with 4k Ultra HD technology and integrated Fire TV. Incl. Magic Fidelity for powerful sound.
More Alexa TVs
Grundig Alexa TV: e.g. Grundig OLED – Fire TV Edition 55 VLO 8599 Hisense Alexa TV: e.g. Hisense 50AE7000F (50 inch), Hisense 65AE7000F (65 inch) or Hisense 70AE7000F (70 inch) LG Alexa TV: e.g. LG Electronics 43UM71007LB (43 inch), LG Electronics 55SM8500PLA (55 inch) or LG 43UN71006LB (43 inch) Philips Alexa TV: e.g. Philips Ambilight 50PUS7805 / 12 TV (50 inch) or Philips Ambilight 70PUS7304 / 12 (70 inch) Samsung Alexa TV: Alexa is often directly integrated into the latest generation models and an additional Alexa speaker is no longer necessary. So z. E.g. Samsung's Crystal UHD 2020 55TU8505 smart TV or the Samsung TU8079 163 cm (65 inch) LED TV. But many older models from the popular television manufacturer can also be networked with Alexa at a later date. Our guide shows exactly how this works: This is how the television can be controlled via Alexa. B. iFFALCON (by TCL) 32F510 (32 inch) Telefunken Alexa TV: e.g. B. Telefunken D50U551N1CW (50 inch), Telefunken XH24J501V (24 inch)
Practical TV accessories for Alexa fans
Amazon Fire TV with 4K Ultra HD: Instead of "only" HD, this Fire TV streaming stick with Alexa voice remote control can display the high-resolution 4K UHD format. In addition, it has a fast processor and 802.11ac WLAN. Amazon Fire TV Stick: Streams Full HD content and finds films and series on demand. The voice-controlled search function of the Fire TV Stick also provides advice when choosing a film. Our instructions for connecting Fire TV and Cube with Echo show how you can use it without Alexa voice remote control.Fire TV Cube: This cube-shaped 4K UHD streaming gadget supplements the Fire TV functions with a few other Alexa features, but does not have a full-fledged Echo Compare speakers. More information is available in our Fire TV Cube test report. Gosund LED strips: Camera-based ambient retrofit solution for televisions from Gosund. Denon Reveicer: Compatible with Alexa, among others. a. the models Denon AVR-X1600H 7.2-channel AV receiver and Denon AVR-S750H 7.2-channel AV receiver. Yamaha Receiver: Suitable for networking with Alexa are e.g. B. Yamaha RX-V485 MC AV Receiver, Yamaha RX-V585 MC AV Receiver and the Yamaha RX-V685 MC Receiver Logitech Harmony Hub: Using a Harmony Hub as a universal remote control, almost every Smart TV can be operated with Alexa. Instructions on how to do this can be found in the practice report Controlling Logitech Harmony Hub and Alexa.
Alexa soundbars
On demand, smart soundbars start their user's favorite music or ensure an optimal sound experience while watching TV. Amazon's language software is even integrated directly into many of them. No additional Alexa device is required for voice control.
Recommendation: Sonos Beam
This soundbar is suitable for televisions from 47 inches in size, but can also be used without a TV on request. At 65 centimeters in length, Sonos Beam is not particularly large, but still offers four elliptical full-range woofers, a tweeter and three passive radiators.
-11%
Soundbar with Amazon Alexa voice control, AirPlay compatible, including HDMI and LAN (10/100 MBit / s) interfaces
An overview of other Alexa soundbars and accessories
Anchor: e.g. Nebula Soundbar – Fire TV EditionBose: e.g. BOSE Soundbar 500 with integrated Amazon Alexa voice control or Bose Soundbar 700 with Alexa integration or Yamaha MusicCast BAR 400 (Alexa-compatible) Hama: e.g. Hama TV Soundbar + Subwoofer with Dolby 2.1 Sound (3800ABT), Hama TV Soundbar + Subwoofer with Dolby 2.1 Sound (4000ABT) Polk Audio: e.g. Polk Audio Command Bar Soundbar System with subwoofer Sonos: e.g. Sonos Arc SoundbarTCL: e.g. TCL TS8011 2.1-channel soundbar with integrated subwoofer – Fire TV EditionYamaha: e.g. Yamaha YAS-209 soundbar, Yamaha YAS-109 soundbar with integrated Alexa voice control and 3D surround sound
Alexa speaker
Smart Amazon Echo speakers are now available in many different versions from small to large, angular to round, with or without a ZigBee Smart Home Hub. They are complemented by Alexa speakers from third-party providers. We present both variants.
Echo Studio – recommendation for particularly discerning music lovers
Immersive clan thanks to five speakers, Dolby Atmos processing and an integrated ZigBee hub for controlling ZigBee-compatible smart home devices. These features almost sound too good to be true. But in our Echo Studio practical test, the sonically best Alexa loudspeaker proved that it can actually deliver the room-filling 3D sound promised by the manufacturer. A prerequisite for this is of course a correspondingly good music source such as B. the Amazon Music HD subscription, the free trial version of which we used for our test. Echo Studio also supports Dolby Atmos sound and can be operated with a Fire TV.
Smart high fidelity loudspeaker with 3D audio and Alexa.
Cheaper alternative with an integrated ZigBee hub: Amazon Echo 4
The much more compact Amazon Echo 4 also has a very good sound and an integrated ZigBee hub. Although it cannot keep up with the Echo Studio in terms of sound, as our test shows, it is still significantly better than many other Alexa WLAN speakers.
Amazon Echo (4th Gen.) | Blue-gray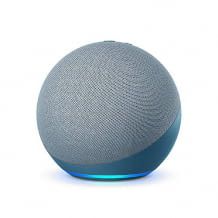 All Alexa functions, high sound quality and integrated ZigBee hub.
More echo speakers
Echo Dot 4: As a particularly compact model with a perfect price-performance ratio, the Echo Dot 4 also cuts a fine figure on the bedside table, window sill or a narrow shelf. Echo Dot 4 with clock: In addition to the normal Echo Dot version, the device is also available with LED display. In this model, also known as the Echo Dot with a clock, the outside temperature, volume or timer can also be displayed visually. Echo Flex: The smallest loudspeaker in the Echo series is a kind of echo for the socket, to which various accessories, such as e.g. a night light can be connected. Despite its small size, almost all Alexa functions can also be used with Echo Flex.Echo Input: Strictly speaking, this gadget is not a stand-alone loudspeaker, instead Echo Input makes existing sound systems controllable with Alexa. Amazon Echo Connect: If you don't (or no longer) have a landline phone, you can use the Amazon Echo Connect to make or receive calls using an Alexa call. Operation takes place entirely without buttons using voice commands. Alternatively, it is also possible to make Alexa calls with any other Echo speaker – but only with other Alexa users.
Speaker alternatives with Alexa connection
Third-party providers have now also recognized that Alexa compatibility is an increasingly important argument when making a purchase decision. Some have integrated Alexa directly so that other devices can be controlled with their loudspeaker. Others are "only" compatible and therefore not necessarily usable as a smart home control center or echo alternative.
Bose SoundLink Mini Bluetooth speaker II: This speaker is small but mighty. It has two passive radiators, a high-performance sound converter and can be networked with Alexa. Further information on the SoundLink Mini Bluetooth speaker II can be found on the Bose website. Denon Heos: The smart speakers from Denon Heos not only stream music from Amazon Prime's huge music library, but also enable synchronized music playback throughout the house. The Alexa-compatible models include, for example: Denon HEOS 1 HS2, Denon HEOS 3 and the Denon HEOS 7 wireless speaker.Invoxia: The smart kitchen radio Invoxia not only has Alexa compatibility and a telephone function, but is also available in different, cheerful Colors available (e.g. yellow, blue or pink). The Invoxia display can even be used to display sketches or your own texts. Magenta Smart Speaker: This smart home speaker is offered by Telekom Magenta and responds accordingly either to Alexa or to "Hello Magenta". MEDION P61110 loudspeaker: With its Alexa compatible speaker P61110, Medion wants to conquer the hearts of bargain hunters and therefore markets it u. a. also through discounters such as Aldi and Sonos One: Sonos loudspeakers deliver even better sound. The Alexa-compatible Sonos Multiroom components include, for example: Sonos One, Sonos Five or Sonos Beam. Play: 1, Play: 3 and Play: 5 are deliberately not listed here, as the models listed are modified and in some cases very similar variants.Triby IO: This smart speaker was developed by Invoxia and combines radio design with surprisingly smart additional features. For example, Triby IO can also play playlists from Spotify.Ultimate Ears: The manufacturer Ultimate Ears offers its portable Alexa speakers in the variants Ultimate Ears BLAST, Ultimate Ears MEGABLAST, Ultimate Ears Boom 3 and Ultimate Ears MEGABOOM. They all have good sound quality and are suitable to take with you.
Smart Alexa displays
The strength of the Echo speakers with display is u. a. in presenting recipes with photos on demand, playing films and streaming the recordings from surveillance cameras. Video calls are also possible on all Echo-Show devices via the integrated display.
Our Alexa display recommendation: Echo Show 8
True to its name, the Echo Show 8 has a display that is the same inch size. Its equipment also includes a 52 mm neodymium loudspeaker with passive bass radiator and a 1 MP camera with an integrated mechanical camera cover for particularly high data protection.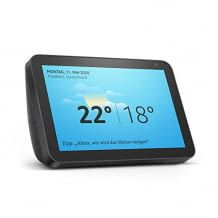 -50%
Smart display with 8 inch HD screen and Alexa
An overview of other Alexa displays from Amazon
Echo Show 5: As the smallest 5-inch Echo display, the Echo Show 5 has the lowest acquisition costs. But you shouldn't expect such high quality sound as with Echo Show 8 or Echo Show 2. Echo Show 2: This model scores with a particularly large 10 inch display and a 5 MP camera. Thanks to the integrated ZigBee hub, it can control not only WiFi, but also many ZigBee smart home devices.Echo Show 10 (2020): The 2020 generation of the Echo Show 10 is not only out of line with its looks: It is also the only model whose display can follow the movements of its user and rotate with it. Thanks to camera tracking, conversation partners or recipes are always visible when you are walking back and forth while cooking or talking on the phone.
Editor's tip: By the way, all Amazon Fire tablets are Alexa compatible and turn into a kind of Echo Show Lite in free-hands mode. Our tablet overview shows who the individual models are suitable for.
Alexa headphones
Are you sporty and don't have a hand free while jogging, cycling or yoga? Then Alexa headphones are a good solution to spontaneously start, stop or change your own favorite music during training.
In-ear recommendation: Bose QuietComfort earbuds
The Bose QuietComfort Earbuds are the right choice for in-ear headphones. Here users can choose the intensity of the noise suppression in up to 11 different levels. Outside noise is automatically minimized so that music lovers can block out ambient noise.
The strengths of the Bose QuietComfort Earbuds also include their sweat- and weather-resistant manufacturing materials and their optimization for Bluetooth 5.1.
Bose QuietComfort earbuds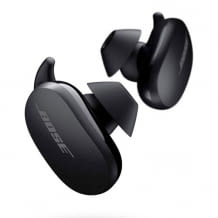 -18%
In-ear headphones with active noise cancellation, crystal clear sound and optimized for Bluetooth 5.1
Over ear recommendation: Sony WH-1000XM4
If you want very good ANC, you should use the WH-1000XM4 for over-ear headphones. These high-quality headphones also score with personalizing smart listening technology, a quick charge function and a long battery life of up to 30 hours. A hands-free function rounds off the equipment of the Sony WH-1000XM4.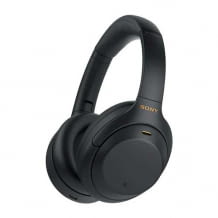 -11%
Wireless noise canceling headphones with personalizing smart listening technology, long battery life and voice assistant.
More Alexa headphones
Jabra in-ear headphones: e.g. Jabra Elite Active 65t, Jabra Elite 85t or Jabra Elite Sport JBL over-ear headphones: e.g. JBL LIVE 500BTMotorola over-ear headphones: e.g. Motorola Pulse Escape + Sennheiser Over-Ear Headphones: e.g. Sennheiser PXC 550-IISony over-ear headphones: e.g. Sony WH-1000XM3, Sony WH-XB700, Sony WH-XB900NSony in-ear headphones: e.g. Sony WF-SP800N or Sony WF-SP700N
Alexa smartwatches
Appointment management, pedometer and heart rate tracking, contactless payment or music storage and playback: These and many other functions combine modern smartwatch models. Alexa-compatible variants can even control smart home devices in your own home while you are out and about.
Our recommendation: Fitbit Versa 3 with directly integrated Alexa software
With Fitbit Versa 3, users get maximum freedom of movement, because thanks to its integrated Alexa software, you don't have to carry a smartphone with you to use the voice assistant. In addition, the integrated GPS measures the speed and distance of athletes even without a connected smartphone. More than 20 training modes and a waterproof housing complete the equipment.
-9%
Health & fitness smartwatch with GPS, heart rate measurement, voice assistant and up to 6 days of battery
More Alexa smartwatches and fitness trackers
Fitbit Versa 2: Predecessor model of our favorites without integrated GPS and without quick charge function, but with integrated Alexa and a significantly lower price. Fitbit Sense: Premium alternative to our recommendation, the Fitbit Versa 3 Smartwatch. Fitbit Sense also comes with integrated Alexa and directly integrated GPS and can also measure skin temperature or analyze stress trends.Xiaomi Mi Band 5: This fitness tracker scores with a 1.1 inch AMOLED color display, an exceptionally long battery life and an excellent price-performance ratio. In addition, the Mi Band 5 convinced us in the practical test with its easy handling.
-25%
The Xiaomi Mi Band 5 impresses with improved functions, a larger display and 11 sport modes.
Alexa vacuum robot
Never having to clean yourself again is the dream of many people, but unfortunately difficult to implement in reality, as even modern cleaning robots cannot climb stairs or climb on dusty shelves. With Alexa cleaning robots, cleaning the floor can at least be made easier.
Recommendation: Ecovacs DEEBOT OZMO T8 AIVI Alexa vacuum robot
This intelligent cleaning assistant not only sucks, it also offers a wiping function and innovative navigation using a laser sensor. In addition, Ecovacs DEEBOT OZMO T8 AIVI automatically creates a virtual floor plan, which can be used to define no-go areas in the manufacturer's app. This allows the vacuum and floor mopping robot z. For example, leave out sensitive floor vases or the children's latest Lego buildings when cleaning.
ECOVACS DEEBOT OZMO T8 vacuum robot
-29%
Robot vacuum cleaner with wiping function, innovative navigation, vibrating wiper plate and app control.
Other vacuum and cleaning robots that can be controlled with Alexa
Anker vacuum robot: e.g. eufy RoboVac 30C or eufy RoboVac L70 Hybrid (with wiping mode) Bagotte vacuum robots: e.g. Bagotte BG800Blaupunkt vacuum robot: e.g. Blaupunkt Bluebot XEASYEcovacs vacuum robot: e.g. Ecovacs DEEBOT N79S, iRobot vacuum robot: e.g. iRobot Roomba 671, iRobot Roomba 692Neato vacuum robot: e.g. Neato Robotics D450 Pets EditionProsenic vacuum robot: e.g. Proscenic M7 PRORoborock vacuum robot: e.g. Roborock S6 or Roborock S5 MaxTechnisat: e.g. TechniSat TECHNIMAX SR1 Tesvor vacuum robot: Tesvor M1 (optimized for animal hair) ZACO vacuum robot: ZACO V85 (with wiping function)
Tests and product information on many other practical cleaning aids are available in our vacuum robot test overview.
Alexa robot lawn mower
Thanks to the Alexa Skills robotic lawnmower (additional functions) that can be activated free of charge, numerous models from GARDENA, Flymo, McCulloch and Husquarna are already listening to Amazon's voice assistant. Many of them can not only be started or stopped by voice command, but also provide information about the current mowing status.
Recommendation: Worx Landroid M WR141E
Dieser automatische Akkurasenmäher von Worx eignet sich für kleine Gärten bis 500 Quadratmeter und schneidet das Gras dank seiner Cut to Edge'-Funktion auch bis zum äußersten Rand des Gartens. Beim Mähen kann er sogar Steigungen von bis zu 35 Prozent überwinden und bis zu 60 Minuten ohne Nachladen arbeiten.
Worx Landroid M500 (WR141E)
-33%
Mäht Gärten mit bis zu 500 qm Rasenfläche automatisch und sorgt so für mehr Erholungszeit
Alexa Mähroboter Alternativen
AL-KO Mähroboter: z. B. AL-KO Robolinho 500 WGARDENA Mähroboter: z. B. GARDENA smart SILENO city 250Robomow Mähroboter: z. B. Robomow RX 50 PRO S RasenroboterWORX Mähroboter: z. B. WORX Landroid L WR147E
Bereits vorhandene Rasenroboter mit Alexa aufrüsten
Über ein Robonect-Hx Modul und den Robonect Alexa Skill lassen sich außerdem u.a. folgende Rasenroboter mit Alexa vernetzen und über Sprachbefehle steuern:
GARDENA R38Li, R40Li, R45Li, R50Li, R70Li und R80Li, sowie GARDENA SILENO, SILENO +, Smart SILENO, Smart SILENO+, SILENO City und SILENO LifeHusqvarna Automower 105, 305, 308, 308X, Automower 310, 315, 315x, Automower 320, 330X, 420, 430X, 440 und 450XMcCulloch Rob S400, Rob R600 und Rob R1000.
Mehr Informationen zum automatisierten Mähen mit Alexa und viele praktische Tipps finden Sie hier: Mähroboter Test-Übersicht.
Alexa Türschlösser und Sicherheitssysteme
Die Tür auf Zuruf auf- oder abschließen? Das klingt im ersten Moment ungewöhnlich, hat aber eine Menge Vorteile. Wer zum Beispiel in der Küche alle Hände voll zu tun hat, kann so über verschiedene Alexa Geräte seinen Kindern oder Freunden die Haustür öffnen. Notfalls lässt sich über ein Alexa-kompatibles Schloss die Haustür sogar dann abschließen, wenn man abends bereits im Bett liegt und keine Lust hat, nochmal aufzustehen.
Viele nützliche Informationen zu Alexa-kompatiblen elektrischen Türschlössern und weiteren Top-Modellen liefert übrigens unser Türschloss-Vergleich.
Empfehlung: Nuki
Unser Favorit ist das Nuki Smart Lock, weil es einfach nachrüstbar und erstaunlich günstig ist. Zur Vernetzung wird das Nuki Gehäuse über ein klassisches Schloss (mit eingestecktem Schlüssel) montiert und per Nuki Skill vernetzt.
Nuki Lock für Privatpersonen: Das Nuki Smart Lock gibt es als günstige Nachrüstlösung für gängige Haustüren. Es ist auch für weniger Technik-affine Anwender gut zu installieren.Nuki Lock für Unternehmen: In Kombination mit dem Schließsystem Nuki Web sind Nuki Smart Locks zudem für größere Gebäudekomplexe (z.B. Büros) nutzbar.
-13%
Elektronisches Türschloss mit Bluetooth – Automatisches Öffnen der Tür per Smartphone, für iPhone und Android
Weitere Alexa-kompatible Türschlösser und Sprechanlagen
Kwikset: Anfangs nur in den USA erhältlich, gibt es inzwischen auch hier immer mehr Alexa-steuerbare Türschlösser von Kwikset. Zum Beispiel das Kwikset 99250-102 Bluetooth Türschloss.Schlage: Neben der Sprachsteuerung ist beim Schlage Z-Wave Türschloss BE469 CAM 716 auch die Bedienung über einen PIN-Code möglich.
Alexa Türklingeln und Gegensprechanlagen
Vom Büro aus dem Paketboten Anweisungen geben? Das geht mit einer Alexa-Gegensprechanlage problemlos und ist sogar einfacher zu installieren als viele denken. Ein Großteil der Alexa Videosprechanlagen enthält sogar eine integrierte, Türklingel und/ oder Überwachungskamera. Mehr Informationen dazu gibt es in unserem WLAN-Türklingel Vergleich.
Empfehlung: Ring Doorbell
Bei den Alexa-steuerbaren Videosprechanlagen haben sich die Ring Doorbell Modelle bewährt und überzeugten in verschiedenen Tests auch dank ihrem guten Nachtsichtmodus. Sie sind als batteriebetriebene oder festverdrahtete Variante in unterschiedlichen Farben und Gehäuseformen verfügbar.
Unser Favorit, die Ring Video Doorbell 3 ist für Häuser mit oder ohne bestehende Türklingelverkabelung geeignet. Außerdem bietet sie HD-Aufnahmen, eine Gegensprechfunktion mit Geräuschunterdrückung und Sofortbenachrichtigung bei Bewegungserkennung.
-30%
Smarte Türklingel mit HD-Video, fortschrittlicher Bewegungserfassung und einfacher Installation. Kompatibel mit ausgewählten Echo Geräten.
Alternative ohne Abo: eufy Security Video-Türklingel
Wer keine Lust hat, seine Videos Abo-basiert per Cloud zu sichern, profitiert bei der eufy Security Video-Türklingel von der kostenlosen, lokalen Speicheroption. Zur Ausstattung der eufy Klingel gehören zudem eine integrierte HD-Kamera, smarte Bewegungserkennung zur Unterscheidung von Personen und Tieren sowie ein Akku mit bis zu 180 Tagen Reichweite.
eufy Security Akku Türklingel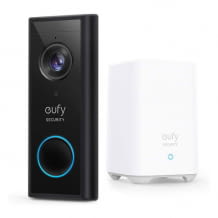 Smarte, kabellose Türklingel mit 2k HD Anzeige, Personenerkennung, beidseitiger Audiofunktion und ohne monatlichen Gebühren.
Weitere Alexa Videosprechanlagen und Alexa Türklingeln
LUVISION WLAN-Türklingel: Diese drahtlose Türklingel mit PIR-Bewegungssensor streamt ihre Bilder live auf einen Echo Show und ist zusätzlich über die Tuya Smart App steuerbar.Echo Show/ Echo Spot: Auch die beiden Amazon Echo Displays können in Verbindung mit einer Smart Home Kamera oder einer WLAN-Türklingel inklusive Kamera als Gegensprechanlage genutzt werden. Wie dies genau funktioniert, zeigt folgende Anleitung: Alexa als Türklingel verwenden.
Alexa Kameras und IP-Kameras
Intelligente Überwachungskameras mit Sprachfunktion übernehmen in Zukunft die Aufgaben klassischer Gegensprechanlagen. Ihr Vorteil liegt nicht nur in der verbalen Steuerung, sie können auch Videoaufnahmen in Echtzeit auf das Smartphone ihres Besitzers schicken.
Je nach Verwendungszweck und Funktionsumfang gibt es auch bei Alexa Überwachungskameras jedoch große Preisunterschiede. Folgende zwei Modelle haben uns durch ihr Preis-Leistungsverhältnis überzeugt:
Kamera Empfehlung für Innen – TP-Link Tapo C200
Diese besonders preiswerte Full HD-Überwachungskamera mit Linsenschwenkung- und Neigung überzeugt durch 2-Wege-Audio und erweiterte Nachtsicht. Dank lokaler Speicherungsoption fallen keine Abokosten an.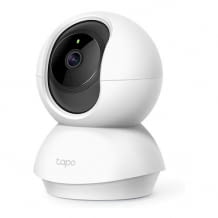 -4%
Full HD Überwachungskamera mit Linsenschwenkung- und Neigung, 2-Wege-Audio und erweiterte Nachtsicht.
Kamera Empfehlung für Außen – Blink Outdoor
Wer auf der Suche nach einer batteriebetriebenen HD-Überwachungskamera ist, sollte sich Blink Outdoor näher ansehen. Diese wetterfeste Alexa-Cam mit Nachtsicht und Bewegungserfassung bietet u. a. individuell festlegbare Zonen innerhalb des Erfassungsbereichs. So lässt sich genau festlegen welche Grundstücksbereiche überwacht werden sollen.
-35%
Batteriebetrieben und witterungsbeständig. HD-Überwachungskamera mit Nachtsicht, Bewegungserfassung und Steuerung mit Alexa.
Weitere Kameras mit Alexa-Sprachsteuerungs-Option
Die Amazon Cloud Cam punktet durch ihre 1080p Full HD-Bildauflösung mit Nachtsichtfunktion und Zwei-Wege-Audio. Allerdings ist sie kabelgebunden und damit nicht so flexibel, wie die kabellose Blink Indoor Cam.Blink Indoor: Bis zu zwei Jahre Akkulaufzeit, HD-Videoauflösung und optionale USB-Stick Speicherung zeichnen Blink Indoor aus. Blink Mini: Als besonders kompakte Indoor-Kamera lässt sich Blink Mini überall flexibel platzieren. Anschließend zeichnet sie ihre Umgebung in Full-HD Auflösung (1080p) auf.eufyCam E: Smarte WLAN-Kamera mit kostenloser, lokaler Speicheroption. Zusätzlich bietet die kabellose eufyCam E 365 Tage Akkulaufzeit und eine 100 Dezibel Sirene als Diebstahlalarm.IP-Cam Spotcam Sense: ist nicht nur mit Alexa, sondern auch mit Philips Hue, Nest und vielen anderen smarten Produkten kompatibel. Weitere Informationen finden sie in unserem Artikel zur IP-Cam Spotcam Sense. Logitech Circle 2 ist auch draußen kabellos einsetzbar und deshalb besonders flexibel. Die Überwachungskamera Logitech Circle 2 speichert Videoaufnahmen 24 Stunden lang kostenlos.Mi Home Security Camera 360°: Günstige Sicherheitslösung mit 360 Grad horizontalem Sichtfeld und Micro SD-Karte. Mehr Infos dazu liefert unser Mi Home Security Camera 360° Test-Check.Netgear Arlo Q ist eine Indoor-Kamera mit überzeugender Bildqualität, die in verschiedenen Tests mit gut oder sehr gut bewertet wurde.Ring: Im wahrsten Sinne des Wortes Licht ins Dunkel bringt die Ring Floodlight Camera, die mit einer Flutlichtfunktion ausgestattet wurde. Damit hebt sie sich deutlich von den meisten anderen Alexa-WLAN-Kameras ab.
Alexa Alarmanlagen und Sicherheitssysteme
Wenn eine Kamera-basierte WLAN-Türklingel oder eine einzelne Sicherheitskamera nicht ausreicht, übernehmen professionelle Smart Home Alarmanlagen die komplette Überwachung des eigenen Grundstücks. Vom Haus oder der Wohnung aus sind viele von ihnen auch mit Alexa steuerbar – von außen natürlich nicht.
Empfehlung: Gigaset elements
Unser aktueller Favorit ist das Gigaset-Funkalarmanlagen-Set L, das wir bereits ausführlich in der Praxis getestet haben. Es funkt über den energiesparenden und sicheren Funkstandard DECT ULE und ist besonders leicht einzurichten. Alternativ ist das Set auch in den Größen S oder L erhältlich.
Gigaset elements alarm system L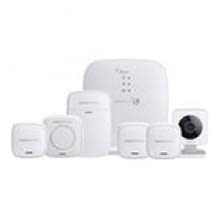 -15%
Erweiterbares Set mit Basis, Bewegungsmelder, Sirene, Smart Plug und Überwachungskamera
Alexa Alarmanlagen Alternativen
Ebenfalls Alexa kompatibel und deutlich günstiger ist jedoch z.B. auch die 4-teilige WLAN-Alarmanlage von VisorTech, die bis zu 50 Komponenten miteinander vernetzt.Wie auch ein Amazon Echo Lautsprecher als Alarmanlage genutzt werden kann, lesen Sie hier: Alexa Guard: Alexa als Alarmanlage nutzen – so geht's.
Alexa Bewegungsmelder
Dank intelligenten Bewegungssensoren, die Familienmitglieder erkennen können, haben Fremde keine Chance mehr das Grundstück unbemerkt zu betreten. Der Einsatz eines Bewegungssensor macht jedoch nur dann Sinn, wenn er mit weiteren Sicherheitsgeräten interagiert oder zumindest Lampen einschalten kann. Daher sind fast alle Alexa Bewegungsmelder von einer Zentrale abhängig, die ihre Daten auswertet und anschließend Sirene, Licht oder Kamera einschaltet.
Die meisten Bewegungsmelder arbeiten nicht mit WLAN. Der Grund ist, dass WLAN sehr viel Strom benötigt. Da Bewegungsmelder oft an Stellen zum Einsatz kommen, bei denen es keine Stromanbindung gibt, greifen Hersteller hier meist auf die stromsparenden Funkprotokolle ZigBee oder Z-Wave zurück.
Empfehlung: Philips Hue Bewegungsmelder
Alexa Smart Home Einsteiger sind mit dem Bewegungssensor von Philips Hue gut beraten, weil er über die Philips Hue Bridge mit besonders vielen anderen Produkten vernetzt werden kann. So zum Beispiel auch mit OSRAM Komponenten oder IKEA TRÅDFRI Leuchten.
Philips Hue Bewegungssensor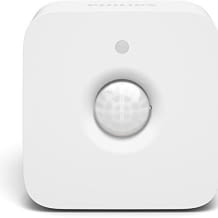 -7%
Bei erkannten Bewegungen werden vordefinierte Szenen aktiviert. Einfache Montage mit Magnethalterung. Zusätzlich Ausgabe der Temperatur im Raum.
Weitere (systemgebundene) Bewegungsmelder für Alexa
Alexa Auto-Adapter
Moderne Autos kommen dem sprechenden Auto K.I.T.T. aus der Serie Knight Rider schon erstaunlich nahe. Über Alexa können sie mit dem Fahrer kommunizieren und ihn sicher ans Ziel bringen. Darüber hinaus liefern die vernetzen Automodelle nützliche Informationen rund um ihr Innenleben und geben etwa auf Nachfrage Auskunft über den Stand der Tankfüllung.
Empfehlung: Echo Auto
Mit Echo Auto lassen sich auch viele alte Autos smart nachrüsten. Dafür wird das kompakte Gadget am Lüftungsschlitz befestigt und über Bluetooth oder einen 3,5 mm-Klinkenstecker mit den Fahrzeuglautsprechern verbunden. In die Alexa App eingebunden, macht Echo Auto anschließend über einen bestehenden Datentarif alle Fähigkeiten der Sprachassistentin auch mobil nutzbar. So können Fahrer z. B. unterwegs Verkehrsnachrichten, Hörbücher oder Musik abrufen, auf dem Heimweg Pizza vorbestellen oder online shoppen.
Acht Mikrofone und Fernfeld-Technologie sorgen während der Fahrt dafür, dass Alexa ihre Nutzer auch bei laufender Musik, Klimaanlage oder Verkehrslärm gut versteht.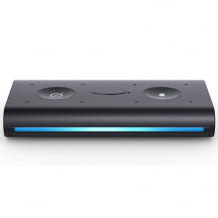 -42%
Alexa für das Auto. Echo Auto verbindet sich mit der Alexa App auf dem Mobiltelefon und gibt Audio auf den Auto-Lautsprechern wieder.
Weitere Autoadapter und Nachrüststecker zur Alexa-Sprachsteuerung
Logitech ZeroTouch: Die Smartphonehalterung Logitech ZeroTouch mit integrierter Gestensteuerung kann ebenfalls mit Alexa gesteuert werden.Roav VIVA: Dieses intelligente Gadget kommt vom bekannten Lautsprecher-Hersteller Anker und kann sogar andere Geräte aufladen. Zudem bietet Roav VIVA eine Rufnummernwahlfunktion.TankTaler: Neben der Sprachsteuerung lassen sich Fahrzeuge ab dem Baujahr 2001 über TankTaler auch mit vielen weiteren nützlichen Features ausstatten. Zum Beispiel mit einer Abfragefunktion für den aktuellen Parkstatus oder die Nutzung eines elektronischen Fahrtenbuches.
Wer einen TankTaler-Adapter nutzt, kann an Vertragstankstellen bis zu 2 Cent/ Liter sparen
(TankTaler)
Automodelle mit Alexa-Integration
Automatic Adapter: Ein Automatic Adapter verwandelt mit Amazon Alexa jedes Smartphone in einen Bordcomputer.BMW connected: Alexa ersetzt im BMW connected  unter anderem das Navigationssystem und lotst den Fahrer sicher und zeitsparend ans Ziel.Ford: Bei Automodellen von Ford nennt Amazon Alexa auf Nachfrage zum Beispiel den aktuellen Batteriestand.Golf 8 (2020+): In Kombination mit der Volkswagen Alexa App lassen sich auch beim Golf 8 über die Sprachassistentin Musik und Hörbücher streamen, Nachrichten oder Wetterberichte abrufen, Smart Home-Geräte steuern, Wegbeschreibungen zur nächsten Tankstelle erfragen und vieles mehr.Toyota: Seit 2018 können zumindest alle amerikanischen Toyota-Modelle mit dem Infotainment-System Entune 3.0, sowie die Lexus-Typen mit Enform 2.0 mit Alexa-Sprachsteuerung versehen werden. Mehr Informationen dazu liefert die Toyota+Alexa App (Android | iOS)Tesla: Über die iHaus-App lassen sich auch Tesla-Elektroautos mit Alexa verbinden. Wer also direkt beim Parken das Ladekabel an die Steckdose hängt, kann von Innen auf Zuruf z. B. sein Auto aufladen oder den aktuellen Ladestand abfragen.
Viele weitere Tipps und Tricks zu allen aktuell mit Alexa nutzbaren Auto-Stecker, Adaptern und allen Automodellen, die Alexa bereits nativ integriert haben, liefert unser Ratgeber Alexa Car: So kommt Alexa in Ihr Auto.
Alexa Lichtschalter
Nie wieder im Dunkeln nach dem Schalter suchen, das versprechen die Hersteller Alexa-fähiger portabler Lichtschalter. Smart Home Fans sollten allerdings bedenken: Smarte Lichtschalter sind grundsätzlich dafür gedacht, Geräte manuell oder über Gesten zu steuern. Sie verbal anzusprechen macht nur bedingt Sinn, weil die meisten smarten Alexa-kompatiblen Lampen ohnehin direkt über die Sprachassistentin gesteuert werden können.
Empfehlung: Das sind die besten Alexa Lichtschalter für Anfänger
Für Smart Home Anfänger eignen sich mobile Alexa Lichtschalter, wie zum Beispiel der Philips Hue Tab oder das Hue Dimming Kit als Ergänzung zur reinen Sprachsteuerung über Alexa. Beide funktionieren allerdings nur in Kombination mit einer Hue Bridge, die als Dolmetscher zwischen Mensch und Maschine (bzw. Lampe) fungiert.
Philips Hue Wireless Dimming Schalter
Philips Hue Schalter zur Lichtsteuerung und Dimmung per Fernbedienung
Weitere Alexa-kompatible Aufputz Lichtschalter
Bosch Alexa Lichtschalter: Bosch Funk-Wandschalter 4057749657831Busch Jäger Alexa Schalter: Busch-Jaeger Bedienelement 6737-885 ZigBee Light Link Funkempfänger 4011395200889Devolo Alexa Lichtschalter: Devolo Home Control Funk-Wandschalter 4250059693593Homematic IP Alexa Lichtschalter: Homematic IP Funk-Wandtaster HmIP-WRC6innogy Alexa Lichtschalter: innogy SE SmartHome Wandschalter 10267410KOBWA Alexa Lichtschalter: KOBWA Lichtschalter Funkschalter SetLIVOLO Alexa Lichtschalter: LIVOLO Gold Touch Sensor Lichtschalter EU Standard Schalter VL-C701-13-A oder LIVOLO Gold Luxus E EU Standard VL-C702-13-ALUPUSEC Alexa Lichtschalter: für die XT2 Plus Smarthome Alarmanlage, ermöglicht auch das Schalten von Zimmerbeleuchtung.Magenta Alexa Lichtschalter: Magenta SmartHome Funk-Wandschalter 4047976117741roadlink Alexa Unterputzschalter: z.B. Broadlink TC2 EU Switch 2Gang Touch Wandschalter / Broadlink TC2 EU Switch 3Gang Touch Wandschalter
Alexa Lichtschalter für Profis: Unterputz Lösungen im Überblick
Wer technisch versiert und dafür ausgebildet ist, kann zum Beispiel den intelligenten Alexa Lichtschalter Sonoff Wifi Smart Touch einbauen. Er ist mit so gut wie allen smarten Echo Lautsprechern nutzbar – allerdings nur, sofern er zuvor an einem Neutralleiter angeschlossen wurde.
Sonoff Unterputz Lichtschalter
Intelligenter Lichtschalter mit Szenarien und Sprachsteuerung. Kompatibel mit Alexa, Google Home und IFTTT.
Weitere Unterputz-Lichtschalter für Alexa-Nutzer
Busch-Jaeger Alexa Unterputzschalter: Busch-Jaeger LED-Dimmer-Einsatz 6715 U Light Link Dimmer 4011395189221 / Busch-Jaeger Universal-Relais-Einsatz 6711 U UP ZigBee Light Link Elektronischer Schalter 4011395189214Fibaro Alexa Unterputzschalter: Fibaro Universal-Dimmer 2 Z-Wave, FIB_EFGD-212 / Fibaro Relais Unterputzeinsatz 1 Schalter 2,5kW – Z-Wave, 1 Stück, FIBEFGS-213 Homematic IP Alexa Unterputzschalter: Homematic IP Schalt-Mess-Aktor für Markenschalter, 142720A0 / Homematic IP Schalt-Mess-Aktor – Unterputz, 142721A0 innogy Alexa Unterputzschalter: innogy SE SmartHome Unterputzdimmer / Verdunklungsschalter 10267406 / innogy SE SmartHome Unterputzlichtschalter / Funk Lichtschalter 10267407Intertechno Alexa Unterputzschalter: Intertechno Funk-Lichtschalter Modul ITLM-1000 / Intertechno Funk-Universaldimmer ITDM-250 für alle dimmbaren 230V-Lampen / Intertechno Funk Schalter Modul Ein/ Aus ITL-230 Meross Smart Wechselschalter: 2-Weg WLAN-Lichtschalter, der ohne zusätzliche Steuerungszentrale funktioniert und mit Alexa, Google Assistant via IFTTT Applets genutzt werden kann. Benötigt ebenfalls einen Neutralleiter.Smartwares Alexa Unterputzschalter: Smartwares SmartHome Funk-Einbauschalter 1000 W, SH5-RBS-10A
Alexa Küchengeräte
Backofen (mit integrierter Mikrowelle): Haben Sie schon mal mit ihrem Backofen gesprochen? In Zukunft ist das z. B. beim Siemens HB678GBS6 iQ700 Einbau-Elektro-Backofen völlig normal. Denn er ist über die Home Connect App mit Alexa vernetzbar. So können Nutzer ganz einfach sagen: "Alexa, frage Home Connect Ofen, wann mein Essen fertig ist."Geschirrspülmaschine: Genau wie der bereits vorgestellte Backofen kann auch der Siemens SN63EX15AE iQ300 Geschirrspüler mit Sprachsteuerung genutzt werden. Dafür ist lediglich die Installation des Home Connect Skills notwendig. Wasserhahn: Vom Sanitärhersteller KOHLER kommt ein smarter Wasserhahn für die Küche, dem man z. B. mit Sprachbefehlen vorgeben kann, wie viel Milliliter Wasser er ausgeben soll. Kaffeemaschine: Wer die Qbo WiFi-Kaffeemaschine von Tchibo besitzt, kann dafür den kostenlosen Qbo-Skill im Amazon Skill-Store downloaden und so morgens schon mal Alexa anweisen, einen Kaffee aufbrühen lassen, während man selbst noch im Bett liegt. Wer es günstiger will, kann eine herkömmliche Kaffeemaschine aber auch einfach mit einem Alexa-kompatiblen WLAN-Zwischenstecker smart nachrüsten.Kaffeevollautomat: Darüber hinaus kommen auch Fans von Kaffeevollautomaten mit Siemens EQ.9 s900 connect voll auf ihre Kosten. Diesen stellen wir gemeinsam mit weiteren vernetzbaren Modellen in unserem Kaffeevollautomaten-Testvergleich ausführlicher vor.Weitere, über die Home Connect App Alexa kompatile Haushaltsgeräte von Bosch und Siemens, stellen wir in unserem Home Connect Überblick vor.
Der Befehl "Alexa mach Kaffee!" gehört in Zukunft sicher zum Alltag
(Tchibo)
Alexa Badarmaturen
Badewanne: Mit der smarten Badausstattung von Kohler ist es möglich, auf Zuruf die Badewanne mit Wasser zu füllen. Duftspender / Lufterfrischer: Der Hersteller AOZBZ bietet einen WiFi-Aroma Diffuser, der durch Alexa Sprachbefehle aktiviert werden kann und dann angenehme Düfte verströmt.Ventilator: Frische Luft und sogar integrierte LED-Beleuchtung verspricht der Alexa-fähige Deckenventilator Haiku Home L Series. Weitere Alexa-fähige Modelle sind in unserem Ventilator Test Vergleich zu finden.Toilette: Den Toilettensitz auf Zuruf wärmen oder die Spülung starten? Geht nicht? Geht doch! Bereits auf der CES 2018 stellte Kohler eine smarte Toilette vor, die dank Alexa-Sprachsoftware noch mehr Komfort bieten soll.
Alexa Waschmaschinen
Waschmaschinen: Die Siemens WM6YH840 iQ800 Home Connect Waschmaschine kann in Verbindung mit dem Home Connect Skill mit Alexa gesteuert werden. Ebenfalls Alexa-kompatibel sind zudem die Modelle Miele WCE 670 WCS und Bosch WAV28G40 HomeProfessional. Weitere Informationen zu smarten Reinigungshelfern liefert unser WLAN Waschmaschinen Test. Trockner: Über Alexa sprachsteuern lässt sich zum Beispiel der Miele WTH 730 WPM Waschtrockner, den wir in unserem Waschtrockner-Test-Vergleich vorstellen.
Alexa Rollladensteuerung
Smart Home Fans, die ihre Rollläden über Alexa steuern möchten, haben aktuell drei Möglichkeiten. Entweder sie setzen auf die Lösungen von innogy und Homematic IP, die jeweils aus mehreren Komponenten bestehen, oder sie greifen einfach zu günstigen Alexa kompatiblen IKEA TRÅDFRI Rollos.
Empfehlung: IKEA FYRTUR und KADRILJ
Beide Rollos sind entweder direkt per Fernbedienung oder über das IKEA Gateway vernetzt mit Alexa steuerbar. Während das FYRTUR Verdunklungsrollo sich vor allem für Schlafräume eignet, hält KADRILJ zwar Blicke draußen, lässt aber noch Licht durch.
Als Alternative eignet sich der eACCU Rollo, der in mehr Farbvarianten zur Verfügung steht und individuellen Größenwünschen angepasst werden kann. Allerdings ist er nur in Kombination mit einer separat erhältlichen App-Box der EAM-Serie App- oder sprachsteuerbar.
FYRTUR Verdunklungsrollo, 100x195cm
Ermöglicht die kabellose Steuerung der Rollos. Mit TRÅDFRI Gateway kompatibel mit gängigen Sprachassistenten.
Alexa Wetterstation und Raumklima Sensoren
Mit einer vernetzten Wetterstation im Garten oder auf dem Balkon lassen sich über Alexa Sprachbefehle bequem die aktuellen Temperaturen abfragen.
Empfehlung: Netatmo Wetterstation
Zur smarten Netatmo Wetterstation gehören ein Innen- und ein Außensensor in edlem Design, die mit vernetzten Regen- und Windmessern des Herstellers ergänzt werden können. Sie alle haben bereits in vielen Tests ihre hohe Messgenauigkeit bewiesen und glänzen durch hochwertige Verarbeitung. Bei Verwendung im Innenbereich warnt die Wetterstation ihre Besitzer automatisch, wenn Grenzwerte überschritten werden.
-15%
Messung der Umgebungsdaten innen und außen in Echtzeit, Wettervorhersage, aktuelle Warnmeldungen über App und Fernzugriff auf die Daten
Alexa Bewässerungssysteme
"Alexa, gieße meine Blumen!" Mit den passenden Gartengeräten mäht Alexa nicht nur den Rasen automatisch, sondern versorgt auch die Blumen und weitere Gewächse mit der exakt richtigen Wassermenge. Für spontane Änderungen lässt sich die Bewässerung dabei natürlich trotzdem jederzeit per Sprachbefehl spontan an- oder ausschalten.
Empfehlung: GARDENA smart System
Diese smarte GARDENA Lösung besteht aus einem Hub, der mit verschiedenen Bodensensoren, Bewässerungscomputern und bestimmten GARDENA Mährobotern vernetzt werden kann. In unserem GARDENA Bewässerungs-Test haben wir u. a. den Hub, den GARDENA smart Sensor zur Bodenanalyse und den GARDENA smart Water Control Sensor zur Wasserhahnmontage geprüft.
inkl. smart Sileno Mähroboter für bis zu 1000 m² Rasenfläche, smart Water Control, smart Sensor und smart Gateway
Weitere Amazon Echo und Alexa-kompatible Gartenbewässerungs-Geräte
Orbit B-hyve 94990 Smart TimerLinkTap G2, drahtlose Wasseruhr
Alexa Router
Ein leistungsstarkes Smart Home basiert in der Regel auf einem gut durchdachten Funksystem. Doch auch wer im Alltag bisher mit Internetverbindungsproblemen zu kämpfen hatte, muss nicht auf smarte Geräte verzichten. Denn viele Alexa Router lassen sich auch in ein Mesh-System einbinden, um so störungsfreie Datenübertragung bis in den letzten Wohnungswinkel zu garantieren.
Empfehlung: eero WLAN-Mesh-Router/Extender
Im Praxistest konnte uns das eero Mesh-System auch unter schwierigen Wohnraum-Bedingungen mit seiner Datenübertragungsrate überzeugen und punktete außerdem mit einfacher Installation. Darüber hinaus fielen uns die automatischen, monatlichen Sicherheitsupdates positiv auf.
Der eero Pro Mesh Router ist entweder einzeln für bis zu 140 Quadratmeter oder als 3er Mesh-Set für bis zu 460 Quadratmeter verfügbar.
eero WLAN-Mesh-System 3er-Set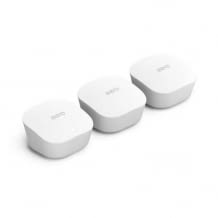 -40%
3er-Set für eine flächendeckende WLAN Abdeckung von bis zu 460 qm. Geeignet für jedes Gerät und Internetanbieter.
Weitere Alexa-kompatible Router und Mesh-Systeme
Asus RT-AC88U Gaming Router 5 AC3100Linksys AC2200 Tri-Band Mesh-WLAN-Router oder Linksys WHW0302 Velop Tri-Band Mesh-WLAN-SystemNetgear Orbi RBK50V Voice Mesh-WLAN-SystemTP-Link Archer AX10 Wi-Fi 6 WLAN-RouterTenda Nova MW6 3x echtes Dual-Band Mesh-WLAN Komplettlösung oder Tenda Nova MW3 StationWAVLINK AC1200 Dual-Band WLAN-RouterZyxel Multy X Tri-Band AC3000
Alexa Smart Home Systeme
Wer sein ganzes Zuhause mit Alexa steuern möchte, der tut gut daran, sich für ein modulares Smart Home System zu entscheiden und dies nachträglich zu ergänzen. So kommen sich die Funkstandards und Ansprüche verschiedener Geräte nicht in die Quere. In folgender Übersicht stellen wir einige Alexa bzw. Amazon Echo-kompatible Smart Home Systeme kurz vor und erklären auszugsweise was sie können. Nähere Informationen dazu gibt es hier: Smart Home Systeme im Leistungsvergleich.
Bosch Smart Home: Das Bosch System umfasst u. a. Überwachungskameras, Bosch Küchengeräte und Heizthermostate. Devolo Home Control: Über ein Devolo Smart Home System sind viele verschiedene Lösungen zur Optimierung des Raumklimas nutzbar. Z. B. der devolo Home Control Luftfeuchtemelder, der devolo Home Control Wassermelder, das devolo Home Control Raumthermostat oder das devolo Home Control Heizkörperthermostat.Digitalstrom: Das Smart-Home-System von Digitalstrom kann weitaus mehr steuern als nur Heizung und Licht. Über Alexa lassen sich damit zum Beispiel verbal ein Toaster einschalten oder Rollläden herunterfahren. Der Skill kann auf der Amazon-Produktseite zu Digitalstrom kostenlos heruntergeladen werden.Homematic IP: Voraussetzung für die Nutzung des Systems ist ein Homematic IP Accsess Point und die Installation des speziellen Homematic IP Alexa Skills. Alle Komponenten von Homematic IP lassen sich zum Beispiel über den Amazon Echo oder Echo Dot ansprechen, solange die zusätzliche Schutzfunktion des Smart-Home-Systems nicht aktiviert ist. Diese sperrt die Sprachsteuerung, ermöglicht aber noch den Zugriff per Smartphone-App oder Fernbedienung.homee: Die homee bzw. homee Beta Quader sind beliebig kombinierbar und zum Beispiel mit den Funkstandards ZigBee, EnOcean oder Z-Wave kompatibel.innogy SmartHome: Das Unternehmen ist eine Tochtergesellschaft des Energiekonzerns RWE SmartHome und stellt ebenfalls zahlreiche smarte Komponenten her, die mit Amazon Alexa kompatibel sind. Wer ein innogy SmartHome-Benutzerkonto besitzt, kann damit zum Beispiel auf Zuruf seinen Fernseher ausschalten.Magenta Smart Home: Zum Telekom Magenta Smart Home gehören u. a. Rauchmelder, Tür- und Fenster-Sensoren, Überwachungskameras, Bewegungsmelder und Alexa-fähige Heizkörperthermostate.
Weitere Alexa Plattformen, Apps und Dienste
ioBroker: Diese System-übergreifende Plattform steuert viele verschiedene Haushaltsgeräte vom Rasenmäher, über Lampen bis hin zu Waschmaschinen (z. B. von Miele). Die Verbindung zu Alexa erfolgt auch in diesem Fall über einen Skill.iHaus: Aufgrund der Verknüpfung der iHaus App mit KNX-Geräten aus der Gebäudetechnik können beliebig viele individuelle Szenarien erstellt und gesteuert werden. Alexa kann über die iHaus App herstellerunabhängig auf smarte Haushaltsgeräte, Heizthermostate, Glühbirnen und viele weitere Smart-Home-Devices zugreifen.SmartThings: Dieses Smart Home Lösung ist nicht nur erstaunlich günstig, sondern auch offen. Das bedeutet, die Samsung SmartThings Komponenten sind mit vielen weiteren beliebten Marken-Komponenten kombinierbar. Zum Beispiel auch mit Philips Hue, Samsung oder Netgear.
Wie viele Geräte kann ich mit Alexa verbinden?
In der Alexa App lassen sich mehrere kompatible Geräte zu Gruppen zusammenstellen und anschließend einheitlich steuern. Wie viele Geräte insgesamt mit Alexa nutzbar sind, hat Amazon jedoch bisher noch nicht bekannt gegeben. Tipp der Redaktion: Wer vorhat, sein Zuhause in ein Alexa Smart Home umzuwandeln und alle Elektrogeräte um- oder nachrüsten möchte, sollte einen energiesparenden Funkstandard wie ZigBee nutzen, statt nur auf WLAN-basierte Geräte zurückzugreifen. Ganz nebenbei lässt sich damit auch verhindern, dass das eigene WLAN-Heimnetzwerk überlastet wird.
Welche Alexa Geräte gibt es?
Die Auswahl an intelligenten Geräten beschränkt sich längst nicht mehr auf komplexe Profi-Systeme oder Bastlerlösungen: Von der Alexa Kaffeemaschine von Tchibo, über smarte Putzroboter zu Discounterpreisen, Marken-Lautsprecher und fernsteuerbare Fußbodenheizungen bis hin zum vernetzen Auto, stehen Verbrauchern heute alle Möglichkeiten offen.
Einige Smart Home Geräte sind dabei direkt per App oder Sprachassistent steuerbar, andere lassen sich nur über eine Steuerungszentrale (Hub, Bridge oder Gateway) ihres Herstellers vernetzen und bedienen, da sie systemgebunden sind.
Was ist das beste Alexa Gerät?
Nutzer, die sich fragen welches Alexa Produkt sie als Einsteiger nutzen sollten oder nach der perfekten Geschenkidee suchen, empfehlen wir, sich zu überlegen, was der Hauptverwendungszweck sein soll. Entertainmentfans treffen z. B. mit Amazon Echo 4 eine gute Wahl, da er überzeugende Soundqualität liefert, kompatible Fernseher steuert und bei Bedarf auch Hörbücher oder Musik streamt.
Wer sich eher für Gesundheit und Fitness interessiert, wird in unserer Alexa Smartwatch Rubrik fündig. Kinder hingegen profitieren von tausenden Mitmachgeschichten, Rätseln und Spielen, die sie kindgerecht und werbefrei z. B. über ein Fire Tablet der Kids Edition abrufen können.
Wie kann ich Alexa Geräte einrichten?
Zur Verwendung Alexa-kompatibler Geräte ist die Alexa App (Android | iOS) nötig. Über sie lassen sich einzelne Produkte in das eigene Alexa System einbinden, zu Gruppen kombinieren und in Smart Home Szenen miteinander in Abhängigkeiten setzen. Mehr Informationen dazu finden Sie in unserer Anleitung Alexa: Smart-Home-Geräte verbinden – so geht's.