Up to 56% discount is already possible today!
All Pre-Prime Day Smart Home bargains at a glance
In the following table we summarize all of our recommendations and reveal how much can be saved with the individual devices.
Important: Prices can change at Amazon at any time, so it pays to be quick and secure the best bargains before they are sold out or their price rises due to high demand.
Echo speakers and displays are currently reduced by up to 56%
Amazon's voice assistant not only controls dozens of Alexa-compatible household appliances, from bathroom lights to TVs to robotic lawnmowers: it already has many practical functions on board ex works, even without the additional purchase of smart devices. For example, Alexa can play music on demand, read news and weather data, ask quiz questions or manage to-do and shopping lists. In addition, the range of functions can be expanded at any time by activating free Alexa Skills, of which there are now thousands to choose from.
Our recommendation: Amazon Echo Dot 4 (refurbished and certified) If you opt for this smart speaker in a modern, round design, you currently save 30 euros (56%) and can use it, for example, to make calls, send messages or listen to podcasts.
Be quick now and buy the Echo Dot 4 for only 23.99 euros!
All those who can make friends with the rather flat design of the 3rd generation of Echo loudspeakers also benefit from a 56% discount and the same functions as users of the latest devices, since all Alexa works cloud-linked and always on the state of the art remains.
Get your Echo Dot 3 now at an absolute bargain price of 19.99 euros!
Echo Dot 4 lights up on the bottom, Echo Dot 3 on the top
(Mariella Wendel / home & smart)
Mobile air conditioners with up to 30% discount
At the moment, temperatures are rising more and more every day and the heat makes it difficult for many people, especially at night. However, if you as a tenant cannot or do not want to make a wall breakthrough for a split air conditioning system, you do not have to break a sweat. Because mobile air conditioners are a cheap alternative.
We particularly recommend De'Longhi Pinguino PAC N82 Eco with a 12 hour timer and environmentally friendly refrigerant for rooms up to 80 cubic meters, as well as the larger version De'Longhi Pinguino PAC EL112 CST for rooms up to 110 cubic meters. It even has a 24 hour timer, also works with an environmentally friendly coolant and scores with an integrated dust filter.
De'Longhi Pinguino PAC N82 Eco currently costs 38% less and is available for 418 euros. De'Longhi Pinguino PAC EL112 has been reduced by 22% by Amazon and currently costs 699.99 euros.
Most mobile air conditioners have castors, and some also have handles
(DeLonghi)
WLAN sockets for remote control of classic devices are up to 25% cheaper
Almost all electrical household appliances can be smartly retrofitted and remotely controlled with a wireless adapter, which usually works via a WLAN connection. For example, an inherited floor lamp or a classic fan can be switched on on demand.
The H100 WLAN socket from TP-Link, which can be networked and controlled with both Alexa and Google Assistant, has particularly proven itself in our practical tests. Timer-controlled switching scenarios are also possible, so that the radio plug is also ideally suited for presence simulation.
TP-Link HS100 is currently available at Amazon with a 25% discount for 18.65 euros.
Vacuum robots up to 55% cheaper
Modern vacuum robots ensure that everything is clean when their owners come home. Smart models with a swipe function as well as app and voice control also offer a great deal of convenience. Below we present three popular variants that should make the hearts of bargain hunters beat faster.
Proven basic model: Buy MEDION MD 18500 with 45% discount now for 109.99 euros! With Alexa & app control: ECOVACS DEEBOT 710 now 55% cheaper for 179 euros! Amazon Choice for vacuum robots: Now there is the powerful Kyvol vacuum robot 17% discount for 199.98 euros.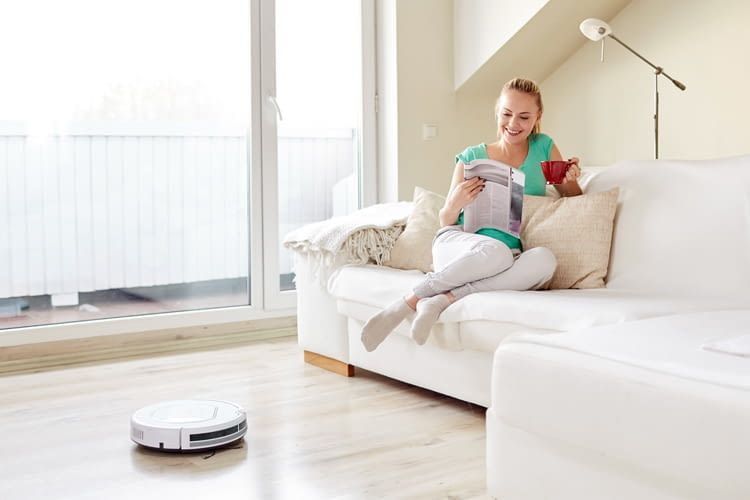 Modern vacuum robots work independently and still react flexibly to special requests
(Syda Productions / Adobe Stock)
Buy robotic lawnmowers and save up to 34%
Pushing a big, heavy lawnmower through the garden in the summer heat or watering the green for hours is no fun. No wonder, then, that in addition to automatic irrigation systems, more and more robotic lawnmowers and pool robots are finding their way into German gardens. After all, they take over all the annoying maintenance work fully automatically and are significantly quieter than their conventional alternatives.
Today the Amazon bestseller No. 1 Worx Landroid S WR130E for gardens of up to 300 square meters and slopes of up to 35 degrees has been drastically reduced. With this smart robotic lawnmower with app, buyers currently only pay around 500 euros and save over 250 euros.
Save up to 38% with Alexa compatible surveillance cameras
With an Alexa camera, live videos can be conveniently viewed at any time on demand on an Echo Show display or Fire TV, without having to walk to the front door. In addition, such cams are good for monitoring pets and babies.
Blink Mini also scores with its stylish design, HD videos, intercom function and easy installation. If required, the video recordings can be saved either in the manufacturer's cloud (subscription required) or locally on a Blink Sync module 2. Blink Mini is currently 38% off and costs only 24.99 euros.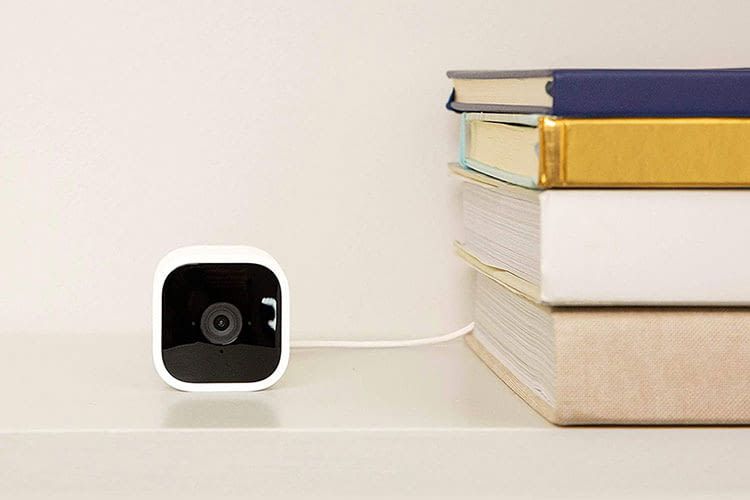 Amazon Blink Mini offers full HD resolution and 2-way audio thanks to its audio output
(Blink Home Security / Amazon)