Upgrade your home campaign – with up to 70% brand discount
17% off Philips Hue Gradient Ambiance Lightstrip 2m Base + 1m Extension
With the help of the Philips Hue Gradient Ambiance Lightstrip set, you can use colorful color gradients to set impressive, professional lighting accents in any home and change them spontaneously at any time.
The two light strips included in the set can be used e.g. B. on stair nosings or railings, provide more safety through indirect lighting, wrap the living room in a cozy color ambience or serve as a wake-up light in the bedroom.
Normal price: 209.98 Eurotink offer price: 174.95 Euro
tink discount: 35.03 euros (17%)
Save 17% now!
Philips Hue Gradient Ambiance Lightstrip 2m base + 1m extension
The flexible lightstrip relies on varied color accents and offers numerous functions over three meters. Secure now for €174.95 at tink!
Continue to tink
33% off Eve Thermo (set of 3) Smart Home Radiator Controllers
Eve Thermo is the right choice for all Apple fans who would like to control their heating remotely via the Home app or Siri. Because the smart thermostats from Eve Systems not only impress with their chic appearance, they can also be controlled via individual schedules or spontaneously on demand and work particularly quietly. In addition, they are easy to install and do not require an extra control center from the manufacturer for operation.
Normal price: 239.85 Eurotink offer price: 159.95 Euro
tink discount: 79.90 euros (33%)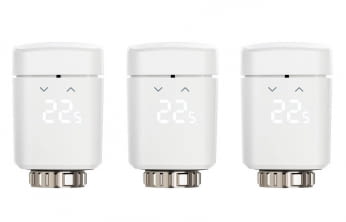 Save 33% now!
Eve Thermo set of 3
Radiator thermostat with display & touch panel. Once installed, the desired settings can be made and leaned back. Secure now for €159.95 at tink!
Continue to tink
42% discount on Bosch Smart Home heating starter set with 5 thermostats
Cozy warmth can also be achieved with the comprehensive Bosch starter set for Apple and Android users, which can even be connected to Amazon's voice assistant Alexa if desired.
The set includes five smart radiator controls whose temperature can be set directly on the device or via the app. In combination with Bosch door/window sensors, they can also automatically detect when doors or windows are opened for ventilation and adjust their heat output accordingly to help users save energy.
Tip: The controller included in this set, as the heart of the Bosch Smart Home System, is also able to e.g. For example, surveillance cameras, water or smoke detectors, light switches and smart roller shutters can also be controlled centrally.
Normal price: 398.75 Eurotink offer price: 229.95 Euro
tink discount: 168.80 euros (42%)
Save 42% now!
Bosch Smart Home heating starter set with 5 thermostats
The Bosch Smart Home Controller and radiator thermostats always ensure the perfect temperature in your own room. Secure now for €229.95 at tink!
Continue to tink
51% Off Google Nest Hub (2nd Gen) + Free Ledvance E27 (Set of 3)
With the Google Nest Hub, the Google Assistant pre-installed on it at the factory also moves in at the same time. About him z. B. create shopping or to-lists on demand, search for and display recipes, and play audio books, podcasts or music. In addition, the clever voice assistant can answer knowledge questions, provide information about the current weather conditions and operate numerous other smart home devices.
So that newcomers can try out the smart home control right away, tink is including a free LEDVANCE set consisting of three colorful LEDs for common E27 sockets with this bargain. Particularly practical: its 16 million color nuances can not only be remotely controlled via app or voice command, the LEDs can even be dimmed steplessly.
Normal price: 159.84 Eurotink offer price: 79.00 Euro
tink discount: 80.84 euros (51%)
Save 51% now!
Google Nest Hub (2nd gen) + free Ledvance E27 (set of 3)
While the smart screen is your weatherman, cookbook & music speaker, the smart lamps take care of the right mood. Secure now for €79.00 at tink!
Continue to tink
70% discount on Ledvance SMART+ Bluetooth colored E27 set of 10
If the free LEDs in the Google Nest Hub deal are not enough for you, you can use the LEDVANCE set of 10 to create impressive worlds of color throughout your home. Thanks to the Bluetooth capability of the LEDs, an internet connection is not even necessary.
Normal price: 199.50 Eurotink offer price: 59.95 Euro
tink discount: 139.55 euros (70%)
Save 70% now!
Ledvance SMART+ Bluetooth Colored E27 Set of 10
The smart lamps from Ledvance integrate seamlessly into the smart home and create different light scenes in different colors. Secure now for €59.95 at tink!
Continue to tink
Buy tink products now and use Spotify Premium for free
As a special extra, tink is currently offering another special offer in which smart home fans can register for a free Spotify Premium Individual trial subscription. You will then receive an exclusive voucher link, which entitles you to use Spotify Premium for three or six months, depending on the order amount.
The following conditions apply:
The promotion applies to private tink customers over the age of 18 residing in Germany who do not yet use Spotify Premium. Each customer may only take advantage of this special offer once. When ordering products or sets from the entertainment category with an RRP of at least 49 euros, a 6-month trial subscription can be requested. For all other orders, a 3-month subscription can be booked free of charge. If the trial subscription is not canceled, the premium subscription will normally cost 9.99 euros per month. The subscription can be canceled monthly, the trial subscription at any time. Registration is possible until January 31, 2023 at the latest. All other deal conditions and the applicable tink terms and conditions can be found on the tink Spotify campaign page.