What is a smart home? Devices, systems and smart home products
What is smart home?
The term 'smart home' includes various automation processes for networking technical devices of all kinds. Alternatively, the related terms smart living, connected home, home automation or eHome are sometimes used. Automation solutions specifically for seniors are also referred to as Ambient Assisted Living (AAL).
The automation processes of smart home systems such as Philips Hue, Telekom Magenta or AI systems such as Alexa and Google Assistant are used.
How do I start with my own smart home?
Do you want your own smart home? How to proceed:
Get basic information about the available functions, components and radio standards in this article. Select the components that fit your building requirements and budget. If you are unsure, you will find further information and assistance with planning in the Smart Home Advice section.
How does a smart home work? Everything important in a nutshell
Products: These must be compatible with each other or use the same radio standard (e.g. WLAN, Bluetooth or ZigBee) in order to be able to communicate with each other. This is the only way automatic processes are possible.
Control: Anyone who uses a smart home system and the associated control center can control all networked devices in their home uniformly with the manufacturer app or (if compatible) with a voice assistant. Users who use individual smart home products from many different manufacturers may have to operate each of them with their own app.
Automation: In the smart home, household appliances interact by sensors recognizing certain environmental stimuli (e.g. movements) and informing a central control element. Depending on the manufacturer, this is alternatively referred to as a hub, bridge, base station, gateway or simply as a control center and triggers one or more actions as a result of the sensor measurement using actuators (e.g. an alarm siren). Which these are can be determined individually.
The concatenation of reaction commands, which is technically referred to as a scene or routine, can e.g. B. look like this: A smoke detector detects a fire and informs the control center. This knows from a previously created routine that it should automatically activate the lighting to secure the escape route, switch on other fire alarms and send a notification to the smartphone of its owner. Therefore, all of these actions occur simultaneously and do not need to be controlled individually.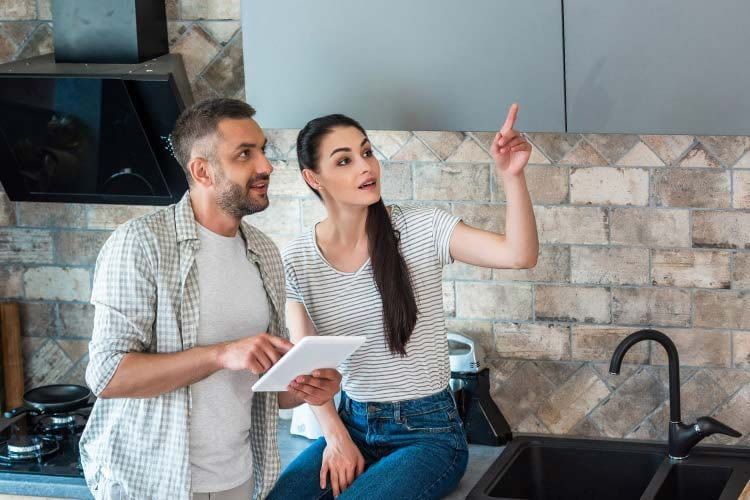 System-related lamps can be controlled uniformly with just one click
(LIGHTFIELD STUDIOS / Adobe Stock)
What are the advantages of a smart home?
A connected home makes everyday life easier by automating tedious everyday duties through routines.
If you are serious about turning your home into a smart home, you should definitely use a smart home system, such as B. Magenta, Bosch, Hornbach, homee or Homematic IP. If you just want to get started, you can also start with a lighting system like Philips Hue.
What convenience does a smart home offer?
For example, household robots that vacuum and wipe, networked coffee machines or room climate devices such as fans with an app ensure greater convenience. The light control via voice command also enables a lot of comfort. Up to 16 million color nuances can be used with just a single WLAN LED lamp. If you don't want to buy a new device, you can smartly retrofit almost any household appliance with WiFi sockets or SwitchBot button pushers.
A lighting system such as Philips Hue offers more convenience. Here automatic routines such as simulating a sunrise to wake up or a simulation of presence are offered as functions. In addition, the system offers many optimized accessories such as light switches, lamps for indoors and outdoors, but also smart home devices such as motion detectors. Since the system is compatible with many language assistants, it can be used e.g. B. Voice control with Alexa.
In addition, so that nobody has to work in the garden in the rain or in the sweltering heat, there are weatherproof helpers for outside, such as e.g. B. pool or mowing robots as well as intelligent watering computers.
How does a Smart Home help to live healthier?
Blood pressure monitors, scales or fitness trackers with an app help to manage important values ​​more easily and some are even compatible with each other. The connection between sports units and weighing results can be read in just one app.
However, it is not only athletes who benefit from intelligent evaluation; networked gadgets also create more living comfort for seniors. In our Alexa Seniors Special, we reveal how Amazon's voice assistant Alexa makes everyday life easier for seniors and ensures accessibility.
What entertainment functions does a smart home offer?
Home automation creates a completely new dimension of entertainment. Because e.g. For example, a smart TV with lamps, loudspeakers, blinds and many other household appliances can be controlled centrally using a language assistant. The command "Alexa, activate the living room cinema" then provides e.g. B. to ensure that the shading is activated and the television and sound system are switched on at the same time. Nobody has to get up to operate wall switches or lower roller shutters.
Smart home and multi-room
Of course, this also applies to a networked multi-room system. Users who want to access their own music collection centrally can store their files on a NAS server (Network Attached Storage) and thus make them accessible to all family members. The private NAS server is practically the "cloud for home" in which other files such as photos and videos can also be stored. Using a networked television, these can be viewed directly from the couch.
Intelligent speakers such as Amazon Echo or Google Nest Audio enable users to set up a multi-room system at low cost. However, users must also use a compatible music streaming service. are e.g. If, for example, several Echo loudspeakers are distributed in the house, the music stream can be played back in all rooms at the same time. This is especially useful at the next house party.
Smart home and streaming
If you don't want to invest in a Smart TV, but still want to get the latest films and series from the Internet, streaming sticks are a good alternative. Apple TV or the Amazon FireTV Stick, for example, offer high-performance packages. With the Amazon model, compatible household appliances can be controlled via Alexa, with Apple this task is performed by Siri. However, users should keep in mind that the remote control via streaming stick only works when the TV is on, so the focus should be more on entertainment functions.
How does a Smart Home make the home more secure?
When motion, smoke, glass breakage and water sensors work together with sirens and surveillance cameras, no danger escapes them. If you are wondering whether all the windows and doors are closed when you are out and about, you can easily check this on your smartphone. Networked alarm systems therefore give your own four walls a high security standard and, as our test showed, are now affordable for everyone. With a smart home system, you can also create your own routines. For example, if the smart smoke detector detects smoke in the apartment, the smart home control center can instruct the Philips Hue lamps to light up red throughout the home. The prerequisite is that the Smart Home System and Philips Hue are compatible with each other.
It also makes sense to use surveillance cameras, which either notify their owner by SMS in the event of an alarm or send images in HD quality to their owner's smartphone. In the event of an attempted break-in, the user can then inform the police or a person they trust.
Expert note: Sometimes a monthly subscription fee is charged for storing the video recordings in the manufacturer's cloud. If you register each camera individually, you often pay more than users who choose a combination offer or buy the devices directly as a set.
How does a smart home help save energy?
The possibility of saving energy through intelligent networking is particularly attractive when it comes to smart lighting and heating control. Because WLAN thermostats or underfloor heating react intelligently to environmental sensors such as brightness, movements or temperature, unnecessary heating is avoided. The manufacturer tado from Munich z. B. also uses geofencing technology: the WiFi thermostat switches off automatically when nobody is at home and heats up to save energy as soon as a resident approaches the house. Competitive products such as the Netatmo radiator thermostat use a different strategy. They analyze the heating behavior based on the usage habits of the residents and adapt to this after a self-learning phase. Thanks to the remote control of the heating via app, the temperatures can still be adjusted at any time if changes are requested spontaneously.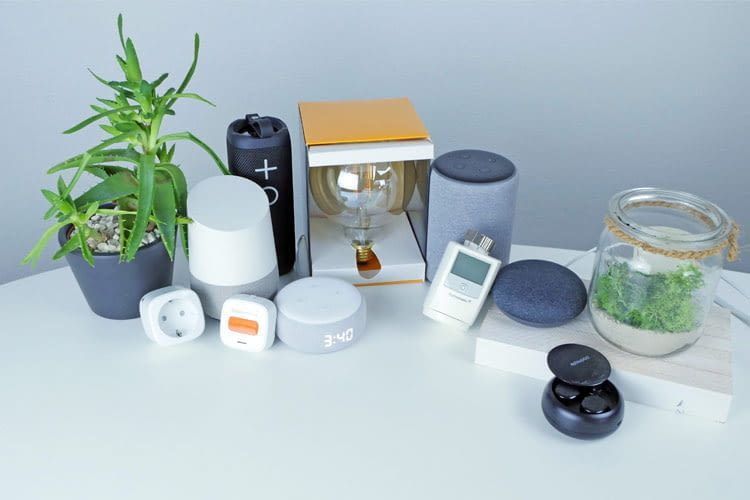 The selection of intelligent components is currently growing rapidly
(Mariella Wendel/home&smart)
What is the history of the smart home?
The development of the intelligent home gradually came about through various projects, with the 'House of the Present' being a particularly important milestone according to Wikipedia. It came about as a result of an architectural competition initiated by the Süddeutsche Zeitung Magazin in 2001. All participants were asked to plan a house for four people, which could cost a maximum of 250,000 euros and which should represent the social responsibility of architecture. Originally it was only a theoretical competition, but the second-placed architects Allmann Sattler Wappner were allowed to implement their concept at the BUGA 05. In addition to various multifunctional rooms, the resulting "House of the Present" included a central control option for all electrical processes and was therefore the first officially known smart home.
Which smart home components are there?
In the following overview, we present the smart home components already mentioned individually and explain their importance for home automation.
The center is the brain of the smart home system
Most intelligent systems are based on a control center (also called base station, hub, bridge or gateway). It connects all intelligent components with each other and can operate several household appliances at the same time if required. In order for this to work, every control center masters at least one radio standard, some several. More on that later.
Sensors register what is going on
The control center as the "brain" of the system cannot react independently to environmental stimuli, but needs the help of sensors to recognize them. Their task is – as the "ears" and "eyes" of the system, so to speak – to convert physical quantities such as brightness, movement, sound and humidity into electrical signals.
The sensors include, for example, water, motion and smoke detectors as well as window and door contacts that detect opening and closing processes. Many window and door contacts register changes either via magnetic or infrared sensors. Magnets are considered to be particularly accurate, which is why they are also used in medicine.
Actuators control household appliances on command from the control center
The counterpart to sensors are actuators. They enable the smart home to react intelligently to the impressions it receives. Example: A smart heater receives a radio signal telling it which target temperature is required, the sensor senses the current temperature and reports this to the control center, whereupon it causes an actuator to increase the heating output until the actual and target temperatures match.
Conventional electrical devices and lamps can also provide information about their status with the help of a WLAN socket and can be controlled remotely. On the one hand, smart radio plugs are actuators because they transmit electrical impulses and e.g. B. start kitchen appliances, on the other hand sensors, because they measure values ​​such as power consumption or room temperature. The information about the "perceived" condition is then made available to the control center or the app via radio.
Operating devices spontaneously fulfill all wishes
Much of the home automation runs automatically so that users do not have to worry about annoying household chores. However, if a deviation from the routine is necessary, e.g. B. because a resident comes home unexpectedly early, there are various ways to adjust intelligent functions. For example by
Smartphone, tablet language assistant or the corresponding speaker touch display for the wall
Above all, radiator thermostats and electric door locks often offer an emergency function so that you can intervene manually at any time in the event of a fault. While this is usually done with networked locks using a classic emergency key, the thermostats are operated manually directly on the housing.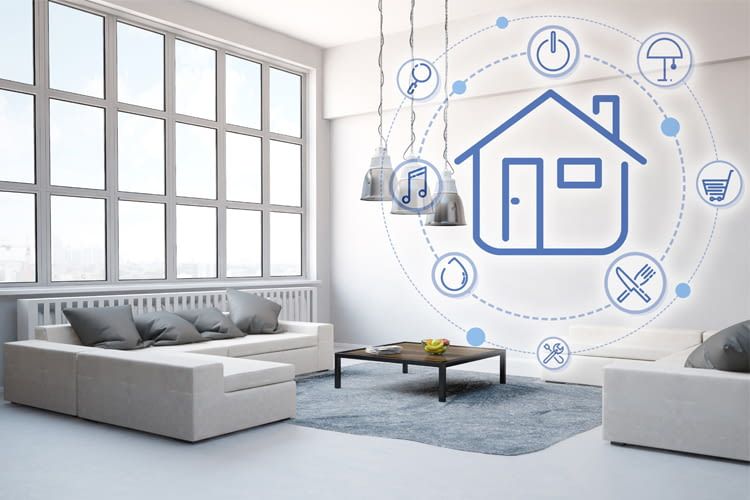 Almost everything can be networked today, from coffee machines to heating and televisions to lawnmowers in the garden
(Robert Kneschke/Adobe Stock)
What are Smart Home Gadgets?
Smart home gadgets expand the home in a particularly uncomplicated way. These are networkable devices that can be connected directly to the smartphone via WLAN or Bluetooth. They are therefore also referred to as "plug-and-play" modules.
In contrast to the device components of a system, they do not have to be connected to an external base station because they already speak the radio language of the smartphone or tablet, i.e. WLAN or Bluetooth. Some are even compatible with popular voice assistants like Amazon Alexa and respond when spoken to.
Some of the most popular gadgets include: Bluetooth speakers Fitness trackers Drones Robot vacuums
Which smart home systems are there?
Which smart home systems are suitable for beginners?
Status: 01/2022
Amazon Alexa
Google Assistant
Apple HomeKit
homee
SMART HOME by hornbach
Hub/gateway or smart home center required by the manufacturer
no
no
Yes
Yes
Yes
Supported radio standards
Wi-Fi, Bluetooth, Zigbee, Matter
Wi-Fi, Bluetooth, Zigbee, Matter
Wi-Fi, Thread, Bluetooth, Matter
WiFi, Z-Wave, Zigbee, EnOcean
Wi-Fi, Bluetooth, Zigbee, Z-Wave
Compatible devices
Devices with the "Alexa Compatible" label or Matter
Devices with the "Google Assistant Compatible" label or Matter
Devices with the "HomeKit Compatible" label or Thread and Matter
Devices integrated by the manufacturer, see compatibility list
Devices integrated by the manufacturer, see compatibility list
benefits
Large selection of devices
Large selection of devices
Large selection of devices
Manufacturer support, optimal device coordination, high data protection
Manufacturer support, optimal device coordination, high data protection
disadvantage
can only be used to a limited extent if the internet connection is lost, often only basic functions are available
can only be used to a limited extent if the internet connection is lost, often only basic functions are available
only limited use if the internet connection is lost, use is often limited to HomeKit functions
Third-party smart home devices must first be made compatible
Third-party smart home devices must first be made compatible
apartment
Android | iOS
Android | iOS
iOS
Android | iOS
Android | iOS
price
for free
for free
from 99 euros (HomePod mini)
from 129 euros (Brain Cube)
from 39.95 euros (gateway)
How does communication work in the smart home?
What are the important Smart Home radio standards?
In home automation, there are various ways to connect the individual devices via radio protocols. For example via Bluetooth, DECT ULE, EnOcean, WLAN, ZigBee, Z-Wave/ Z-Wave Plus, thread or the new Matter Smart Home radio standard.
Many newcomers ask themselves: why don't all smart home systems simply use the WLAN and Bluetooth radio standards, which are already available in every household thanks to computers and smartphones? There is a simple answer to that: Both radio standards were not developed for the Internet of Things (IoT).
Because WLAN is comparable to a constantly driven motorway; it consumes a lot of energy and is prone to failure. Bluetooth draws much less power, but the range and data throughput are limited. who e.g. For example, if you accidentally left the light on in the bedroom in the morning, you could never switch it off via Bluetooth when you're out and about.
On the other hand, radio standards that have been specially developed for smart homes by manufacturers or alliances are particularly energy-efficient and switch to deep sleep mode when not in use. EnOcean was even designed in such a way that the required energy is supplied by simply pressing a button on the device. For example, the remote control no longer needs batteries. The energy-saving wireless standards Matter, Thread, ZigBee and Z-Wave are able to set up so-called mesh networks : ZigBee or Z-Wave devices connected to the power supply form intermediate bridges, so that wireless signals can be sent directly to the control center without going through the detour other components are routed. This optimizes the communication between the devices.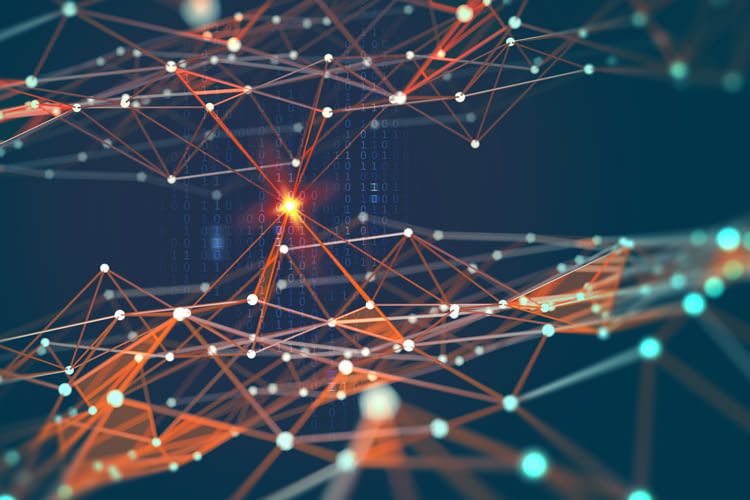 In a smart home, the devices optimize each other wirelessly without human help
(Siarhei/Adobe Stock)
What is the Matter Smart Home wireless standard?
Matter is a smart home radio standard from the Connectivity Standards Alliance (csa), which is intended to help the smart home achieve a breakthrough. The introduction was announced for the first half of 2022 (status: 01/2022). Matter is based on the wireless standards WiFi 6, Bluetooth LE and Thread. The special feature: devices that support Matter can be used with any Matter-compatible smart home system. This gives users a large selection of devices, since they are not only dependent on the products of their system manufacturer.
Smart home device manufacturers such as Eve, Philips Hue, Netatmo, Google, Amazon and Apple have already committed to the new wireless standard. If you want to buy an intelligent speaker like Amazon Echo or Google Nest Home, you should make sure that the model supports Matter.
What are wired smart home systems like KNX and Co.?
Smart home operation: app, language assistant or routine?
How much does a smart home cost?
Inexpensive WLAN sockets for retrofitting classic household appliances or remote-controllable WLAN lamps are available from as little as 15 euros. Alexa-enabled smart speakers, which can remotely control hundreds of compatible devices from coffee machines to garden irrigation, are available from around 30 euros. However, if you are looking for comprehensive networking for your smart home with automatic routines, you cannot avoid a system with a control center. (Status: 01/2022)
In contrast to wired home automation, the radio-controlled smart home is associated with a significantly lower investment. Nevertheless, depending on the number of networked rooms, a larger sum quickly accumulates. The question "How much does a smart home cost?" cannot be answered without further ado, but the following guidelines will help you to estimate the costs incurred.
Base stations cost between 50 and 150 euros, the individual components are in a similar range. Good WLAN radiator thermostats are available from as little as 15 euros, a surveillance camera from around 50 euros. (Status: 01/2022)
It is much cheaper if you choose the theme packages or starter sets from the respective manufacturers. Of course, these must be supplemented with other components if the entire house is to be included. In general, you can build a "cheaper" ecosystem with open smart home base stations, since smart components from discounters can also be integrated here. For example, the SMART HOME by Hornbach system works with many affordable LIDL Silvercrest smart home devices.
In the case of proprietary solutions, compatibility is ensured, which in turn can save time when searching for products and installing them. When it comes to the question of the total costs, tests and field reports are an important point of reference that give an overview of current offers. Compatibility, functions and possible subscription costs should be the central checkpoints.
If you plan your home automation early on, you can even get money back. Because the Kreditanstalt für Wiederaufbau (in short: KfW) promotes various conversion and renovation measures. There is e.g. B. KfW grants for burglary protection measures or for energy-efficient renovation. A prerequisite for the payment of the funding is the execution of the construction measures by a specialist. Important: The subsidy must be applied for before the start of the construction work.
What does a smart home include?
Networked sensors and devices such as window/door contacts, water detectors, radio-controlled sockets and LED lamps form the basis of a Smart Home. A Smart Home control center forms the brain of the system. This is where the communication of all devices comes together. Smart Home routines or scenes determine the behavior of the networked devices in "if-then conditions". A data line or a radio standard ensure the transport of information and communication between the devices. Internet access is required to connect to the manufacturer cloud. The smart home is controlled via a smartphone app, tablet or verbally via a voice assistant.
What are the smart home trends of the future?
Our annual smart home trend reports give a good overview of the upcoming and previous trends:
You can read the 7 smart home trends for 2022 here. Read the 7 most important smart home trends for 2021 here. You can read the 7 smart home trends for 2020 here.
When we got into home automation before 2016, the term smart home was hardly known in Germany. In the meantime, however, more and more people are discovering the advantages of a networked home. The trend is clearly moving from manual operation of an app to convenient voice control. And the possibilities are almost unlimited: Whether the seat of your own toilet or the underfloor heating is to be tempered by voice command, kitchen appliances are to be switched on or groceries ordered online – one voice command is enough.
In our opinion, the extent to which intelligent technology will be accepted by private individuals and companies in the future depends primarily on two factors: the data protection of the device manufacturers and interoperability. Because only if sensitive data is well protected and processed by perfectly coordinated components without annoying compatibility problems will the smart home really live up to its claim of increasing comfort and security.
Incidentally, PC Welt, in cooperation with the publisher's Institute for Technology Topics (FiFt), has conducted a study to determine how satisfied users are with their networking solutions. To this end, 964 users were surveyed online in January 2020 regarding their experience. While Philips scored particularly well in terms of product quality and range of functions, AVM impressed with the best customer service. In terms of their product promises, Philips and the Magenta SmartHome performed best. The Bosch Smart Home, on the other hand, received the best overall rating, which is also the winner in the security category.
Of course, not everyone will be able to fully network their house and yard in the future either. But there are already areas in which the triumph of intelligent technology can hardly be stopped. These include, among other things, the regulation of heating elements or the automation of annoying household tasks. This is already evident today in the rapidly growing number of mowing and household robots.
Criticism and disadvantages of the smart home: what's the point?
Beginners often have two main concerns. On the one hand, they are afraid of accidentally buying products that do not harmonize with each other due to a lack of compatibility. On the other hand, some users do not trust the manufacturer's data protection promises. We have investigated these criticisms and explain what the concerns are.
What about compatibility? Whether connection problems occur depends primarily on how thoroughly consumers inform themselves before making a purchase. Because only those who check beforehand whether the desired components fit together or not will be able to enjoy them in the long term. If existing devices are to be retrofitted, this can be done e.g. B. via a radio-controlled socket.
How well does data protection work? Especially with voice assistants like Alexa, many consumers are afraid of espionage by the seemingly constantly active assistant. The fact that their manufacturers have been proven to sometimes evaluate customer requests for device optimization, unless users have explicitly objected to this, also unsettles many.
In addition, there is often the concern that hackers could penetrate your own home network and manipulate the residents or even lock them in your own home.
In fact, however, such dangers are not too big a threat if some important safety rules are observed during installation and use. Because data leaks are usually not caused by the smart product itself, but due to the careless handling of your own data.
In our data protection special, we show how potential security gaps can be effectively closed in just four steps.
How do you plan a smart home?
What distinguishes us as Smart Home experts?
Our team has been active in the field of home automation since 2016 and has set itself the goal of providing beginners and advanced users with comprehensive information on the subject of Smart Home. Here you will find news about current trends as well as event and trade fair announcements. In addition, we let experts have their say on our portal homeandsmart.de and present relevant blogs as well as exciting start-ups and studies.
In addition to reporting on current developments through Smart Home News, we personally test selected Smart Home products for their practical suitability.
Here are some of the robot hoover models that we have already tested
(Mariella Wendel/home&smart)
Sources, downloads and further information
Our guides are not only based on our own tests and personal experiences, but are also the result of cooperation with other experts. The overview presented here included: based on the following sources:
Security in the house and apartment K-burglary: Here the police, in cooperation with the insurance industry, the industry associations and other partners, lists numerous tips on how everyone can make their home more secure.
The safe house e. V.: This website offers brochures that help all age groups to design their living space safely. The campaign is funded by the Bavarian State Ministry for the Environment and Consumer Protection, the Hessian Ministry for the Environment and Social Affairs and the German Social Accident Insurance e. V
Home security checklist: This questionnaire from Axa-Versicherung offers support in identifying weak points and suitable security solutions.
Accessibility The GED Society for Energy Services, among others, advises on Active Assisted Living (AAL) on its website elektro-plus.com.
Saving energyEnergy saving plan in the household. Proven guide with basic tips from the Federal Environment Agency for people and the environment. (Stand 2013)
Studies about smart home trust and IT security 2020 summarize the current Bitkom study.
The Federal Ministry for Economic Affairs and Energy (BMWi) shows the development of digital technologies in its brochure. (Status: 2017)
ElektroinstallationenWohngebäude intelligent vernetzt: Von der Kleinanwendung bis zum Hochpreissegment behandelt diese Broschüre der Sächsischen Energieagentur saena alle wichtigen Fragen zur Hausautomation.
Grundlagen der Elektroinstallation. Wichtige Fachbegriffe und Anwendungshinweise, zusammengetragen von der Redaktion der Haus & Garten Testzeitschrift. (Stand: 2018)
VerbändeDie Smart Home Initiative Deutschland fördert Vernetzung die von Industrie, Handel und weiteren Dienstleistern im Smart Home Bereich.
Das Connected Living Netzwerk hilft seinen Mitgliedern neue intuitiv nutzbare Technologien und Lösungen zu entwickeln.